Fine Motor
SciencePreschoolersToddlersExperiment
My Favorites30 Comments
Any baking soda and vinegar experiment I've ever done with the kids has always been a success. The fizz just makes it so much fun!
This is one of our favorite activities that we do, and my kids' too!
Below you'll find Henry's version we did from a few years ago. I recently did it with the younger two boys again and thought I'd update this post (kind of for my own personal scrapbooking, if nothing else).
I brought out my roasting pan, because it never gets used for anything else, and sprinkled some baking soda to generously over the bottom.
By the way, we've tested out the best way to get the best reactions from baking soda and vinegar experiments. Check out the results we had!
I then poured vinegar into three small dishes and added food coloring (yellow, blue and green), looking back, I would have just stuck with blue and yellow to make green.
The boys each had their tool of choice, and eye dropper and a turkey baster. I always think the eye dropper would be more fun, but the kids like more volume at once, so they always choose the turkey baster. They swapped several times throughout the activity.
Watching the baking soda fizz up as the vinegar hit is is so exciting to kids!
I love seeing their faces when it happens!
Find More Science Activities for Preschoolers
And watching them drop yellow on top of blue, or vice versa to mix colors and make green was exciting for them to see as well.
There was always the question of what color will it make?
I just wish I didn't have green in the mix. But it was still fun and the concept was learned.
Plus, the fine motor skills of squeezing the eye droppers and turkey basters were a good bonus!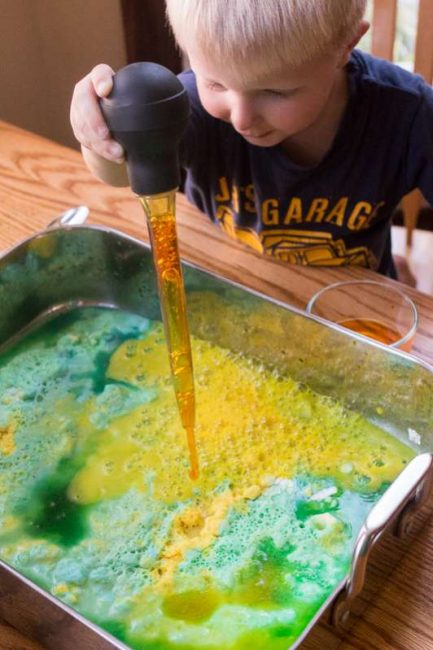 I had to refill the dishes of vinegar several times to keep the fun going! (I like keeping the amounts small in the dishes in case of a spill, which happens a lot with a toddler.)
Below is Henry's version from a few years ago.
Henry was fascinated by the reactions the colored vinegar made when it hit the baking soda in this activity.
Just spread out some baking soda on a cookie sheet and add color to some vinegar!
While I was coloring the vinegar, I let Henry have some experimental play of his own with the baking soda first.
He liked to see the prints his hammer made when he hit it.
I suggested dropping a golf ball in the mound of baking soda, hoping to make moon craters. He didn't find that as fascinating as the hammer though.
During his experimenting, I simply poured vinegar into three small dishes. And added a few drops of food coloring to each.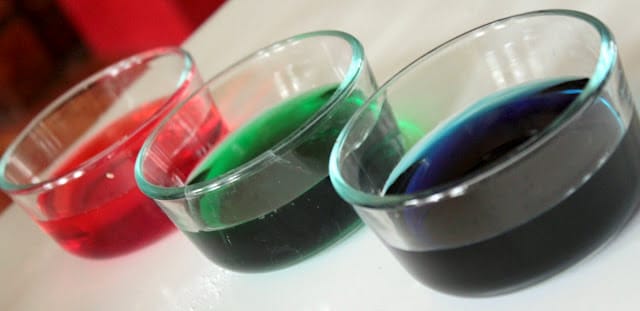 I handed Henry a few different choices for droppers: an old medicine syringe, a dropper and a large turkey baster. That's what I had on hand to use.
I loved seeing what those little fingers were doing as he sucked up and squirted the vinegar in each of the droppers. They're all great for fine motor skills.
We also tried to reverse the science experiment by adding baking soda to the vinegar.
We experimented to find the perfect ratio of baking soda to vinegar for the best reactions, find out what it is!
Henry wasn't thrilled with this because it didn't work nearly as well.
Watching the baking soda fizz as the vinegar hit was exciting! Seeing the colors mix together was pretty neat too.
Henry continued until every last drop of colored vinegar was used.
Even then he started sucking up vinegar from the cookie sheet to squirt it again!
Even though it looks like there may have been some sensory play going on, I don't believe a finger even touched the pan! I was amazed that Henry could keep his hands off. I think the designs were made by dragging the dropper through the baking soda.