Sensory
SponsoredToddlersBabyElla's Kitchen Baby Food11 Comments
I set up a very simple indoor sandbox that's completely edible for Louis to play with. This really should have been one of the ideas to turn outdoor activities into indoor ones!
Of course, if you mention sandbox, the other boys are right by his side in seconds.
They've missed their sandbox this winter! So it was definitely time for an indoor sandbox!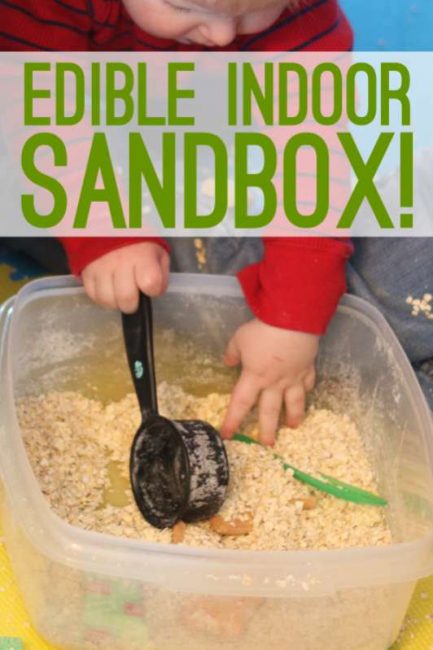 An indoor sandbox is so incredibly simple to make. All that's needed is a tub and fill it up with pretty much anything you have in your pantry.
We've done it in the past with rice, but this time it was oatmeal.
I stuck in some 'snacks' for Louis to find and munch on too. They were our sponsor, Ella's Kitchen's Yum Yummy Baby Cookies broke in half.
If you've been a reader for awhile, you'll already know that I've been partnering with Ella's Kitchen to bring you sensory activities for kids to try at home in ways that will also help introduce them to food that's good for them! I recently shared another edible sensory bin that's a sneaky way to get them to try their veggies.
We're finding all these fun sensory ways for the kids to play because Ella's believes that, just as adults do, babies eat with all of their senses – so it's not just the texture or taste that's important. That's why they make sure all their yummy, organic baby food appeals to all their senses, with bright, colorful, squeezy packs to grab and squish.
All it takes is a couple measuring cups and spoons and the boys were having a great time scooping out the oatmeal and digging for the 'treasures'.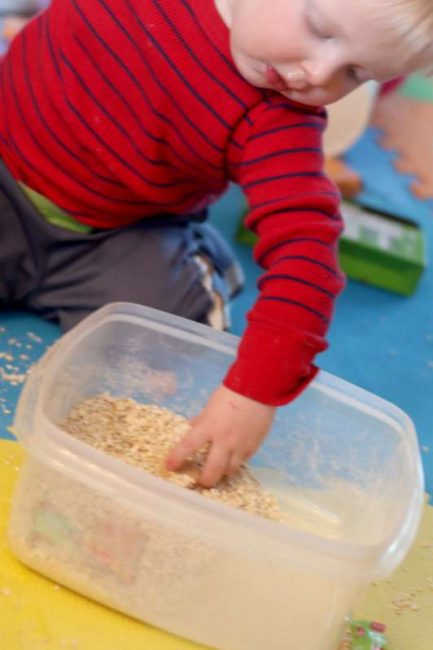 Louis was bound to get all those cookies!
He had quite the snack while they played!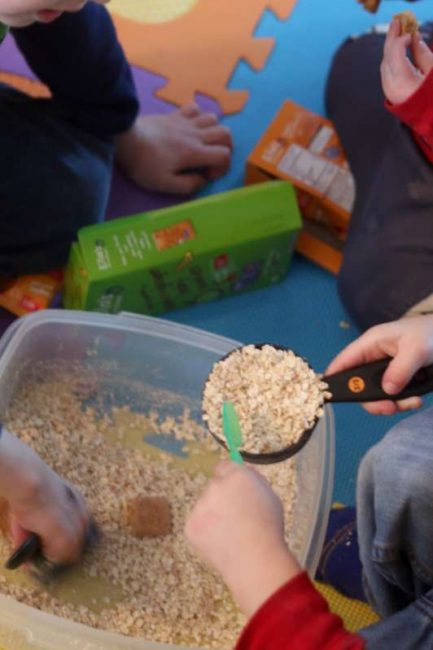 It was so refreshing to see all three boys playing together, nicely and quietly…
Something that has been very sparse this cold winter when we're stuck indoors for so long.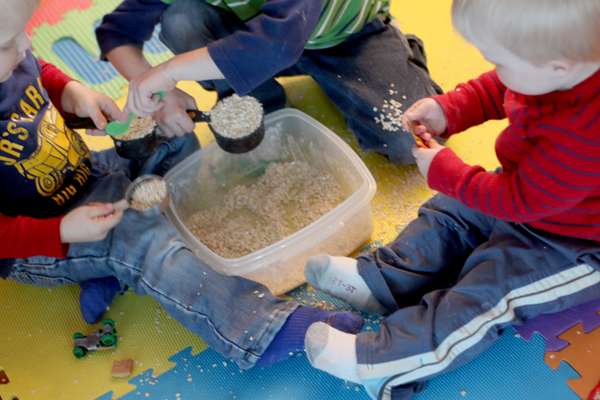 We still have more edible sensory play ideas coming, but in the meantime check out the collaborative Pinterest board with Ella's Kitchen with many sensory play ideas – Tiny Taste Bud Adventures!
Here's some of our edible sensory play ideas featuring Ella's Kitchen products that we've already shared, plus there's more to come!
Find out more about the Ella's Kitchen organic baby food and how its good in every sense:
Disclosure: I'm excited to be brand ambassador for Ella's Kitchen organic baby food!