Fine Motor
SensoryToddlersBabyElla's Kitchen Baby Food3 Comments
A sensory bottle can be almost anything.
There are so many variations of them, we've done a soapy sensory bottle that was all about watching it, much like a calm down jars that you've seen around Pinterest, I'm sure. But they can also be I Spy sensory bottles that add in learning and fun.
Or it can be about the sound like we made this sensory bottle into this time!
I am excited to be working with Ella's Kitchen again this year, bringing you some wonderful sensory activities for kids to try at home.
Ella's believes that, just as adults do, babies eat with all of their senses – so it's not just the texture or taste that's important. That's why they make sure all their yummy, 100% organic baby food appeals to all their senses, with bright, colorful, squeezy packs to grab and squish.
This sensory activity is all about sound and listening, which I know my kids to need to work on. But also works in important fine motor skills for younger kids too.
Find 48 more sensory activities for sight, sound, smell, and taste!
Additionally, this sensory bottle is made entirely by Louis and because of that, I only included edible pieces because he likes to stick everything in his mouth.
I set out a bowl of Ella's Kitchen snacks, including the Puffits and Munchy Biscuits.
I grabbed an empty bottle that had a lid from the recycling bin. I made sure it was a clear one.
Then Louis went on his way to making his own sensory rattle.
I put a couple of the Puffits in to get him started and then he poked them in himself. The Munching Biscuits just barely fit, so it was fun to see him very carefully fit it in the bottle in just the right way.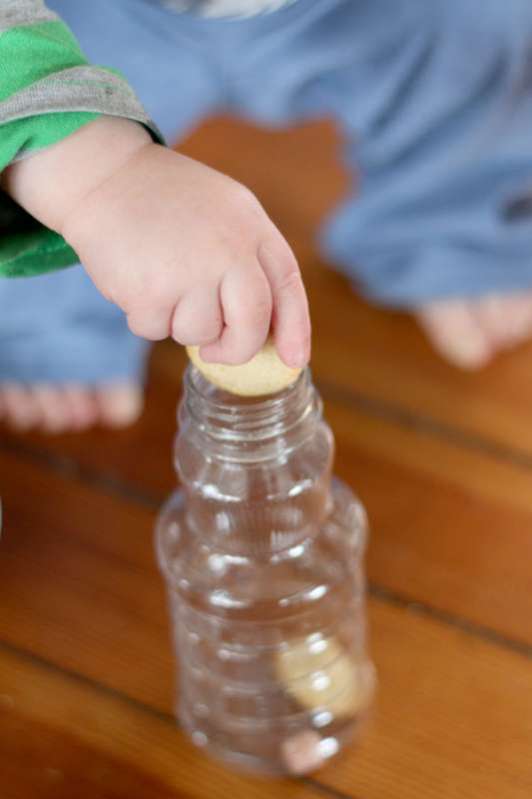 He never dumped it out amazingly. I really thought he would have.
He was thoroughly engrossed in putting the objects in the bottle! I'm sure he would love doing the same with ribbons like the older boys did at one time.
This was great though because it is all edible and nothing for me to worry about. Plus, it was a great mid-meal snack.
I stuck the lid on after he got quite a few pieces inside the bottle and let him roll it around and shake it.
And its instantly a sensory rattle for him to explore. And if they happen to open it up and eat the contents, no biggy! Because its all edible baby food from Ella's Kitchen!
He didn't quite open it himself, but he tried, so we had some fun with trying to put the lid on and take it off too.
We have many more edible sensory ideas coming over the next couple of months featuring Ella's Kitchen products, but in the meantime be sure to checkout the collaborative Pinterest board with Ella's Kitchen – Tiny Taste Bud Adventures!
Find out more about the Ella's Kitchen organic baby food and how its good in every sense:
Disclosure: I'm excited to be brand ambassador for Ella's Kitchen organic baby food!