Fine MotorToddlersOutdoor
Water Activities14 Comments
Work on pouring water with your toddlers. This simple and fun water play activity will teach them an important life skill!
Pouring water for drinks!
A simple life skill to learn, but how do they learn it? With practice!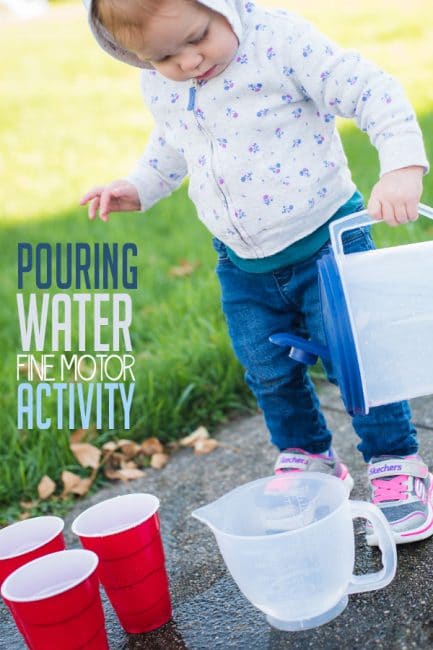 Fun Fine Motor Pouring Water Activity for Toddlers
Take your water activity outside while they work on this skill. It's pretty messy at first!
Once they become more precise, you can bring it inside to the dinner table.
Its been super hot here, so playing outside has been minimal. But I thought with some water we could sneak out there for a little bit for a quick activity.
To practice pouring water!
I was thinking this activity would be more fitting for Henry (my preschooler) than it was for George (just a toddler). But George surprised me and not only got a kick out of doing it but did it pretty darn well!
We filled our Kool-aid pitcher about half-full with water and set out some plastic cups to pour into. George filled the cups, emptied the pitcher, and asked for more water.
I refilled and refilled that pitcher!
And sneaky me. Or sneaky George.
He snuck sips of water during the entire activity. Extra water drinking is always a plus for a hot day!
It wasn't until Henry joined us for only a minute or two that he began pouring the water from the cups back into the pitcher to reuse it.
Duh. That saved me a few trips back to the faucet!
Nothing like having my preschooler outsmart me.
With the spills, I was having to refill our water pitcher often.
George gained confidence through pouring and towards the end of our activity, he was doing it one-handed, holding the cup in his other hand and mostly making it all.
His only problem (throughout all of the activity) was not knowing when to stop filling the cup. He always overflowed it.
But the water nearly always made it into the cup.
George also absolutely loved painting the driveway with water.
Water activities are definitely go-to activities for both the boys in this house!
What are your favorite water activities? Share your favorites with us!