Math & 123s
Move & LearnPreschoolersMatching
Numbers9 Comments
I just realized the potential of playing cards and learning numbers. Duh! We played a number match game with them, they're great for number recognition!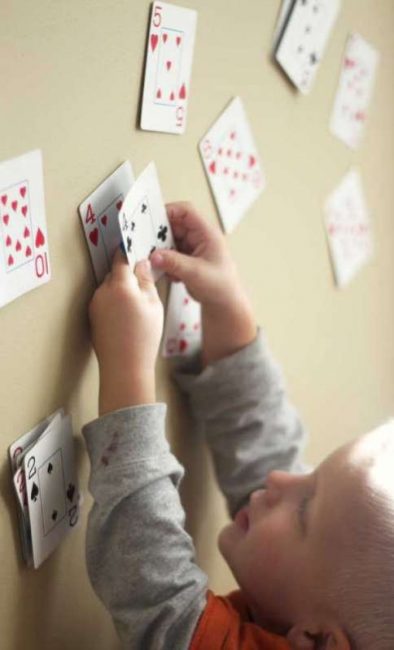 Even more so than recognizing numbers, a deck of playing cards are absolutely wonderful for one to one correspondence. George practiced a little of that with this number match to help him out.
I sorted out all the cards 2-10 and took out the rest. I could have used Aces for ones, but since it was a number recognition name, A is not a number. But it would work well for one to one correspondence.
I taped all the hearts (any suit would work) on the wall (I taped it fancy-style, with the tape all curled up on the back so you don't see it… yeah, I'm fancy like that sometimes).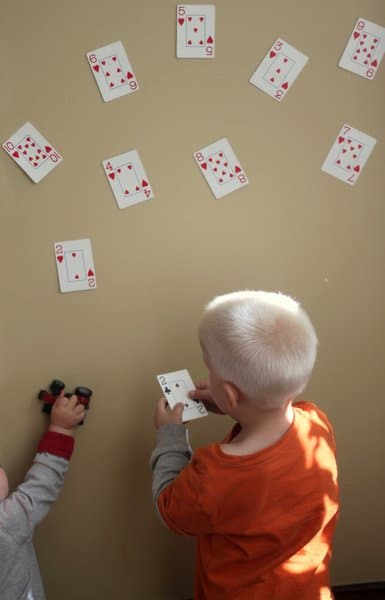 I even taped the rest of the suits just like that. And laid them all out for George to grab.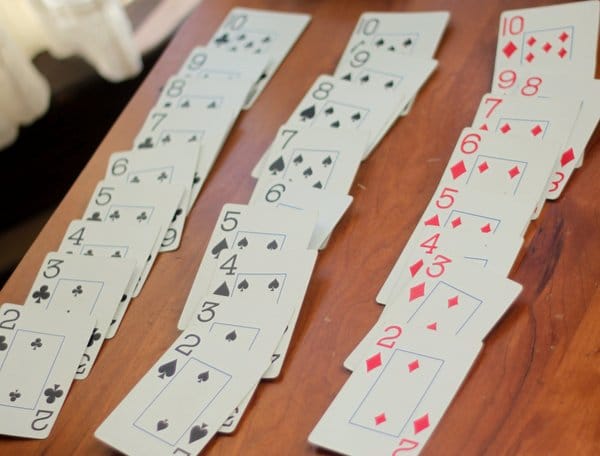 I sorted them by suit and put them in order by number. Looking back, I should have probably did it by number, so George could have matched all the 2s at one time, then all the 3s… to really reinforce number recognition.
I didn't have George go in any sort of order though, so he just grabbed a card and looked to the wall to find the number match and once he did he would slap it on top to stick it to it.
I think this would be great for 3 kids about the same age to play together. For each of them to get a suit of cards and they each race to slap the card on the 2s, and then the 3s and so on.
Henry is far too beyond this though and it wouldn't have been any fun for George if Henry played with him.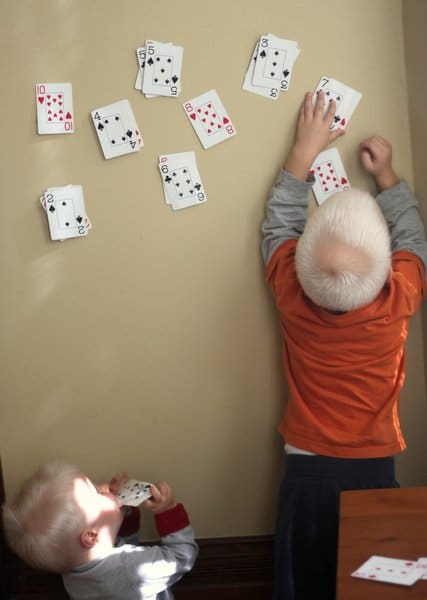 (Yes, that's Louis sitting there, with a card in his mouth… hmmm.)
George doesn't know his numbers yet.
He can count to 10 almost perfectly though. He just can't tell what a 5 looks like.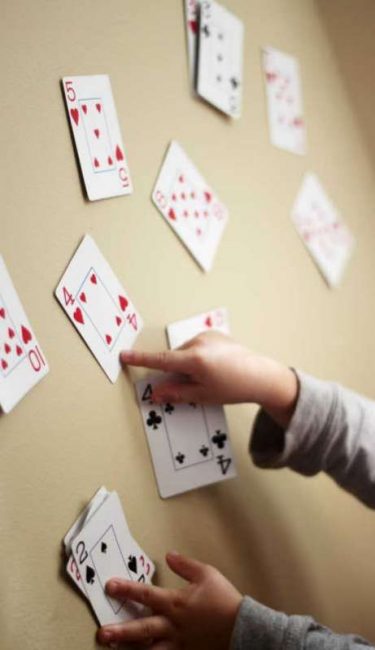 So this was definitely more about doing the number match instead of calling out the numbers.
Of course, I would stick in questions, asking him what the number was.
There's 40 number activities, including some number match to practice number recognition, but also some great for one to one correspondence and counting! Check them out!
He most of the time didn't know. So I'd have him count the number of things in the 'box' (our cards had a box around each group). And he could do that pretty well. He's not the best at one to one correspondence either, so we counted together a lot.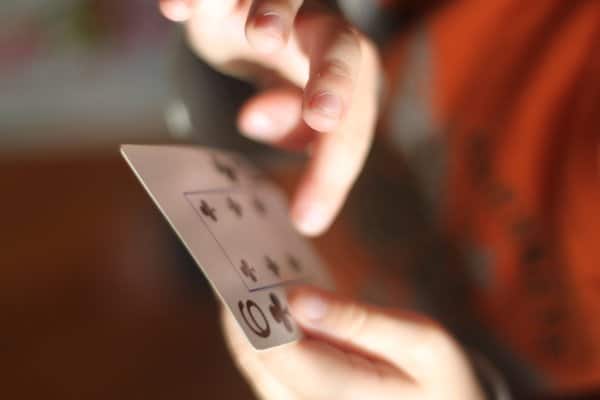 For the most part though, it was about looking at the number and matching it to the one on the wall. (By the way, 6 and 9 got very confusing since the numbers are upside down on the bottom of each card!)
Another number match activity we did was a heart hunt for Valentine's Day, but it could be changed up to anything!
Check out the number match parking lot at B-Inspired Mama by Craftulate too! My boys would love that!
Take it another level further and work on one to one correspondence with dice and blocks!
More move and learn ideas from my co-hosts: