Move & Learn
SciencePreschoolersColors
Counting
Experiment
Letter Sounds
Lowercase Letters
My Favorites
Name
Resources
Shapes
Writing Activities6 Comments
Have fun moving and learning all the tools a preschooler will need. From letter sounds to science projects.
Preschoolers are learning a lot every day. Especially when they are in school.
When they're home, they are too, of course. We have the most fun learning and reinforcing what they learned in school when we do activities that require movement. Hence, the move and learn. Plus its an added bonus for me, because, well, they have a lot of energy they need to burn.
These learning areas are geared toward preschoolers, but don't let that deter you from trying it with a toddler, because I just bet they might be able to do it too, especially if you twist it up a bit for their learning development.
This post is kicking off a Move & Learn series I'm doing with The Pleasantest Thing and Coffee Cups & Crayons. We'll be exploring learning through movement in the upcoming weeks.
Today we're just kicking off with a lot of fun move and learn activities. I'm sharing preschooler activities, while The Pleasantest Thing has move and learn activities for toddlers, and Coffee Cups and Crayons is sharing move and learn activities for kindergartners.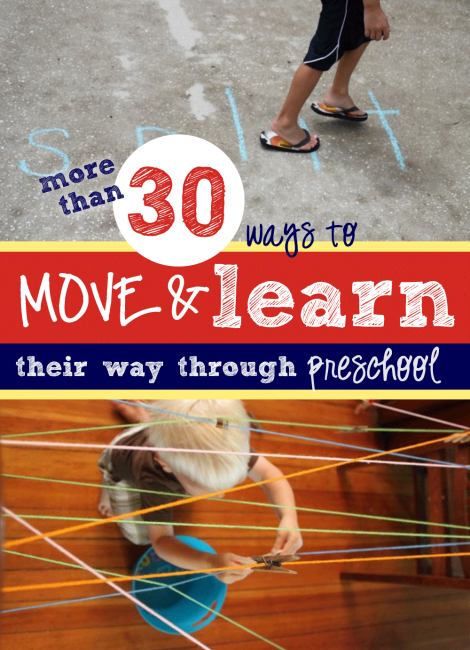 Here we go! Let's move and learn our way through preschooler with these gross motor learning activities for preschoolers.

 Practice writing skills.
Learn to spell their name!

Begin small! Learn lowercase letters.

Let's learn letter sounds!

Count all the way to 20.
Expand and practice color and shape recognition.

What's that? Body Parts.
 Experiment, predict, observe. Science projects.

Don't forget to get creative! Big Art!
Listen and follow directions.
Advanced preschooler activities:
 What's your favorite way to move & learn for preschoolers?