Gross Motor
Literacy & ABCsToddlersKindergartnersLetters
Lowercase Letters
Mazes
Scavenger Hunts
Yarn15 Comments
A string scavenger hunt was a blast when Henry did one a couple years ago to help him learn his name. It was time to do another one!
This time I condensed it down to a smaller area and make it about learning lowercase letters, a review for Henry this summer, and kind of a way for me to gauge what George knew for lowercase letters.
Plus, its just plain fun! Who wouldn't love climbing through a web of string in the house on a rainy day? And kids think scavenger hunts are always a hit!
Quick side note before we get going: Be sure to hop over to A Mom with a Lesson Plan today to see the book activities that she's sharing for Summer Reading!
The set up for a string scavenger hunt for kids:
This scavenger hunt took a little bit on my part to get set up before calling the kids to join me. Definitely not a no prep activity.
I set up six of my dining room chairs in two rows, with their backs facing each other, about five feet apart. If you have more chairs than this, by all means, add them to it! It would just extend the scavenger hunt that much more!
We first had an unsuccessful shot at this scavenger hunt, but before I tell you what didn't work, I'll start with what did work.
I used 4 different colors of strings, or yarn. Two would be sufficient if that's all you have. I strung each color string through the backs of my dining room chairs, back and forth, one chair to the next one across the way. I started at one end and ended at the other. I did this with all four colors of strings and tied each of them off at each end.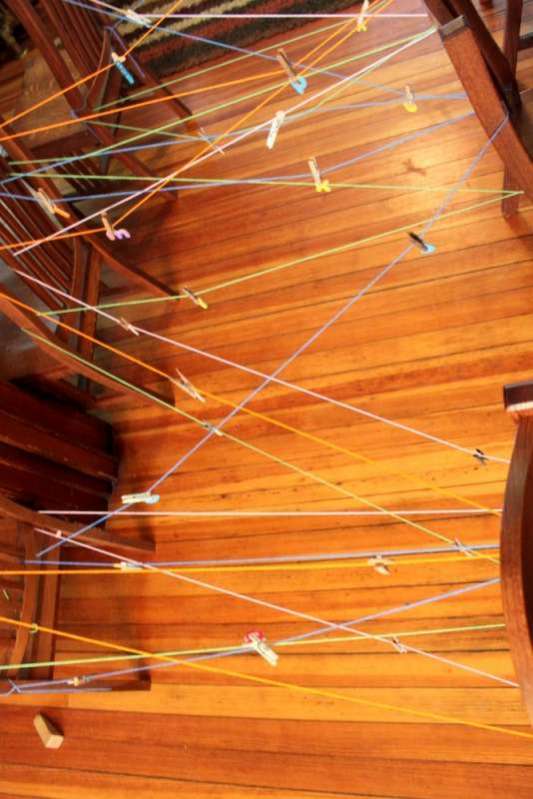 With the tangled web of strings in place, I then clipped lowercase letters onto the strings with clothespins. The letters I used are from Melissa & Doug's See & Spell (affiliate link), but letters could be quickly written on a piece of paper and cut apart for this too.
I didn't take great care with any order for the letters, or to make sure they were evenly spaced. I tried my best to make sure there was a letter on each string across, but that didn't happen either because I ran out of clothespins. I did make sure I had every letter of the alphabet though (not Q though because q was either missing from our game, or there wasn't one…).
To make it a learning activity for lowercase letters, I also wrote the uppercase letters on a large piece of paper (I used our butcher/art paper) for them to be matched to. If learning isn't the aim of the game, we also did a spy game that just focused on grabbing pom poms from the tangled web.
This is one activity I didn't want them to be around when I was setting up. They would be in and out of the strings and it would be a mess just waiting to happen. I was tangled up several times myself just trying to string it through! Can you imagine what it would be like with a toddler and preschool in the mix too?
Once I finally had the setup ready, the boys joined me. George joined me towards the end of the setup and it got kind of frustrating for me to finish. So I highly recommend trying to do it during naptime or if they're quietly playing in another room.
Sending the kid through the string scavenger hunt:
The boys each picked a color of string to follow. George picked blue, Henry green.
Henry went through and pinched all the letters off with no problem. When they got into it, I realized they needed something to carry their letters with, so I gave them each a bucket to carry along.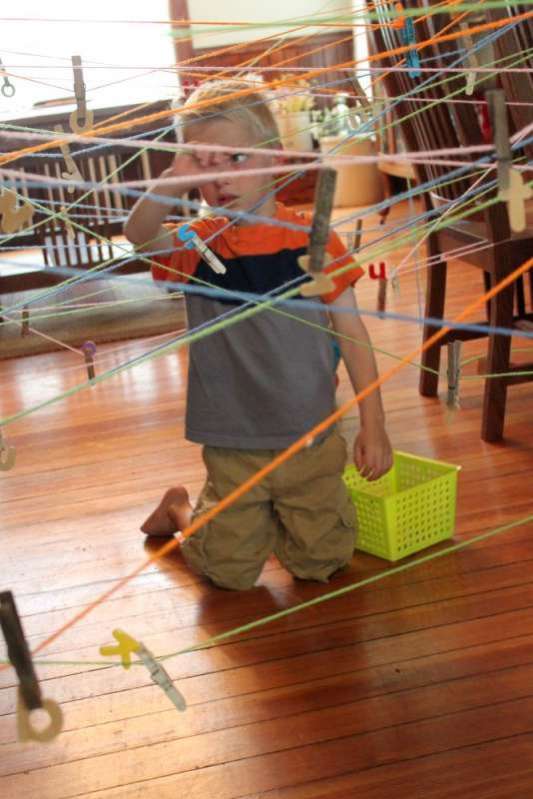 Henry took great care in following the string to make sure he went in order and didn't miss a letter. George didn't quite understand it. I also had both the boys starting at the same time.
I realized that was a mistake and sent George back to start again so I could help him get started. Once I helped him see how to follow the string to find his letters, it worked a little better for him. Though it was still hard for him to know to keep following along.
It might be easier to just let them drop the letter onto the floor so they don't lose their place on the string, instead of trying to put it in the bucket each time, just an afterthought I had.
Learning lowercase letters:
Once they finished the string, they took their bucket of lowercase letters and matched them up to the uppercase letters on the paper. Much like we did in the upper and lowercase letter scavenger hunt we did awhile back too.
When their bucket was empty, they started again on the remaining colors of strings!
Henry went through again fast and helped George match up the letters. It was kind of nice to see them work together with that. And then it went downhill. George didn't want to go through the string again. And Henry really thought he needed to do it. Henry didn't want to do it for George, but thought it had to be done. What a predicament. Henry and I agreed to do it together to finish it.
I mentioned above that we tried this first with major failure, here's what I tried prior to this one:
We did it at bedtime. Big mistake. I started it too late and it took me way longer to string the yarn than I expected and it was bedtime by the time we even started the activity. It was breakdown after breakdown before we even began.
I tried it with sight words. I pinned the letter of sight words in order along the string. In theory great, but when doing it, Henry kept leaving his string to put the sight words together and completely lost his place.
I also tried stringing the yarn to the end of the row of chairs and then back again. Thinking it would make it more difficult, because I thought it would be too easy. Not at all. Way too difficult to know which way you're going. Especially since they were leaving the string to put the words together.
I wasn't in a good mood to begin with and when the boys were having breakdowns, I was essentially having them right beside them. It wasn't my best moment.
 Another fun spider web we've done is the Sticky Spider Web!