Halloween
Literacy & ABCs
Move & LearnPreschoolersLetters
Yarn2 Comments
Try a fun activity for kids learning the alphabet, stringing a spider web by following the letter S.
We've had so much fun with the Follow the Lines of String to Find the Apple activity that we did it over and over again. So I came up with this sticky spider web activity for George to make his own, plus learn a little too!
This one is all about the letter S.
Make a Spider Web to Learn Letter S
The goal is to learn about the letter S, while on the move!
To make a spider web activity, you'll need:
Yarn
Tape
Paper
Markers
Scissors
Black pipe cleaners (optional)
I had to prep a little bit for this activity, mostly because my orange yarn got chopped into pieces by a scissor happy child. I'm not sure which one so I won't name any names, but I have my suspicions.
It took me forever to find a string long enough to make a spider web.
I made a little spider out of a black pipe cleaner. I cut it into four pieces and then folded them over each other to make 8 legs.
I tied the spider onto the end of the string. However, the spider did not get used.
George was scared by it and wouldn't touch it, just in case it was real. The spider was supposed to be the one making the spider web, but you know what they say about best-laid plans.
I also cut pieces of paper into small squares and wrote the letter S on all of them.
Then, I lined up my dining room chairs, back to back to make a "hallway." I taped the letter S's to the backs of the chairs, near places that George could string the yarn through.
We have chairs with posts on the back, leaving lots of open spaces for weaving and stringing the yarn.
I tied one end of the string to the first letter S on one end of the "chair hallway." I left the other end loose so that George could weave it through the chairs.
Super Fun Stringing a Spider Web for Halloween
George took the yarn and started stringing it through the backs of the dining room chairs.
Once he strung around an S on one side of the "chair hallway," he needed to find an S on the other side.
The only rule was that he needed to go back and forth, finding the S's.
Try making a different web – a sticky spider web!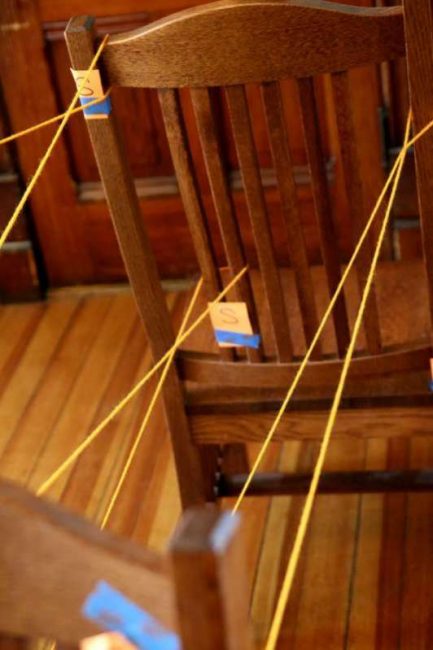 Back and forth. It didn't matter if he went in order or not. Not that there was an "order," per se.
Make Your Web Over and Over for More Learning Fun
Once we went through one time, I challenged George to reverse his path and unstring the web. Of course, he did it!
And then immediately wanted to go back to stringing a spider web again.
After doing it a couple of times with a hallway for a spider web, we decided to make a more vertical spider web with just two chairs, set further apart.
I moved all the S's to just the two chairs. George set to work, stringing a spider web back and forth, just more vertical than before.
Stringing Fun Beyond the Letter S
I love an activity that's super versatile – and stringing a spider web is definitely multipurpose!
Some alternatives to learn instead of just recognizing a single letter:
Write the entire alphabet to have kids practice the order of the alphabet
Use a number for kids to recognize
String through numbers 1-10 or 20 to count
String a sight word that a child is struggling with
Make Your Spider Web Successful
Stringing a spider web can be tricky. This activity involves fine motor and gross motor skills, plus some motor planning, too.
You can help the child pull the string through, the yarn gets caught at times and can break.
Position the S's so that they're near places that the string can wrap around and not just through. The "rails" of the chairs seem like a good spot, but the yarn will slide up or down.
You can stop the slide by looping an elastic band above and under the target stringing spot. Wrap an elastic around the back of the rail, then pull one loop/end of the elastic through the other and cinch tightly.
Talk about the letter S to help the child recognize the letter. Tell them about words that start with S, or ask what the letter is they're looking for.
Get Ready to Move & Learn Together
I love moving and learning activities! And I make it a priority to scout my faves from my blogger friends!
How do you move and learn letters with your child?