Halloween
Literacy & ABCsPreschoolersABCs
Letters11 Comments
Make an entire Halloween alphabet using these skeleton bones! So cool and spooky for Halloween!
It's that time of year again! The time of year when we, as parents, can finally spook our children, our neighbors children, and those unfortunate little ones who happened to pass by the house. Oh Halloween!
I am kidding of course. In fact, I am not much one for spooks at all.  I am the one in the movie theater with her ears covered and eyes shut who everyone looks at wondering why she is paying money to not watch the movie. And it was just Frozen.
But none the less, believe it or not, I do love Halloween. I love any holiday at all – and I try to instill a love and excitement for the holidays in my little ones.
I love to add fun themes into our learning. During our homeschool day we have been playing a lot with the alphabet. We started with learning the capital letter names and we have progressed to learning their sounds.  The next step, of course, is making words.
My Sam, who is 4, is a very creative and bright little guy. We don't yet do any printing, though we do many activities to strengthen his fine motor skills. He isn't ready yet to really hold and use a pencil correctly – and I truly believe there is no rush.
There are so many different ways to practice and play with building letters and making words – and many of them don't require printing at all! For example … with SKELETON BONES! (I kind of want to cover my ears and shut my eyes after writing that sentence.)
To make a Halloween alphabet with skeleton bones we used Q-tips, or cotton swabs. We built our alphabet using capital letters, so we needed 3 different shapes of Q-tips.
That's it! Three shapes and we could make each and every capital letter.
First, we left some Q-tips normal, straight.
Second, we cut some in half.
Third, we bent some to form a "c" shape.  This was very easily done just with our fingers – Q-tips are quite bendy (who knew)!
Since we are just beginning to make words and sounding out words, I wrote some Halloween words on a piece of paper.
I asked Sam which Halloween words he would like to make, and luckily he chose some simple ones to start.  BOO and CAT.
It took Sam only a few minutes to get the hang of using the Q-tips to make words. For the "B" he used one full Q-tip, and two curved ones. The "O"s were made by using 2 curved Q-tips.
This is a really great problem solving activity for little ones, and a great way to get them thinking deeper about how letters are actually formed.
Sam noticed that the "H" and the "A" used the same Q-tips, just with slightly different positions of the straight ones. And that the "S" and the "O" both used only 2 curved Q-tips, and yet they looked very different.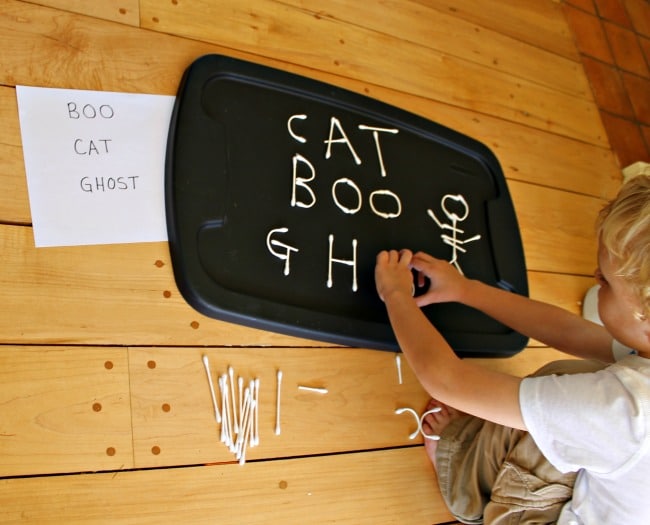 Turns out this wasn't a very spooky Halloween activity at all … unless you count it as FRIGHTFULLY educational!