Literacy & ABCs
Move & LearnGrade SchoolKindergartnersMatching
Sight Words4 Comments
Henry's been flying through his sight word lists lately.
I've been so proud of him. Some we haven't even practiced at home, he's just learning them so quickly on his own at school.
But I like to bring what he's working on at school into the house so that I can see how he's doing first hand.
I made a simple sight word activity for him to connect matching pairs. It's basically a simple worksheet made big on our floor to get him involved instead of 'doing work'.
To set up, I wrote his current list of sight words on sticky notes, twice, and placed them in two separate lines, or columns, on the floor.
I got out some of my favorite craft supply, painter's tape. Along with kids scissors and a bundle of yarn.
Henry did the rest.
He started at the top of the column on the left and found its sight word matching pair in the column on the right.
We did a similar sight word match like this on the wall! Check it out!
Henry cut the yarn and taped it to the first sight word.
He unrolled the yarn to the matching sight word pair across to the other column, cut it, and taped it to make a sight word match!
And repeat through all the sight words!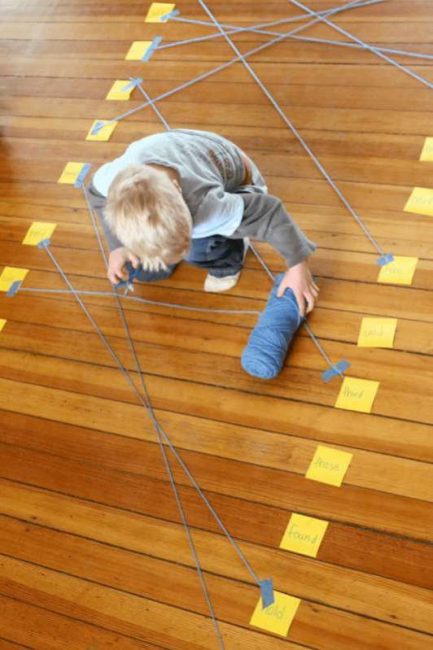 Some of the sight words he knew right off the bat, some he asked.
I didn't quiz him, or made him sound them out.
I tried to remember that these are sight words and its all about memorization, so if he didn't know them, I simply just told him, 'Its walk', and encouraged him to tell me the word back when he found its match.
Matching pairs like this doesn't have to be just about sight words!
Simply replace the sight words with letters (could be upper and lower case), numbers (or even number and dots to match), or even could do beginning letter sounds (match 'a' with 'apple').
Leave a comment below telling me what kind of matching pairs your kids would make.
And it doesn't have to be this big either, I love No Time for Flash Cards rhyming version of this that she does using a peg board! Simple and great using those rubber bands for fine motor skills.
More ways to learn sight words! Try these 12 hands on learning activities to learn sight words.
More move and learn ideas from my move and learn co-hosts: