Literacy & ABCs
SensoryPreschoolersKindergartnersLetters
Sight Words20 Comments
Make this I Spy sensory bag for all types of learning, including sight words and letters like we did!
Sight words have been the talk here in this house this past week or so.
So, now we've been practicing a bunch and reminding him a bunch to turn them into his teacher.
Practicing sight words has been pretty easy here. Henry's usually pretty excited about doing it and reading the list back to me usually satisfies him.
But we do throw in a sight word activity here and there for some fun.
More ways to learn sight words! Try these 12 hands on learning activities to learn sight words.
I Spy Sensory Bag for Sight Words & Letters
Recently, I came across a very cool sensory bag idea on Playdough to Plato to practice sight words.
I quickly made two of these I Spy sensory bags for Henry and George. A sight word one for Henry and a letter one for George.
We did them slightly different than Playdough to Plato, so make sure you check out what she used for hers.
On a piece of scrapbook paper, I wrote down Henry's sight words from the last a couple of lists that he's working on. All over, up and down, sideways, very random.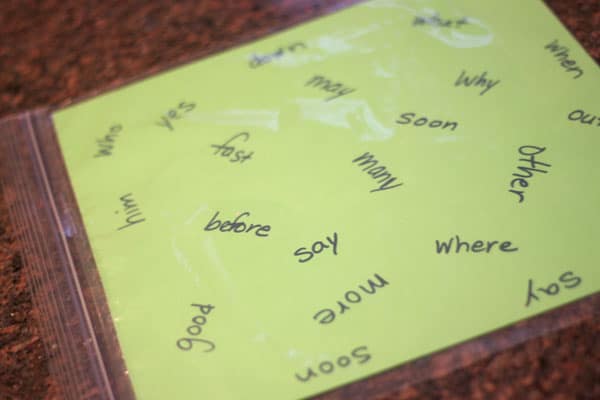 And did the same with capital letters for George.
I then cut it to fit into a gallon baggy and slipped it inside.
Be smarter than me, and cut your paper firs. Then write the sight words on it.
For our sensory element, we used dry white rice. I think oatmeal would be a fun one too!
I poured in a bunch of rice in the baggies, on top of the papers, and then sealed them up.
Hunting for Letters in Your Sensory Sight Word Bag
The boys then began their hunt for sight words and letters.
For Henry, I had him write down the sight words as he found them.
I made a list of the letters for George and as he found them, he'd mark the letters he found.
We've also done this with dish soap in the bag instead of rice.
This activity is a mainstay in our house for learning sight words! A couple years later… here's Louis searching for letters:
It was hard for them at first to move the rice around, they were struggling and couldn't find any of the letters or words.
Then one of them picked up the bag to show me something, and all the rice dumped to the side and they realized they could find a whole bunch at one time then.
So they did that over and over, tipping the rice from side to side to find all the words and letters.
Hey, it still got them searching for them and helped them learn, right?
Here are 48 ways to explore with sensory bags!
We've tried this I Spy sensory bag with tons of other learning concepts, too!
Lowercase letters
Rhyming words (find two that rhyme)
Addition problems (and then solve them) or vice versa, give them addition problems and they have to search to find the answer
Basic pictures (house, cat, flag) for them to name
How do you mix sensory activities into your learning at home? Share your best ideas!