BlogHer
Halloween
Move & LearnPreschoolersKindergartnersGiveaway
Mazes
Tape295 Comments
Of course, a large spider web maze for the kids was in store… we just had to! You know how much I love mazes… and spider webs seems to be the theme in our house this Halloween.
Plus, I found a super easy way for clean up with Clorox Disinfecting Wipes (who's sponsoring this conversation), so the kids can use markers to go through their mazes now. (Ahem, the kids absolutely love the clean up…) The wipes will be great to have on hand to stay healthy during the holiday season when everyone's coming and going, as well as cleaning up after crafts and activities.
Spider Web Maze Prep
I taped out a large spider web on my floor. It doesn't matter what type of floor you have, just so that its not carpet. Any wipeable surface will work well for this, tile, vinyl, wood, whatever. If you're worried about your finish, try it in a spot first. I've never had troubles, except in areas where my finish is already almost worn off.
After I got the spider web how I wanted it, I then took a washable marker (I completely trust our Crayola washable markers, they have yet to fail me, they come out of everything) and traced a path through the maze.
With that path as my guide, I ripped off pieces of the tape to make it impassable and to actually make it a spider web maze.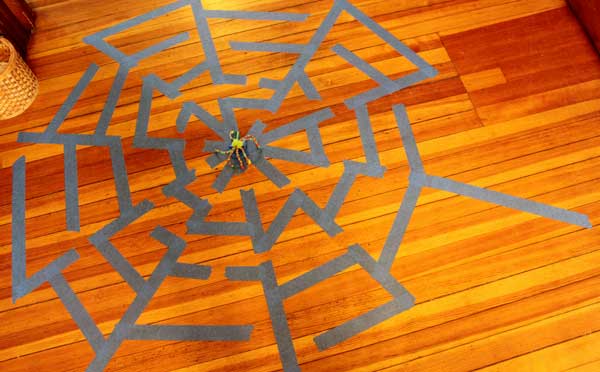 I made one line of the spider web longer then the rest to be the starting point, and then laid Henry's beaded spider in the center of the maze as the finish.
Once I made sure there were no alternative routes to the maze, I erased all my marker lines with the Clorox Disinfecting Wipes (yep, I'm disinfecting my floors in the process). The marker literally wipes right off.
With the spider web maze ready, I let the kids have their turn at finding their way through the maze.
They used the same washable markers to find their way through the maze and get to the spider.
If you're as big of a maze fan as we are, you have to check out the 10 Mazes for Preschoolers (they're great for most ages, and there's even learning involved!)
Henry did it pretty easily, despite my best effort to try to trip him up.
George just followed Henry along, tracing the lines of tape in whatever way he pleased. He was funny. He got to a dead end in the maze and said he made it! Yay! Then went on to trace the tape further to another dead end! Hey, he's practicing his writing… I let it go.
Henry went through the maze several times, from start to finish and even from the spider at the finish back to the start.
He even tried starting in other spots to see if he could find a different route to the spider.
I didn't quite make it that fancy though.
When they finally had enough, they wiped all their marks off clean with the Clorox Disinfecting Wipes.
More move and learn ideas from my co-hosts:
How are you keeping your family healthy during the holidays?
Answer in the comments for a chance to win a $100 Visa gift card!
Rules:
No duplicate comments.
You may receive (2) total entries by selecting from the following entry methods:
Leave a comment in response to the sweepstakes prompt on this post
Tweet (public message) about this promotion; including exactly the 
following unique term in your tweet message: "#SweepstakesEntry"; and leave the URL to that tweet in a comment on this post
Blog about this promotion, including a disclosure that you are receiving a sweepstakes entry in exchange for writing the blog post, and leave the URL to that post in a comment on this post
For those with no Twitter or blog, read the official rules to learn about an alternate form of entry.
This giveaway is open to US Residents age 18 or older.
Winners will be selected via random draw, and will be notified by e-mail.
You have 72 hours to get back to me, otherwise a new winner will be selected.
The Official Rules are available here. This sweepstakes runs from 10/30/2013 – 11/27/2013
Be sure to visit the sponsor's brand page on BlogHer.com where you can read other bloggers' reviews and find more chances to win!
Disclosure: I was compensated for this post, however, my thoughts and opinions are my own.