Big Art
SciencePreschoolersChalk
Craft Recipe
Experiment
My Favorites
Outdoor36 Comments
This sidewalk paint recipe has come in handy a number of times. Its great for the kids to paint with, but its also easy for me to use when I'm setting up an activity and need something more prominent than just sidewalk chalk.
I made a variation of this sidewalk paint recipe without the fizzy part to do big maze with Henry outside.
With the fizzy part is where all the fun is for the kids though. You can find the fizzing sidewalk paint recipe recipe on Kids Activities Blog.
I made three colors of the paint recipe and added painting tools (a basting brush, sponges, as well as a 'spice' container).
Using his green 'paintbrush' (the basting brush), Henry started to paint the driveway.
At first, he let the paint drip and run off the paintbrush. (He liked to fill the holes in the driveway.)
After it thickened up, he had to paint with it as an actual paintbrush. It thickens up quite a bit, so make it thin to begin with and you may need to add water to it as you go.
I drew outlines of shapes for Henry to color in with paint.
Henry already knows his shapes pretty well, but this is still great practice! (For us, it was more to learn to color within the lines.)
I also filled a a spice container (ours was actually a sprinkles container from the bakery, you could also just punch holes in the lid of any jar you have) with red paint. Henry shook the paint out.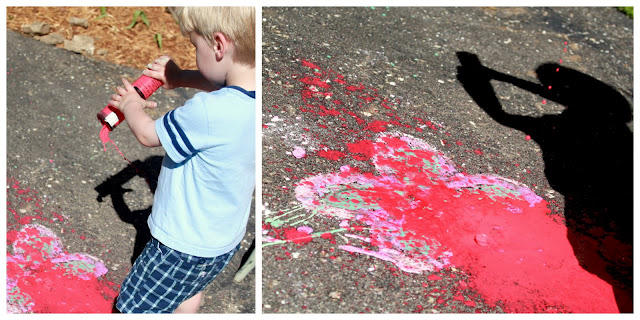 (Red probably wasn't the best color to choose for the shaker, it looked like a bloody mess!)
The paint lightened as it dried and made it really stand out against the blacktop. (Better than it would on a sidewalk, I think.)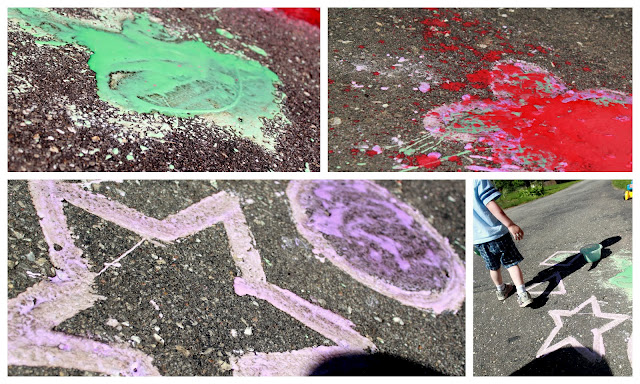 After we painted with our entire batch of homemade sidewalk paint, then the fizzy fun began. We filled a squirt bottle with vinegar and sprayed the drawings we made!
(Fizzy fun is always fun! Just plain baking soda and vinegar is a good time!)
Its a fizzy good time!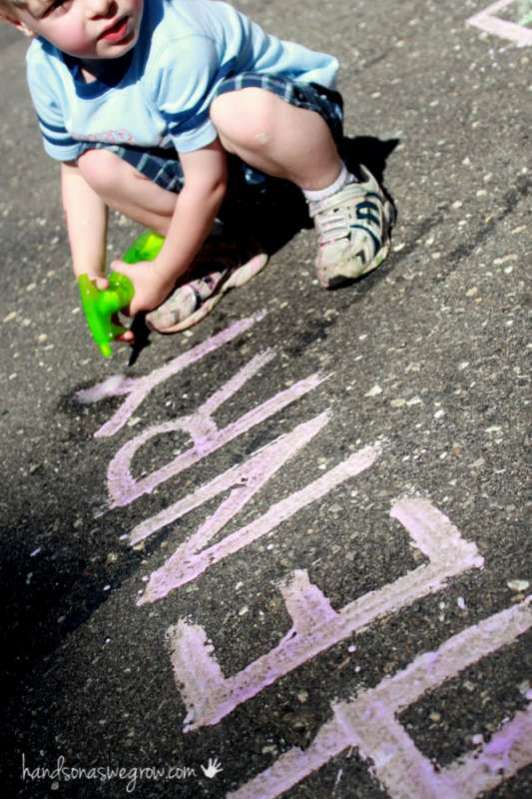 Henry spelled his name as he sprayed it with vinegar.
Y-R-N-E-H
Getting there….
The squirt bottle was a huge hit.
Henry continued to play with it long after he was done with the paintings. He even cleaned his big backhoe with it. (Vinegar still in it.)
I find its almost as easy to just make your own craft recipes most of the time. Especially when you're in a pinch. But I did just find that you can buy sidewalk paint (affiliate link) too! Crayola makes it, of course. Though, without the fizz, I bet some baking soda could be added to it to get the same effect!
Click the image below for our sidewalk paint recipe without the fizz.