Fine MotorToddlersKitchen
Pasta
Upcycle12 Comments
Henry worked on his hand-eye coordination with his love for tools.
All you need are some golf tees (thanks Mom) and Styrofoam. And, of course, your boy's kid's toy hammer(s).
The Styrofoam had slants around the edge. For some reason or another, this is where Henry liked to nail his tees nails in. It made for a really difficult angle for him to hold onto the tee and hit it, so I held the tee nail for him a lot. No bruised fingers either : Henry has pretty good accuracy!
No, Henry is not hitting the tee nail with the wrong end of his hammer (above). He had to get this hammer out because it has the claw so he could take out his tees nails.
(Completely his idea, he must watch Dad pretty close.)
I had this awesome idea that I found in the Toddlers Busy Book (affiliate link) for… Spaghetti Mobiles
I decided to use corn syrup and food coloring instead of white glue and paint. Why? I'm not sure. To make it more kid friendly, I guess.
I put some corn syrup and food coloring in each container. Henry added some cooked spaghetti to each color and stirred them up.
He took them out and placed them on a foam tray. You could make some very nifty designs if you wanted to.
We just piled the spaghetti on the foam in any way that it fell. (Though Dad joined us for tray number 2 and made it a rainbow colored mobile).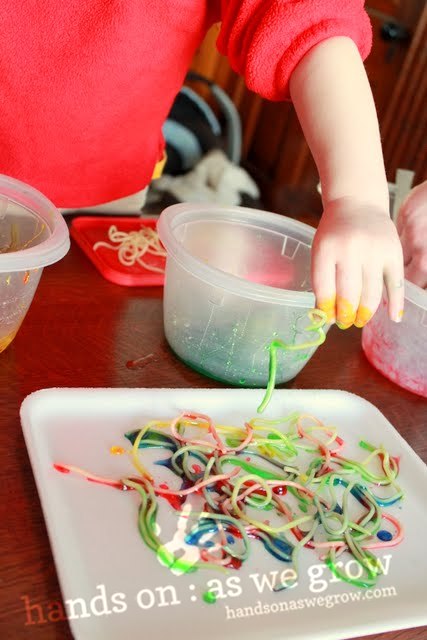 The product we left with was very bright and pretty.
I left it to dry for a few hours. When I came back to check it, it wasn't drying at all.
How long should it take?
Here's the flop:
I'm inpatient, and stuck it in the oven at 200 degrees. Kind of forgot about it. It wasn't in there long though… maybe 20 minutes.
Corn syrup is sugar. Sugar crystallizes.
Do you think I put it on foil?
I didn't leave it on the foam tray either… plastic would melt.
Nope, right on my jelly roll pan.
Nice and stuck on there.
Hard as a rock.
Oh well.
It was pretty.
(The plan was to hang it up with a ribbon – hence the 'mobile')