Literacy & ABCs
Move & LearnKindergartnersScavenger Hunts
Sight Words16 Comments
We haven't done a scavenger hunt since we did our Christmas flashlight scavenger hunt, so I thought it would be fun to make a treasure hunt using a floor plan as the map.
And Henry has had way too many days off for Christmas break (school keeps getting cancelled for cold weather! -20F degrees does that…), so a refresher of sight words was needed.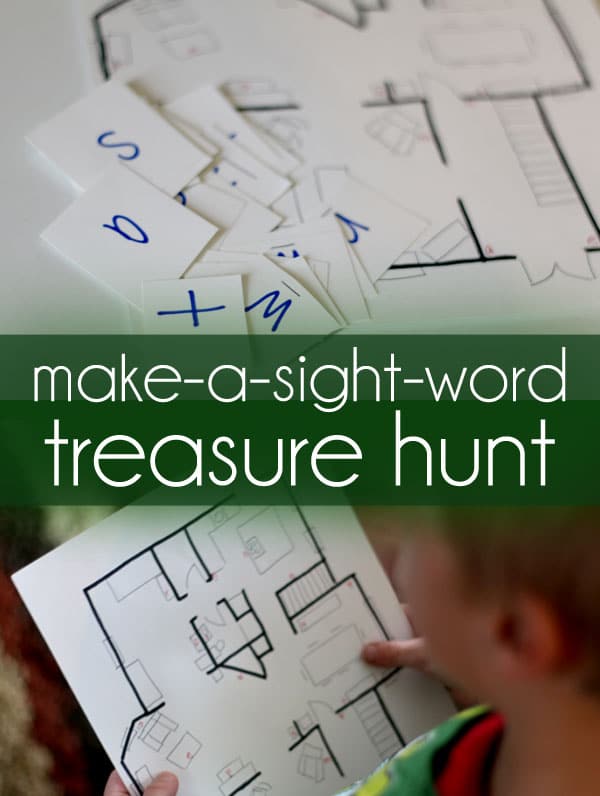 I made this a treasure hunt to search for the letters of a few of his current list of sight words. Henry would hunt for the letters and put them together to make the sight words.
I drew a floor plan of our first floor. I had a floor plan that I just printed out and traced, but a generalized floor plan of your house would work, or even just a room.
I traced the walls and then added in key pieces of furniture (the couch, chairs, dining room table and so on).
After I chose 5 sight words for Henry to work on: were, what, ask, put, and from, I wrote each of the letters throughout the floor plan map in the places to hide the letters.
More ways to learn sight words! Try these 12 hands on learning activities to learn sight words.
Then I wrote all the letters of the sight words on a piece of paper and cut them all apart.
I then taped those letters around the house in the places that I put on the map. I made them harder than I would on a regular scavenger hunt, since he had a map telling him exactly where they'd be.
Note: Be sure to underline letters that could be mistaken if they were upside down. Such as u and n, p and d, and so on. Do that on both the individual letters that you hide around the house, as well as on the map in case it gets turned around.
Then its time to go on the treasure hunt!
I did all the above during naptime on a day Henry was home from school. He doesn't nap anymore, but he does play quietly during naptime as a rest period. To get some one on one time with him, we did the treasure hunt while the others were still sleeping.
First, I gave him the map and we went over what it all meant and how to read it. Definitely take as long as you need to make sure they understand it. I quizzed Henry a little, asking him what room each was, and what the pieces of furniture were until I was confident that he understood how to read it right.
Then, with a list of the 5 sight words, I told him to find the letters on the map to spell the sight words and then go find them in their spot around the house.
When he found the letters, he taped them to the word and when he was finished, he put them together in the right order.
And phew, goodness. I'm so glad we reviewed these sight words. Henry completely forgot them!
What's great about this is you can make a treasure hunt to work on whatever your child is currently working on! It can just be the letters, just numbers, spelling practice. Make it simpler by doing just a room, or your backyard.
Now. Go make a treasure hunt! What will your kids be hunting for?
More move and learn ideas from my co-hosts: