ActivitiesPreschoolersResources19 Comments
Grab a few moments to yourself with our hands-on Mom guide to quiet time busy activities!
We're making the most of quiet time, now that there's no nap time, with these quiet activities!
I just don't want to let go of that time to myself yet, and I'm sure I'm not the only parent feeling this way.
I am a very lucky mom and Henry plays in his room quietly while the other two boys are napping. He has a few toys and books in there, and can seriously can entertain himself for hours.
Yes, very lucky mom here.
However, I want to make the most of that quiet time for him, so he's not just bored. Even though he entertains himself well, I can tell when he wasn't very entertained during nap time.
On those days, he comes from his room wired!
Quiet Time Busy Activities for Preschoolers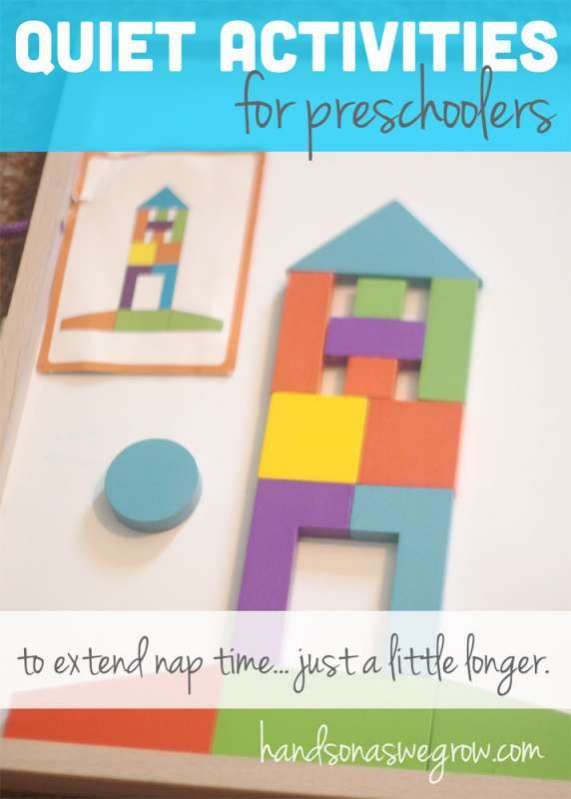 I am learning to have quiet activities ready that he can do during this time.
Not only do they have to be quiet, but they have to be done independently. That means on his own, no help from me.
As we're getting used to this new quiet time routine, I've been building a stash of busy play activities and toys that the boys can do on their own.
This list contains affiliate links.
Puzzles: Lots and lots of puzzles. Henry usually does two puzzles during nap time and leaves them up until the next day where he takes them apart and does two different ones.
Books: I set out activity books, such as Big Trucks and Diggers, as well as familiar reading books.
Blocks: We're starting to get into the "real" LEGO that follows directions to build something. This has become a favorite. Also in this category are Arc-a-Teks that make little robots. They're a little easier than the classic small LEGO.
Coloring Books: I set out pages, like this winter coloring set, with markers, crayons, or colored pencils. He usually just works on part of a page each nap time and moves onto something else since he's not a huge colorer.
Dry erase activity board: We've had this for a while and haven't really used it much until we started doing quiet time. It's been great for him to practice his writing and reviewing letters.
Photo block building: We haven't had an issue with noise with this yet, but I may make some sponge blocks that I saw on Inner Child Fun.
Sticky mosaics pictures: These are perfect for naptime, as well as before dinner when it starts to get hectic. We have the vehicle set, but there are different kinds too!
Magnetic shape building: We've used Imaginets while traveling. It's fun to make what the card says, but also to explore what else they can make with their imagination! Simplify. Live. Love. uses another version of these that aren't magnetic.
Word Play: Practice spotting the word, letters, letter sounds, or whatever stage of reading your child is at. Look in books, magazines, on packages, or just around the room.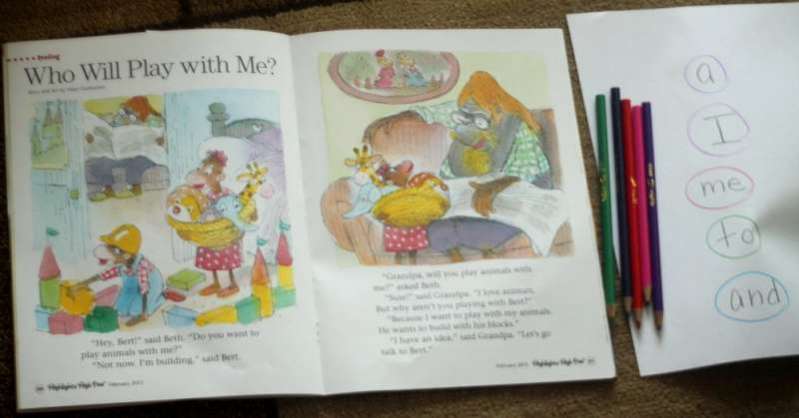 But I can see these are starting to lose their appeal as we do them day after day. So I'm on the hunt for more activities that Henry can do on his own in his room, quietly.
Quiet Time Busy Activities on My To-Try List
What are your go-to busy play activities for your kids? We'd love to collect more of your genius ideas!