BlogHerAll AgesBusy Play
Resources
Traveling12 Comments
Here's a slew of busy bag ideas you can have ready for your next road trip! The kids will love you (and you'll love the trip for once).
Summer is among us and that usually means family trips and vacations. Whether it's a short weekend trip or a long road trip or airplane ride, the kids often need to have some entertainment. They only can take a nap so much!
While I have lots of ideas for things to do with kids in the car while traveling, I thought it might be handier to share some specific busy bag ideas for road trips. Maybe Mom will get some reading time or shut eye before reaching their destination (we can dream, right?).
That would be Drivetastic!
I am working with Autotrader to show you that you can find the right vehicle for you that's Drivetastic!
MORE ACTIVITES YOU MIGHT LIKE
What does Drivetastic mean?
Being Drivetastic, to me, means that I can make sure my kids are safe with our car choice (with backup camera, navigation, etc — you can search for these features on Autotrader), but also with what we bring along in the car. That means not a million, gazillion pieces floating around all the time.
Feel Drivetastic!
20 Road Trip Busy Bag Ideas
First of all, what do I consider a 'busy bag'?
A busy bag to me is something that can be contained and stored away, but brought out to play with and put back (reusable). It doesn't necessarily have to be a 'bag'.
Secondly, what makes these best for road trips?
These busy bag ideas are great for road trips because they don't have a million little pieces that the kids are going to constantly be dropping and not being able to continue on with their play until you have a chance to find the lost piece.
Homemade Busy Books are Great Busy Bag Ideas
Travel Versions of Classic Games as Busy Bag Ideas
See the most beloved board games here.
Learning Busy Bag Ideas for Road Trips
Artsy Busy Bag Ideas for Road Trips
I Spy & Sensory Busy Bag Ideas
Sensory galore! Find a gob of sensory ideas.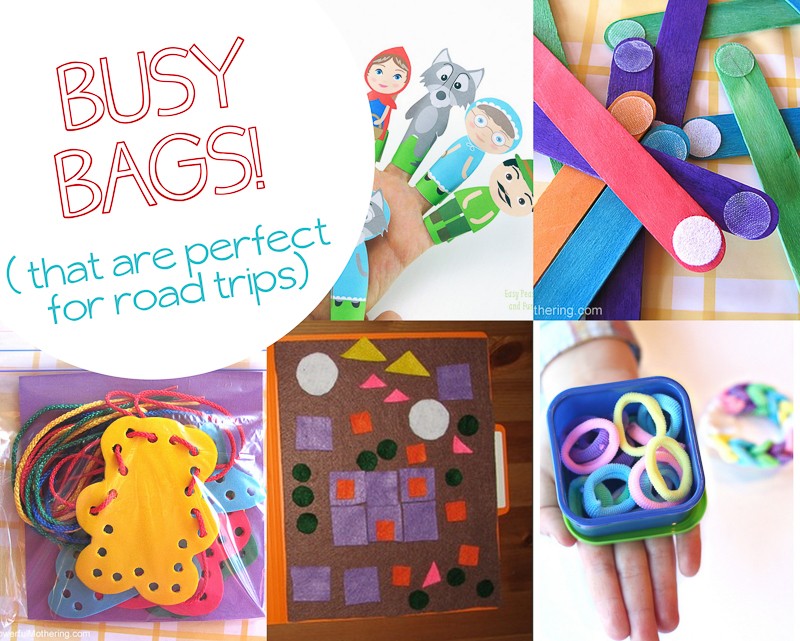 So Much More Busy Bag Fun!
There ya go! You'll be set to have so much fun on road trips from now on, you'll be begging to go and you'll never hear the dreaded "Are we there yet?" (We can hope right?).
Before you head off, you may want to take a look at this amazing list of Sanity Saving Tips for a Long Road Trip from Lemon Lime Adventures.
Now, make sure that your trip will be Drivetastic too!
What does being Drivetastic mean to you?
It's your next car. Love shopping for it.