Fine MotorToddlersBusy Play16 Comments
Oh busy boxes. I don't know what it is, but I just don't like that sound of it! Perhaps it's because when my toddlers are busy it often means I am busy too. The idea of busy boxes for toddlers sounds to me like mess and trouble. So I call mine something different – Quiet Boxes.
And since I don't actually use boxes, I in fact call them Quiet Bins.
Doesn't that make you feel better? Instead of Busy Boxes for Toddlers, Quiet Bins for Toddlers? Never mind, it is likely just me.
Regardless of the name, please let me tell you about my version of Busy Boxes for toddlers.
When my oldest daughter, now 13, was in daycare at the age of 2 she was a non-napper. She just wouldn't do it.
This was a problem for the other little ones in her class who needed to sleep, and it was a problem for her own little body which desperately needed a rest.
The solution? You guessed it: Quiet Bins. She would quietly play independently on her cot while her friends napped.
I had a huge need for these bins again about 3 years ago when I was home with a new babe and a toddler. This sounded beautiful to me before it happened. Before the nursing and the sleep deprivation and the needing just … 5 … minutes …
Do you know what saved my sanity? Quiet Bins.
Find simple and easy busy activities to do with toddlers too.
Because of my love for my Quiet Bins I wrote a book called, "A Year of Educational Quiet Bins: The secret to peaceful days at home with kids".
This book combines my knowledge as a Mama who has 'been there' and knows all ideas must be simple and mess free, with my background as a Kindergarten teacher.
Let me tell you what these magical bins hold.
Each Quiet Bin holds a simple, engaging, gently structured activity for little ones between the ages of 2 and 6 years old.
Since the activities are open ended, little ones can use them in age appropriate ways making them suitable for toddlers, preschoolers, and young school aged children.
Go-To Busy Boxes for Toddlers (Quiet Bins)
Since it is almost Thanksgiving in the U.S. (though I am Canadian and feel funny sharing this, as turkeys were so last month) I wanted to share with you this cute turkey Quiet Bin.
Little ones can poke feathers into styrofoam balls (with googly eyes and a tiny beak glued on to look like a turkey).
Young toddlers love to poke the feathers in and pull them out again and again. Older toddlers can try to sort the feathers by colour, or by a number, or even patterns!
Have you seen our Fall Button Tree Quiet Bin?
This Create a Shape Quiet Bin is fabulous for toddlers. Painting the ends of popsicle sticks and popping them into a bin with shape cards is a great activity for little ones.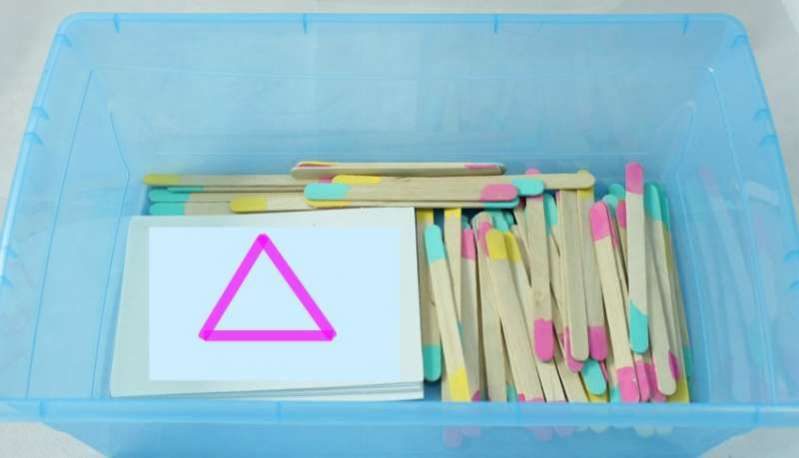 Toddlers strengthen little hands by picking up and holding the popsicle sticks and they will begin matching colours, building structures, creating lines or zigzags, or even building shapes.
You can put in a few cards with shapes drawn on to encourage older children to build triangles and squares. Or you could add some animals to encourage little ones to build barns and pens.
Here's a quick peek at the other Quiet Bins in the pictures of this post:
A Rainy Day Bin – with tiny blue pompoms, little people, and drink umbrellas. This bin is fabulous for imaginative play and opening and closing those tiny drink umbrellas is phenomenal for strenthening little hands for future writing.
Wrapping Paper Tube Patterning – using cut, sturdy wrapping paper tubes and tiny plastic hair elastics little ones can practice counting, patterning, and strengthening their little hand muscles.
Catch the Popsicle Drips – fold some coloured paper to make a pocket and glue a popsicle stick on. Add oodles of hole punched coloured paper and little ones can work on popping those popsicle drips back into the popsicles. This is fabulous for developing a pincer grip, counting, and colour recognition and discerning.
Paper Cup Flowers – cut slits down a paper cup to turn it into a flower. Throw in lots of paper clips so children can create pretty flowers by clipping on the 'petals'
The beauty with all of these Quiet Bins is that little ones become engaged in the activity and often, once they are calm and engaged, they will continue the activity all on their own in various ways. The bins become little small worlds for children to dive into and explore.
It is such a simple idea, and the Quiet Bins could not be more straight forward to put together, but the result is spectacular!
If you are interested in learning more about Quiet Bins for Toddlers be sure to check out my eBook or Print Book for an entire year worth of Educational Quiet Bins. Be sure to use the code "HandsOnMom" to get my eBook for only $6!