Fine MotorPreschoolersKindergartnersGrade SchoolBusy Play
Indoor Activities5 Comments
A quick paper clip chain activity for the kids to make that's excellent for fine motor skills!
So simple. Hook the paper clips together to make a chain.
I learned something from the supplies activities poll I started a week before I did this activity.
That paper clips are in most of your homes.
And yep, I have them too.
Paper Clip Chain Activity: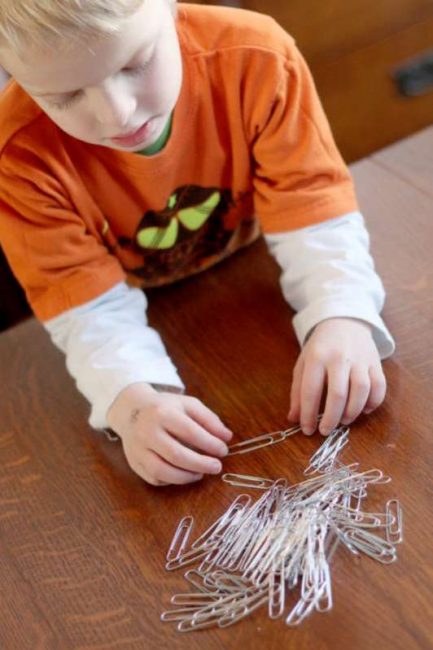 Supplies Needed:
Just paper clips!
Easy enough. So go raid your desk drawer.
Now let the kids go to work hooking the paper clips together to make a simple chain.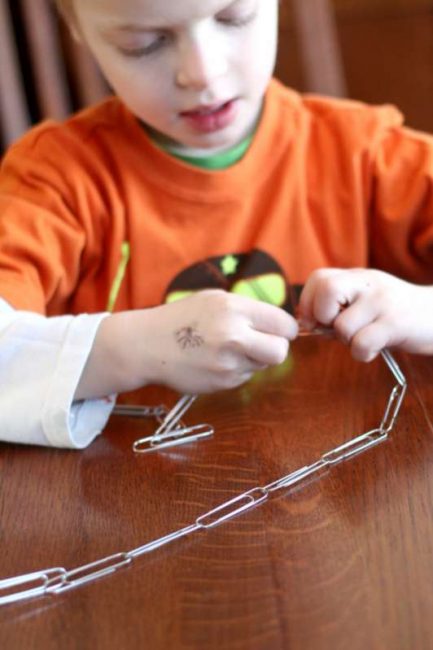 I had to show George how to hook them together.
But once I did, he got the hang of it pretty fast!
It was a great fine motor activity for him to work his fingers and really concentrate on how to do it.
Good for Henry too!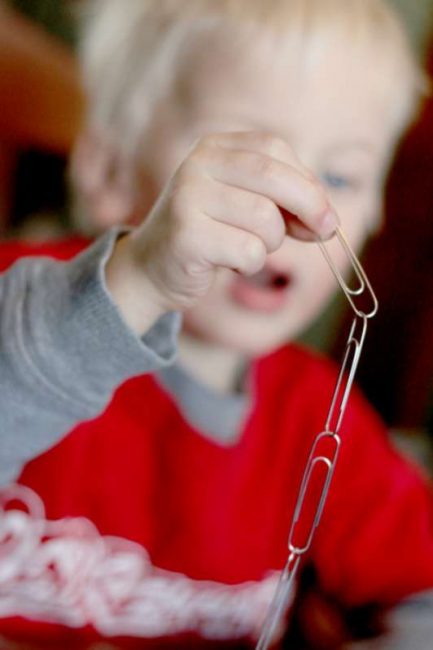 What to do with this paper clip chain?
The boys decided what they wanted to do with their chains.
And the decision was it was going to be a necklace. (We like to make simple necklaces!)
George thought a bracelet at first.
He quickly changed his mind when he had already made a chain longer than he needed.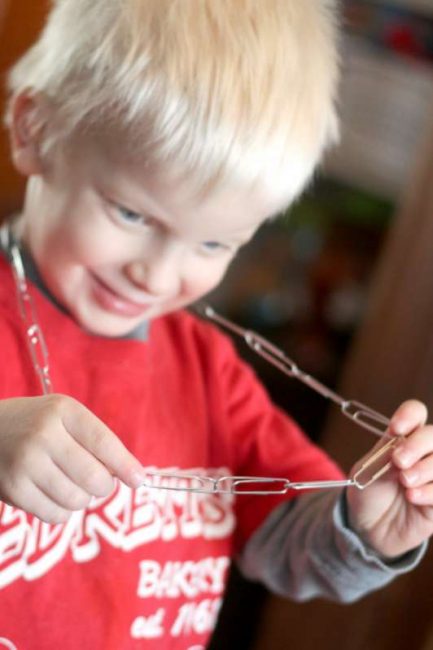 Henry kept trying his chain around his neck to see if it was long enough.
He could get it around his neck just fine. Except he wasn't able to then pull it off again over his head once he hooked the ends together.
So he had multiple attempts making his paper clip chain long enough.
Eventually it was plenty long and he decided to add a ring he got for Valentine's Day as a decoration.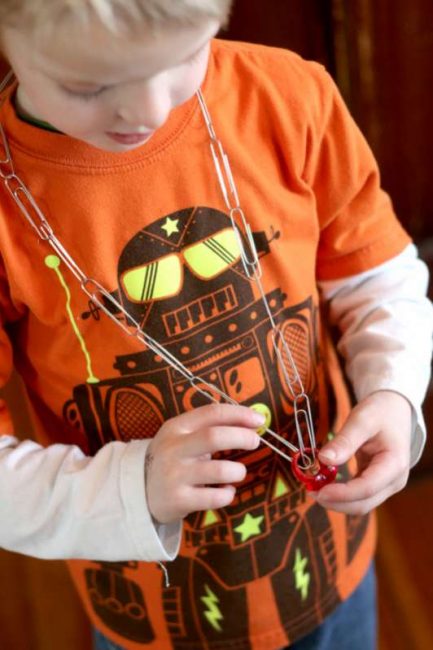 The boys wore them for the afternoon.
However it didn't take long for them to decide the paper clip chain was itchy. The paper clips kept poking at their neck.
Henry wanted to add pom poms to it to soften it up!
Not sure if a paper clip could thread a pom pom or not. But that might be worth a try. We never did try it.
Since we've made necklaces with straws and now paper clips:
What other common materials have you made a simple necklace with?
My kids loved making this paper clip activity, so I'd love to find other simple ideas!