Christmas
Gross MotorPreschoolersKindergartnersScavenger Hunts19 Comments
Get in the Christmas spirit with a fun, low prep- flashlight scavenger hunt! 
I needed a boredom buster. It's been really cold outside lately, so we've done a lot of indoor play.
My kids needed to get active and giggle, but I also needed an activity that would set up quickly and take almost zero special supplies.
Low-Prep Christmas Flashlight Scavenger Hunt for Kids
This Christmas-themed scavenger hunt is super quick to set up.
To make your own Christmas scavenger hunt, you'll need:
Christmas bows or ribbons
Tape if you are not using a self-stick bow or ribbon
Flashlights
I grabbed some Christmas bows from my wrapping paper stash and stuck them around the boys' rooms upstairs just before we say down for dinner.
Super simple!
I called the boys to go on a scavenger hunt for some Christmas bows!
With one extra challenge. No lights were to be turned on. Just use their flashlights.
Alrighty! Super fun Mom! (Yay! I'm cool!)
They searched awhile on their own for the 9 Christmas bows that I hid around the rooms and only came up with four.
So I came to the rescue to help a little.
I gave them clues, like if they're getting hotter or colder. It's a new concept for George!
I saw they were mostly just carrying their flashlights around the room, and looking for things while their flashlight was aimed at the floor.
I prompted them to use their flashlights to shine it on all the things in the room, look up and down, under and over their bed, on dressers, windows, and doors.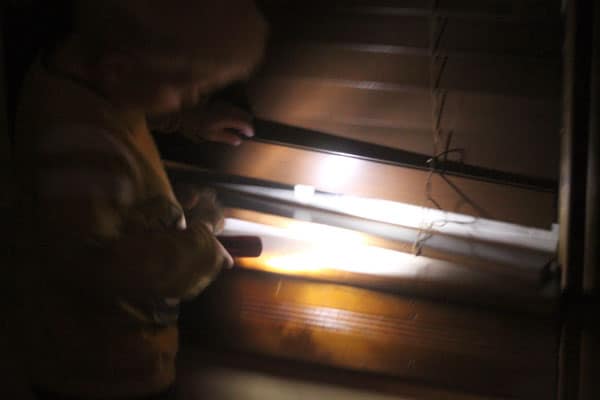 Once they found a Christmas bow, they stuck it on their shirts so they could keep track of how many they've found.
Henry was the winner… and made sure to rub it in George's face. Yeah… we need to work on that.
Eventually, all the Christmas bows were found and it was time for dinner!
This Christmas scavenger hunt was a great way for us to have a not-so-crazy evening in the ever-so-hectic time of year.
More Christmas fun? Go on a candy cane scavenger hunt, a great idea from Dirt and Boogers!
What are your favorite low-prep holiday activities? Post your best ideas in the comments!