Art Projects
EasterPreschoolersCrayons
Painting1 Comment
Brigitte and her family loved the simplicity of this easy watercolor crayon resist Easter art project!
The two Easter egg painting projects we did last year were a lot of fun. But I wanted to try something a little different this year.
Instead of doing a tape resist craft, my daughters and I tried a watercolor crayon resist Easter craft.
Watercolor Resist with Crayons
There were very few supplies needed for this simple crayon resist Easter art. To do your own watercolor crayon resist craft, you'll need:
That's it!
Regular computer paper can be used instead of card stock, but the paint may bleed through.
You can also try mixing water and food coloring as done with this oil pastel resist project if you don't have watercolor paints.
And if you don't have white crayons, any crayon color should work. Be flexible! Or you could even try a wax candle stick.
Create Easter Art with Kids!
I told my daughters to draw an Easter picture on their papers using the crayons.
It was fun because I couldn't see what they had drawn from across the table since the white crayon blended in with the white papers.
So, it was like a surprise for me too!
Once they had drawn their pictures, it was time to unveil the secret image.
For littler kids, you can draw the picture for them. And then it's a surprise for them to reveal.
They painted the papers using the paintbrushes they had dipped in the water and watercolor paints.
You'll want to really load the brush with watercolors.
As you sweep the watercolors over the paper, the paint soaks into the paper but "skips" over the crayon marks!
The picture they created will be left behind, white against the colorful paint.
It's Trial & Error with Watercolor Crayon Resist
This is a process project. It's a great time to experiment with different ways to play with the crayon resist technique.
One trick to mention is that you need to push a little harder than you might think on the crayons when you're creating the drawing. Enough to leave the wax residue on the paper.
The places where my kids didn't push down as hard didn't show up very well when we painted over it.
One of my daughters drew multiple Easter eggs on one piece of paper after she finished her large Easter egg. Watching the eggs appear as she painted over them was a lot of fun.
She painted over each egg in a different color, revealing her creative designs.
It was almost like an egg scavenger hunt since we couldn't really see the eggs on the paper until they were painted.
My other daughter made Easter crosses on a hill to reveal with the watercolor crayon resist.
Once she finished her cross painting, she made her own crayon resist egg using multiple watercolor paint colors.
She also attempted a bunny resist drawing.
I loved the variety of watercolor crayon resist art my kids created.
We can't wait to display these crosses, eggs, and a bunny for Easter!
Plus, I love how easy this project was to scale up or down. It's perfect for multiple ages and skill levels.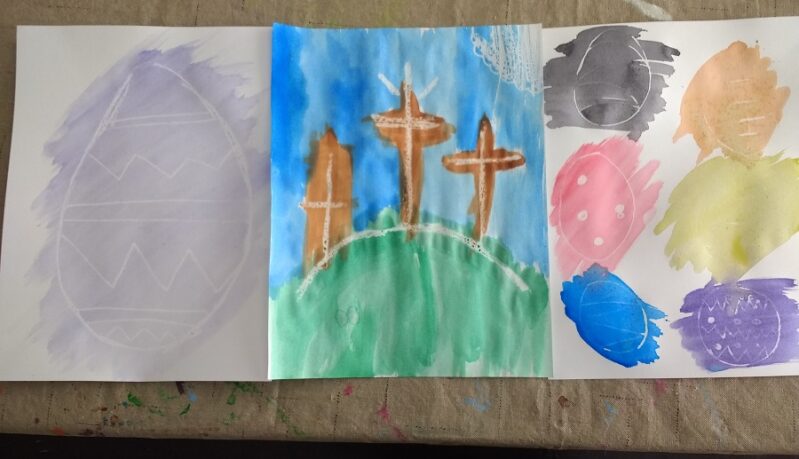 This craft could probably be done any time of the year with letters, shapes, and numbers.
I'm already dreaming up a "spy" kit activity with secret notes to "reveal"!
What is your favorite Easter art activity?
We'd love to try your creative ideas!