Art ProjectsToddlersPreschoolersPainting5 Comments
There's something so prestigious about art on a piece of canvas.
I think it really makes the kids think they're making something really special. Last year they made a piece of art on canvas with the frozen paints outside on a very hot day, which hangs in George's room.
Since I bought a twin-pack of canvases (affiliate link) last year, I still had one left to use. Waiting for a special day.
MORE ACTIVITIES YOU MIGHT LIKE
This year, I decided to stay indoors on a very hot day instead and break out the oil pastels that CraftProjectsIdeas sent us!
I think this is going to be a annual tradition on a hot day. To make a piece of art on a piece of canvas for the boys to hang in their room.
I set the boys up to the table, side by side, with the blank canvas and the oil pastels. And they made this piece of art completely together. A collaborative piece of art that I'll love every time I see it.
George got right into it. Scribbling all over.
Henry was a little more hesitant and tried his best to draw something that he could. He made lots of parallel lines. He told me they were the field rows (of course, farming is always on this kid's mind).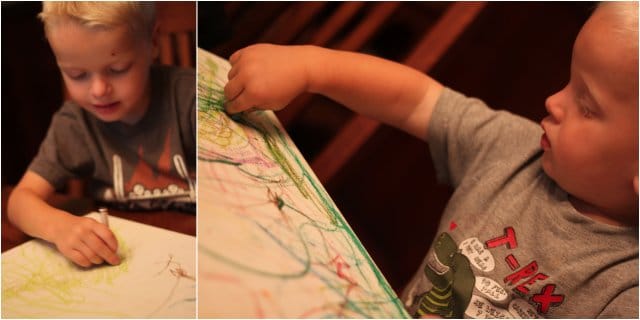 Once Henry announce that he was finished and George finally seemed bored of it. I brought out paintbrushes and watercolors. (And when I say watercolors, I mean stuff I made. Water and food coloring.)
I gave Henry the choice of colors. Green and blue it was.
And just let them go at it. Painting together.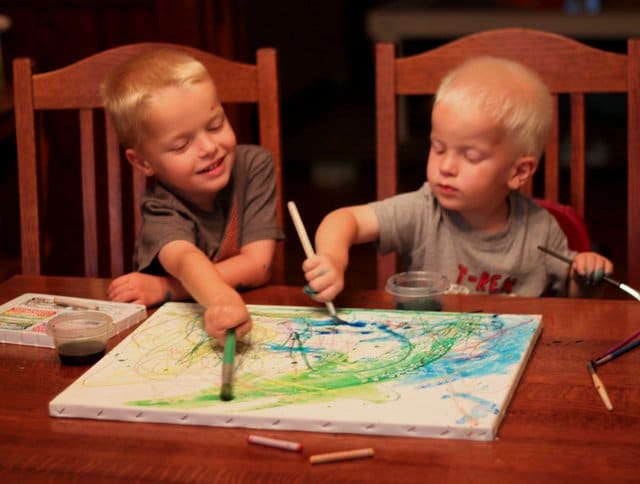 The oil pastels resisting the watercolors as they painted.
The oil pastels kind of have a shininess to them now that its dried.
George had a little mishap.
He dumped the entire container of green water onto the canvas.
But that's okay. He quickly grabbed a paper towel (all on his own) and tried to wipe it up as best he could.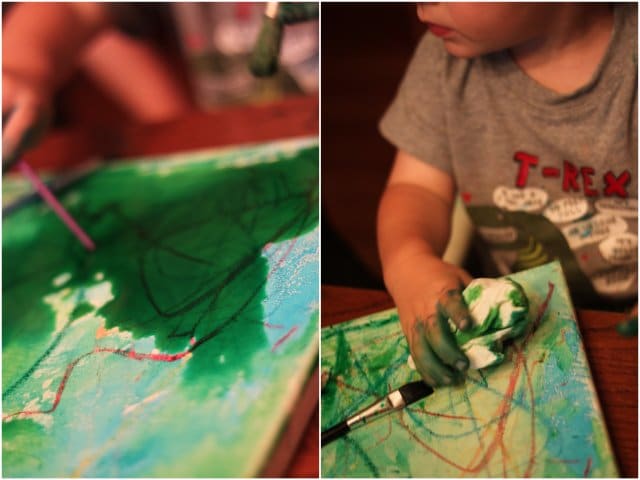 And this is one that will hang in Henry's room. He just has to decide where he wants it.
I think as we create more of these canvas pieces of art in the years to come, I'm going to hang the 'old' ones in the hallway as a hall of fame of the boys' canvas art.
Have you made a "real piece of art" on canvas with your kids?