Crafts
Easter
SpringAll AgesEggs
stickers2 Comments
After trying some new ways to decorate eggs with Henry last year, I thought it would be nice to try a couple other new ways this year.
My thoughts on what kind of decorated eggs I'd like to try?
Trying sticker resist eggs, like I saw at Le Papier Studio.
Hot glue resist decorated eggs, as I saw at Creative Connections for Kids
As my mom and I were looking for our materials to start decorating, we also came across glue sticks and thought that might be nifty to try as a resist form for decorating.
So our three types of resist decorated eggs:
Let's see.
Sticker Resist Decorated Eggs: Fail.
Glue Stick Resist Decorated Eggs: Fail.
Hot Glue Resist Decorated Eggs: Fail.
What happened that they were fails?
The sticker resist eggs had two problems.
Some didn't stick at all – falling off in the dye.
Those that did stick didn't seem to resist the dye completely. The edges were soaked through.
In all fairness, I had one success with the stickers. And I'm not sure what was done differently with this one, or if it was just the type of sticker. But I love the dots and that was my whole vision for the sticker eggs.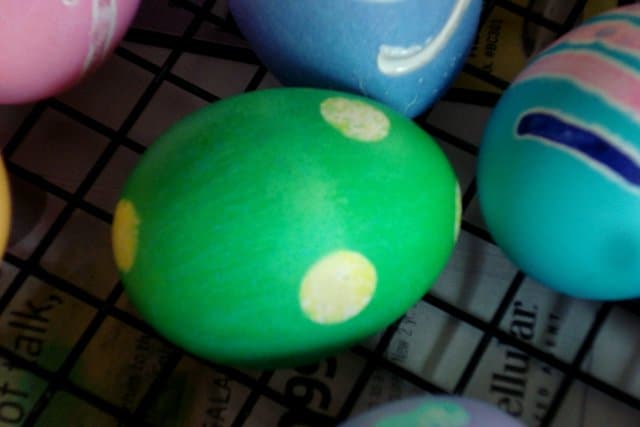 The glue stick resist eggs sort of resisted the dye. As I went to wipe off the glue though before dying it again, it just smeared everything. It pretty much gave it a nice marble effect.
The hot glue resist eggs. I was so disappointed with this. I was looking forward to this the most of all of them. You simply decorate the egg with hot glue and then dye it. Once it was dyed, we pulled off the hot glue…. and the shell! Such a bummer!
After a few fails, we decided to go with the best one from last year.
Decorating with crayons when the eggs are still hot from boiling!
Its so much fun! The designs are endless.
Henry even tried writing H on the eggs. (Which he did do successfully twice, he just scribbled over them too!)
Still had some pretty results with our eggs. I love this time of year.
Have a Happy Easter! Enjoy time with your family this weekend!