Crafts
EasterPreschoolersEggs
Ribbons2 Comments
A simple ribbon Easter egg craft that surely brightened up the room and added a Spring touch to decorate for Easter!
George and I spent a morning making Easter eggs to put in the window! Take a look at these! Aren't they pretty? And they're so simple to make.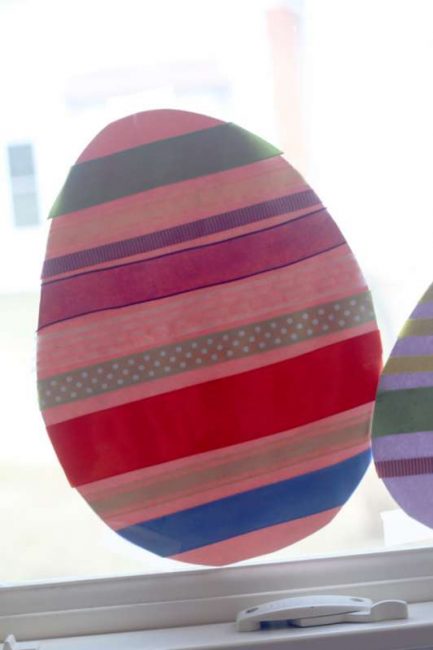 I started by cutting out several egg shapes from scrapbook paper (or heavy card stock, an affiliate link for you to help support hands on : as we grow without any extra cost!).
I have a bunch of pastel colored paper, so that worked perfectly for Easter colors. But I don't think the color matters too much, because most of it gets covered up.
I brought out the tub of ribbon that I have on hand.
Is it normal to have a lot of ribbon? Do you? I use ribbon a lot for decorating wedding cakes, and tend to have a lot leftover and it gets stashed in my ribbon tub. But I'm sure I'd still have ribbon on hand to add pizzazz to birthday and wedding gifts (when I think about it).
George simply cut the ribbon and glued it onto the paper egg however he wanted. Stripes, crosses, or whatever!
What surprised me about this craft is that it ended up being a simple measuring introduction for George. Since I didn't pre-cut the ribbon, he would lay it over the paper egg to see how long to cut each ribbon.
I'm not saying he did it very accurately though or understood what he was doing. But I did realize I was saying 'measure' a lot during our craft. Most of the time he would lay the ribbon out, across half the table and say he measured it and was going to cut it there.
I couldn't help but think how this activity could become a learning activity if Henry were home to do it with us. Stripes of ribbon could easily be added in a pattern, which George did unknowingly on one of his Easter eggs.
I finished off the Easter eggs by trimming the excess ribbon around the paper eggs once they dried.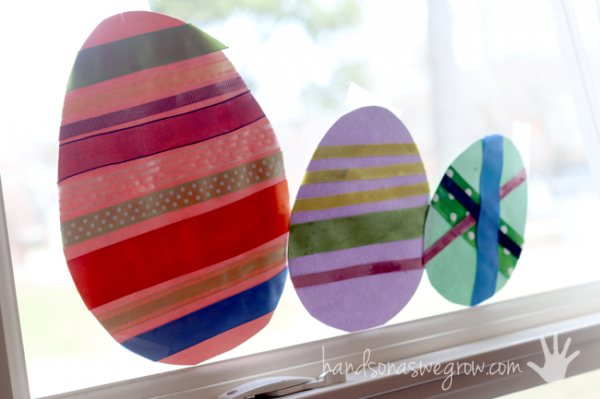 There were lots of little ribbon scraps left and we had one lonely paper Easter egg left, so we glued them on that egg to make a speckled egg craft!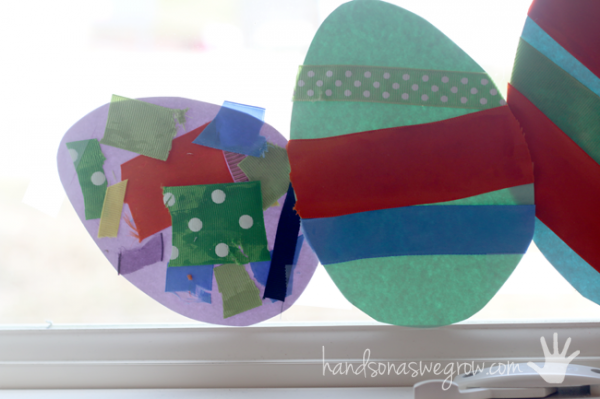 With a little Scotch tape, I have them up for display in our dining room window! So incredibly easy for preschoolers to make this Easter egg craft!
Another Easter egg craft or two (or three) we've done: