Art Projects
Campaign
SpringAll AgesFlowers
Rainbow Activities
Resources
Tree17 Comments
These are some colorful, fun and bright spring art projects for kids!
I am so in the mood for Spring and completely over winter. Even if all the winter crafts are adorably cute.
I need some green and brightness around me!
We have recently moved my office to its own room, and styling it has been fun. I haven't decorated in years it seems like. Since winter is still in the air here and we all have the sniffles, I was happy to find, our sponsor, Kleenex has very cool new designs in every color and style!
One thing I wanted to make sure I put in the room is a place to display the kids art projects. I had been saving this old picture frame for the longest time and it was time to use it. I spray painted it a soft yellow to go with the room (I did blues with a yellow accent).
I turned the frame into a place to display the kids' art projects, and what better way to get in the mood for Spring than to fill it up with wonderful Spring art projects that the kids make?
Now to really fill that frame with some oh-so-colorful Spring art projects from the kids!
From flowers to rainbows to butterflies and Spring holidays. I found a whole bunch of Spring art projects for kids! I'm especially love the Spring trees, so I saved those for last!
These are going to look fantastic in that frame!
Spring Art Projects for Kids to Decorate the House!
Flower art projects for kids to make:
We have even more flower ideas that are for Mother's Day!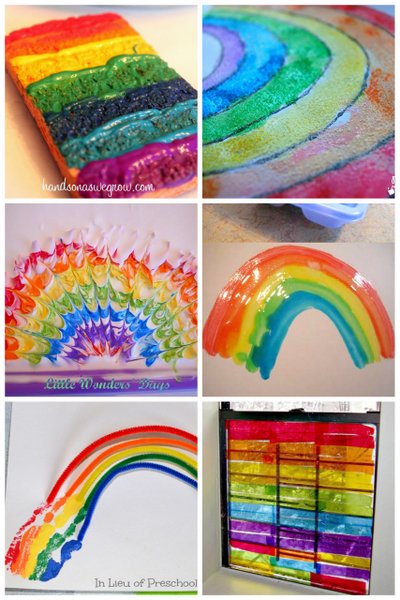 Rainbow art projects for kids to make:
There are so many ways to make rainbows! Check out 11 more rainbow activities from hands on moms.
Butterfly spring art projects for kids to create:
Create some egg art projects for the Spring holiday, Easter!
And don't just stop with eggs for decor, check out these 26 ways to decorate Easter eggs!
Spring tree art projects for kids to create, my favorite!
If these 20 Spring art projects for kids to make aren't enough, there's 36 spring crafts for kids to make too!
The ENGAGE eBook of 5 weekly plans of activities is perfect for the preschooler age. Fun ways to get the kids moving, work on fine motor, do arts and craft projects and have fun as a family! Each weekly plan includes a handy supply list and activities broken down to know exactly what to do in a simple sentence or two.