Fine Motor
WinterPreschoolersGrade SchoolKindergartnersCutting
Snow
Window8 Comments
I found a new way for young kids to make some easy snowflakes! We made a whole bunch and hung them in garlands on the window.
Cutting snowflakes is a favorite pastime of mine, and beginning to be for my kids too. Its something we look forward to every winter season. And often make them before Christmas, especially if we don't happen to have snow. It helps get us in the holiday spirit!
We've cut snowflakes in the past, with many different things, such as coffee filters and wrapping paper. It does make it easy. But often cutting the little shapes out of the paper is hard for little kids to do. At least for mine!
The way we found to make some easy snowflakes creates a fringed effect that I love. And I love how it looks when there's a lot of them together!
To make these easy snowflakes we used regular printer paper. The thinner the paper, the better, so it flops around and isn't so stiff.
We started by tracing circles onto the paper. Big, medium and little and even a few extra small ones! I did this for the most part. The boys were more excited about cutting everything and I was just fine with that!
I love these scissors for kids to cut! (affiliate link)
George and Henry cut the circles out of the paper. When they started they didn't have much confidence that they could even cut the circle. But after they got through one snowflake, they realized their capabilities were much more than they first anticipated.
Once a paper circle is cut out, we folded the circle in half three times.
I did this for the first few snowflakes they did, but by the time we got really into it, the boys were doing this by themselves from start to finish.
With the paper folded, I would pencil in marks for them to follow (again, this is something they ended up doing on their own).
I drew a line across the point of the folded circle. They weren't to cut any further than that line so they didn't cut it into pieces.
Then I drew three or four lines (depending on the size of the circle we started with) from that line out to the edge.
Those were the lines the boys cut along.
And when they opened it up, they found they made some really cool looking snowflakes!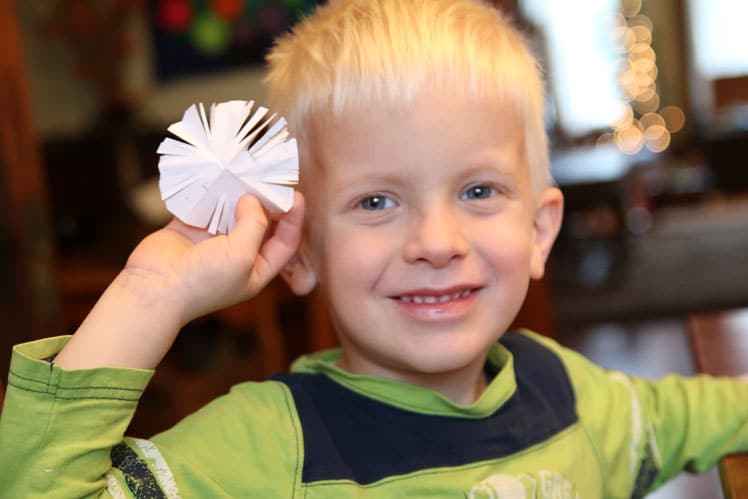 After we accumulated a pile of these snowflakes, we strung them up as garlands in the window to look like the snow is falling.
But it really isn't. According to Henry.
I used some hemp cord I had on hand (affiliate link). I didn't have enough white cord, so I also used some blue and tan.
The white definitely looks the best though. And then George  just taped the snowflakes on using Scotch tape just like we did with the heart garland they made.
Make a garland for your window for every season!