Art Projects
WinterPreschoolersIndoor Activities
Window17 Comments
As part of the Creative Christmas Countdown, I'm sharing a way to decorate a window for the holidays!
There's many ways to decorate windows, in fact, I even started a Pinterest board for that very thing… Its fun to do and brightens up the room when the sun shines through it (See our leaf garland window, and get a window paint recipe)! 
For the holidays, the boys and I brought in the cold and make a wintery, snowy landscape… a snowscape… on the window!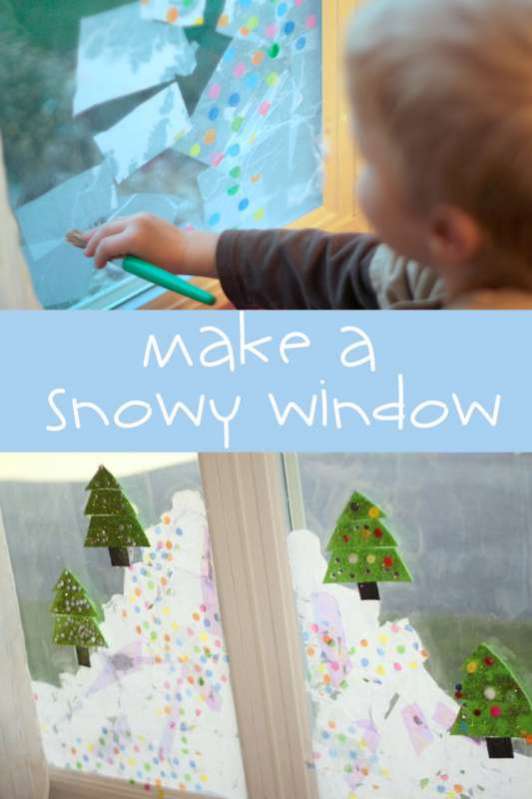 To decorate our snowscape window we used:
tissue paper
cellophane (optional)
watered down mod podge
Choose tissue paper and cellophane in some wintery colors. I had white (recycled from gifts we've gotten) and this polka dot tissue paper on hand.
The cellophane isn't necessary, I just happened to have some on hand because I bought it by accident. It does add a nice shimmer of color to the window though! Our cellophane is blue tinted, so it works well with the winter theme.
I cut the tissue paper and cellophane into somewhat small pieces (probably the size of my hand and smaller).
Tissue paper and cellophane both stick to windows like foam does… with water. However, when it dries, it will fall off. So I watered down some mod podge (affiliate link) and we painted the tissue paper and cellophane with it when we stuck it on the window!
Henry noticed that if we kind of crinkled up the tissue paper as we painted it on, it really looked like ice! So that was Henry's goal with every piece of tissue paper!
We tried painting the window with the water first, as well as painting directly on the tissue paper. Its easier for the kids to paint the window and then stick the tissue paper to it.
I let the kids use just water to stick the tissue paper on. It initially sticks it on. When I noticed it was starting to fall off as it dried, I went back and painted the entire snowscape with the watered down mod podge. But you could start off with the mod podge (if you feel safe enough letting your kids use the mod podge) to save you a step.
Our snowscape window was completed with the foam Christmas trees that the boys decorated! And now we're ready for the winter holidays!
I read in the comments at Dilly Dali Art that the mod podge mixture will just wash off with water. I'll update when I know for sure.
See these ideas to decorate your window for Christmas & the winter holidays:
Keep up with the Creative Christmas Countdown at Creative with Kids and Red Ted Art.