ChristmasToddlersPreschoolersFoam
Indoor Activities
Window1 Comment
Foam sheets can be so versatile. They can be cut down to any shape or size that you'd like to make whatever you like!
However, I have had these sticky foam sheets (affiliate link) forever and I wasn't really sure what to do with them. Last year, I used them to make our snowman fridge. But other than that, I don't think I've touched them.
Until now.
We decorated Christmas trees to stick to the window! Only we did it backwards from what you'd expect from sticky foam.
I cut out three shapes (one triangle for the top part, and a small and large trapezoid for the middle and bottom) from a piece of green foam to make the tree. The boys removed the paper on the sticky side and used the sticky side to decorate their trees.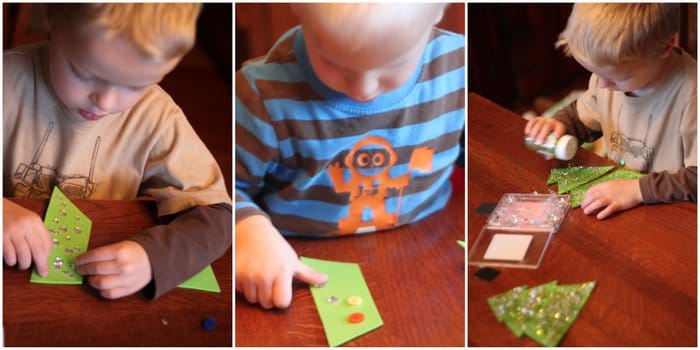 They stuck buttons, pom poms, and jewels all over their trees, and finished them off with glitter.
Now, the sticky side was covered. (Tip: dab the sticky side with a damp cloth – or dust it with flour, or salt, to remove any excess stickiness and maybe give it a dusting of snow!)
I loved how into this crafty activity the boys got! Christmas seems to have that affect though!
The 'back side' (really, the front side of the foam) of the tree can now be wet with water and stuck to a window! Mix and match the trees if you'd like!
Or make the trees a part of a holiday window for the season by using mod podge! We added our Christmas trees to a snowy window landscape that I'll share with you on Monday as part of the Creative Christmas Countdown.
Henry has claimed each tree to be someone's in the family. He's sharing his with Louis since there's only 4 trees and five of us. He really does love having his new baby brother around!