Campaign
ChristmasAll AgesResources
Make this holiday season less stressful with homemade Christmas decorations for kids to make, the key is to make as many or as few as you would like.
We always start putting up Christmas decorations the weekend after Thanksgiving. Instead of shopping on Black Friday, that's what we do instead.
And since having kids, the Christmas decorations have become less and less.
For a few reasons. For the last six years, I've always had a toddler or baby during the holiday season makes it hard to keep them out of all the decorations. And secondly, I just don't have the time to set it all up and make it look perfect like I used to (okay, maybe it was never perfect to begin with…).
MORE ACTIVITIES YOU MIGHT LIKE
Since having kids, my focus has changed… its about the kids and spending time together during the holidays, creating memories.
I've turned the holiday decorating into that as well. We decorate with crafts that kids make!
While many of us look forward to this season all year long, me being one of them, it also stresses many of us out.
Whether its the stress of buying the right gifts, managing the holiday budget, traveling to be with family, sending our holiday cards, or decorating for the season…. there seems to always be something that makes us want to pull our hair out.
I am partnering with SunTrust Bank to share with you that it doesn't have to be stressful! Do what you can and be happy with what you are able to do. Be meaningful within your means. And that's it!
While I love to make homemade Christmas decorations with the kids every year, I have also learned to not let it be a necessity.
When it becomes necessary to do it, it end up not being very much fun.
We create what we're in the mood to create and that's it. If we have one thing we made, then yay! — we'll celebrate with that!
Other years we have dozens of Christmas decorations the kids made around the house… it all depends on our moods and stress level of the season.
Ten simple and homemade Christmas decorations for kids to make:
Window ornaments. Hang big ornaments in the window! These easy and fun to make!
Stockings. Of course, you need stockings to hang! Make some glittery ones to hang on the fireplace before the real ones come out.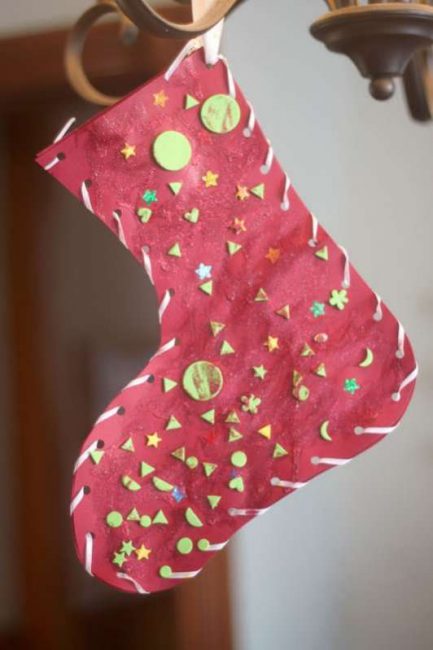 Wintery scene. Decorate the window with a wintery scene! This is great if you live in a warmer climate, or if its just not quite snow-y yet, to get you in the Christmas spirit.
Christmas tree. Make a forest of Christmas trees using items from your recycling!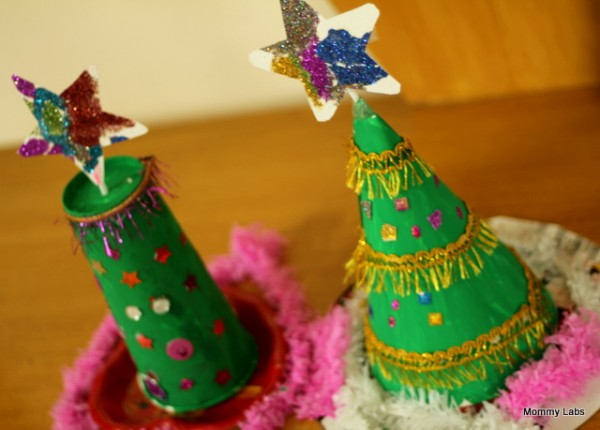 Another Christmas Tree. Hang a spiral Christmas tree in a doorway or from a light!
Snowflakes. If you have leftover wrapping paper scraps, they make great snowflakes! Shiny and bright!
Snowman. Even though this isn't holiday specific, I love decorating our fridge with a snowman every year.
Christmas ornaments. Get prepared to decorate the Christmas tree with homemade Christmas ornaments by the kids!
Christmas crafts. Any of these 25 Christmas crafts would be awesome to make too.
The Kids rooms! My favorite is to do any of these in the kids rooms. They feel super special when its in their own room!
Whether it decorating for the holidays that stresses you out, or if its budgeting for the holidays, don't let it! Take a deep breath and do what you can do. Make that your mantra this holiday season!
SunTrust put together a little budget planner to help ease the stress. You can download it for free here.
What stresses you out during the holidays?
Make a plan for it now. Find the solution to what would help make this a stress free holiday season for you now and stick to it through the holidays.
I'll be decorating the house with these kinds of homemade Christmas decorations this year, and leave it at that. Hopefully it'll be filled with lots of them, but if not… that's okay too! I'll share them when we make them!
At SunTrust Bank their purpose is lighting the way to financial well-being. They want to help you reduce holiday stress through tools, advice, and inspiration that encourages you to make your holidays meaningful by spending within your means and focusing on meaningful experiences.
To get started visit  suntrust.com/holiday
Meaningful spending made easy with a budgeting tool to help you make a plan and stay on track with your holiday spending.  Download here.
This is a sponsored conversation written by me on behalf of SunTrust. The opinions and text are all mine.