ChristmasPreschoolersButtons
Contributor29 Comments
This is an easy homemade ornament for Christmas shared by Kristina at Toddler Approved. The possibilities really are endless with this ornament!
At our house, we get a small Christmas tree each year for the kids and decorate it entirely with homemade ornaments.
Last year I had a newborn and this was a really special activity for my 3-yr-old son to work on with me. He was feeling a little worried about his new little sister.
Cute DIY Button Christmas Tree Ornament
We just started making ornaments for this year and this button tree was our first one.
To make your own button Christmas tree ornament, you'll need:
green felt
foam sheet
ribbon
various sized/colored buttons
glue gun
Elmer's glue
Make even more cute, easy Christmas crafts for kids!
Decorate for the Holidays with Kids
Print out a tree template or draw your own. Cut it out.
Trace it onto foam and felt and cut that out.
Use the glue gun to attach the felt to the foam back. This part is for adults only unless you have older kids that can be supervised with the glue gun.
Sort through your buttons and choose your favorites and then use Elmer's glue to decorate the tree with buttons or other colorful items.
Use an awl or the edge of scissors to make a hole through the top of the tree.
Thread a piece of ribbon through the hole and tie a knot to make a loop.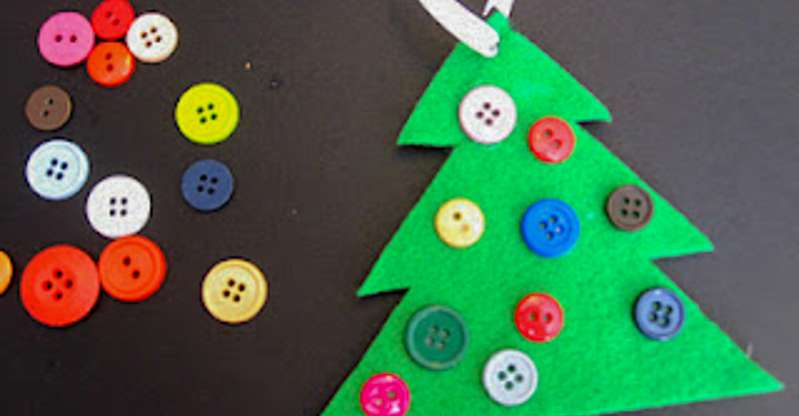 Have your little one hang this on your Christmas tree… and then make a few more!
You could also decorate the tree with puffy paint or fuzzy or sparkly pom poms – the possibilities are endless. Simple crafts for Christmas are perfect for ornaments because we usually want to make more than one for our tree.
Build Early Skills with Simple Christmas Crafts
Plus, you'll be working on with this simple button Christmas tree ornament include:
button sorting by shape, color, and size
counting buttons – How many blue buttons do you have? How about red?
creating patterns
expanding sentences – if your child says, "I see blue" you could model how to expand the sentence to add more description "I see a blue button with four holes"
describing colors, shapes, and sizes
Do you have a favorite homemade ornament? Share your ideas and creations with us!
I'm Kristina, a mom of two (a preschooler and baby) and a former Special Education teacher for children with communication disabilities. I write about our creative explorations over at Toddler Approved. I blog alongside one of my best friends and we love sharing ideas with each other and our readers. My main interest is to find ways to make life a little more fun and creative. I also love to embed language learning into everything that we do.