Move & LearnToddlersPreschoolersKindergartnersColors
Indoor Activities15 Comments
Have you ever played "don't step in the lava" where the floor is lava and you can't touch the floor?
We always played this as kids and somehow my own kids picked it up (I really don't think I ever encouraged the notion of the floor being lava).
It's a favorite pastime of mine and I hope it will be of my boys too (often when we walk on cushions, they pretend the floor is lava).
Kristen of Make the Best of Everything is sharing their version of "Don't Step in the Hot Lava", with some simple pieces of colored paper!
Super easy! Have fun with these one on a day you're stuck inside.
We always have at least a few days during the winter and early spring where the kids and I are stuck inside.
My boys, ages 2 and 4 are very active. And they go crazy if they aren't able to get active.
This is a fun hot lava game where the floor is lava in our living room.
The kids are to try not to touch the floor.
I used only colored paper and tape.
I spent 5-10 minutes taping colored paper to the floor with tape.
Note: if you do this on hardwoods, be sure to use delicate surface painter's tape, affiliate link, and test first.
My kids helped pick out the colors.
Then, turn up music and watch them run around for a long time.
Then they hopped, danced, skipped and ran around.
As a result, my 4 year old had a great time trying his hardest to not touch the floor or the carpet.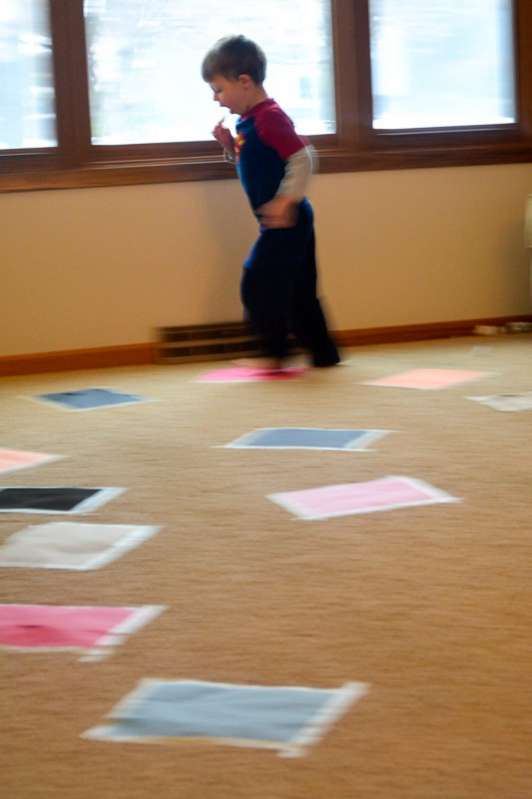 In contrast, my 2 year old just had a fun time following his brother and running around, of course.
Add learning when the floor is lava:
Similarly, you can also add a bit of color learning to the mix!
Shout out a color and have the kids get to that colored piece of paper without stepping on the lava (don't touch the floor!).
Above all, have a lot of fun doing this! Get in on the giggles!