Gross MotorChalk
sidewalk chalk19 Comments
Use only sidewalk chalk and a little imagination to create a gross motor obstacle course right in your driveway with an idea from Erin! 
Like most kids, my three-year old and five-year old love to create chalk masterpieces in our driveway.
They love when I join in, too. As long as the zebra I am instructed to draw doesn't end up looking more like a cow.
Currently, however, they are using deconstructed cardboard boxes to slide down our stairs. Seriously, the simplest things make the best toys, always.
Clearly they have energy to burn, and what better way than with an obstacle course in the driveway, created using only sidewalk chalk?
Super Simple Sidewalk Chalk Gross Motor Obstacle Course
We love obstacle courses! Plus, they're a great way to burn through some of that extra energy, too.
With the weather getting nicer every day, I was also looking for a way to get outside. To combine everything, I created a fun gross motor obstacle course with only sidewalk chalk on our driveway!
To create your own driveway gross motor obstacle course, you will need:
chalk
plenty of space on which to draw your obstacle course
You will not need:
any sort of artistic aptitude. I promise.
You can create any designs and patterns that you would like, which means it can be different every time!
I drew zig zags, spirals, loops, shapes to hop into, lines to jump over, "balance" beams to maneuver by placing one foot in front of the other, and a hopscotch board.
You could incorporate a chalk maze into your driveway obstacle course, too.
One time I got ambitious and made a rainbow to "go over" but such fanciness is totally unnecessary.
We have done this several times, and our obstacle courses always end up winding all over the driveway. However, you can make your course as long or as short as you want.
The longer you make it, though, the more time you have to sneak off and eat a chocolate chip cookie without them noticing. Unless your kids are like mine and can smell sugar from 18 miles away.
Add a Little Learning to Your Obstacle Course
Want to incorporate just the tiniest bit of literacy when doing this with early readers? Go ahead and write some easy-to-decode words such as "hop," "jump," and "end" or "stop" along the route.
This sidewalk chalk activity for learning uppercase and lowercase letters is also a great way to incorporate learning into your chalk fun!
Another fun option might be to add sight words or other simple CVC words to the course. Have your child read the words when they land there or spell them out as they move.
If you use verbs or animal names, ask your child to make the animal's noise or do the verb's action. It's an extra challenge!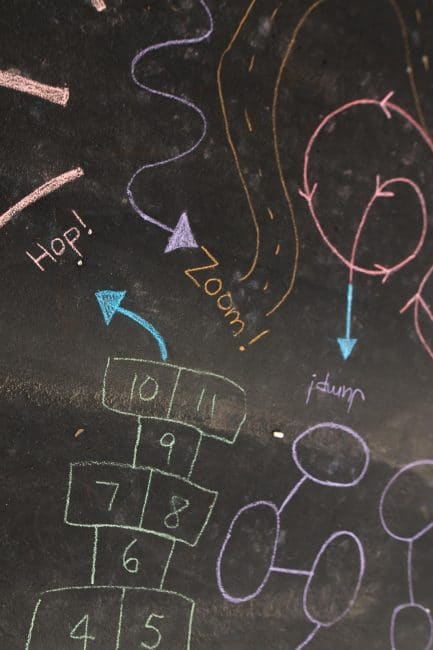 Don't have a driveway that is chalk-friendly? Consider making one long obstacle course on a section of sidewalk, or ask permission to create a course on pavement outside of your local library, playground, or school.
Have even more fun with chalk with these kid-tested activities!!
This way, other kids can enjoy it, too!
What are your favorite outdoor chalk activities?