BlogHer
Father's DayGrade SchoolKindergartnersPreschoolersToddlersBlogHer
Resources383 Comments
These are ten ideas for kids to add their own creative touch to store-bought Father's Day gifts. A keepsake, but also a useful gift Dad will love.
We're gearing up for Father's Day already! It's amazing how fast it comes up!
And really… does Dad want another tie? (Ask him what he really wants or 'bribe' him to find out… I have a way to do just that below!)
The kids and I like to do a mix of homemade something from the kids and a Father's Day gift that he'll really want. (i.e. that's from the store).
George and I picked out a new wallet for Dad. He needs a new one pretty badly.
We got him the same wallet he's had for over 10 years (one of the first gifts I ever gave him when we were dating), but a bifold this time instead.
We decided to make this gift from the kids a little special for Father's Day. By adding some George doodles and drawings inside!
Try adding drawings to a new wallet!
I have a package of printable business cards that we used that are the perfect size to slip into the wallet slots.
Otherwise we would have used scrapbook paper and cut it the same size.
This was turning out to be a great Father's Day gift activity for the kids.
George is still getting the hang of writing.
He practiced the letters he knew: L, M, and H, but didn't feel confident enough to draw a D for Dad.
For a couple of the cards, I wrote 'DAD' and 'I Heart U' and George colored it in.
On the rest of the cards he made his own doodles and drawings (a rainbow).
When it came time to tear the cards apart, George was excited how magical it was that we didn't have to use scissors.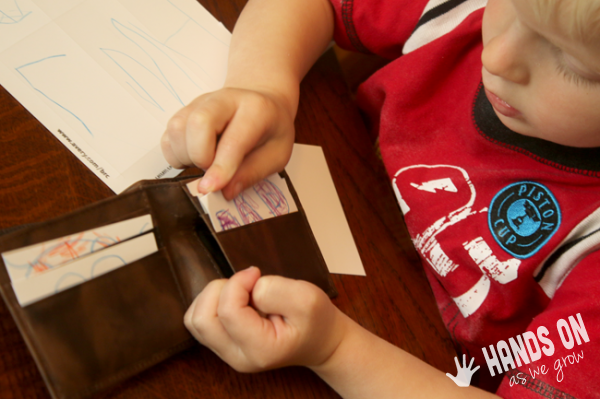 He took his time filling up every card slot of the wallet and filled up the cash slot as well.
The stores and internet are packed with awesome Father's Day gift ideas. And if you need some more ideas to add the creative touch from the kids, here are 8 Father's Day activities for kids to make.
9 more Father's Day gifts from the store for kids to fill up with their own creative touch:
Let's have some fun with Dad!