BlogHer
Father's DayPreschoolersBlogHer
Resources383 Comments
We're gearing up for
Father's Day
already! It's amazing how fast it comes up!
These are some ideas for store-bought Father's Day gifts from kids with their own touch of creativity added to it. And really… does Dad want another tie? (Ask him what he really wants or 'bribe' him to find out… I have a way to do just that below!)
The kids and I like to do a mix of homemade something from the kids and a Father's Day gift that he'll really want (i.e. that's from the store). As I mentioned last week, I'm excited to be a brand ambassador for JCPenney this year. It fits every life, even Dad's!
George and I picked out a new wallet for Dad at JCPenney. He needs a new one pretty badly. We got him the same wallet he's had for over 10 years (one of the first gifts I ever gave him when we were dating), but a bifold this time instead.
We decided to make it a little special for Dad by adding some George doodles and drawings inside!
I have a package of printable business cards that we used that are the perfect size to slip into the wallet slots. Otherwise we would have used scrapbook paper and cut it the same size. George is still getting the hang of writing.
He practiced the letters he knew: L, M, and H, but didn't feel confident enough to draw a D for Dad. For a couple of the cards, I wrote 'DAD' and 'I Heart U' and George colored it in with Crayola Twistable Colored Pencils.
On the rest of the cards he made his own doodles and drawings (a rainbow). When it came time to tear the cards apart, George was excited how magical it was that we didn't have to use scissors.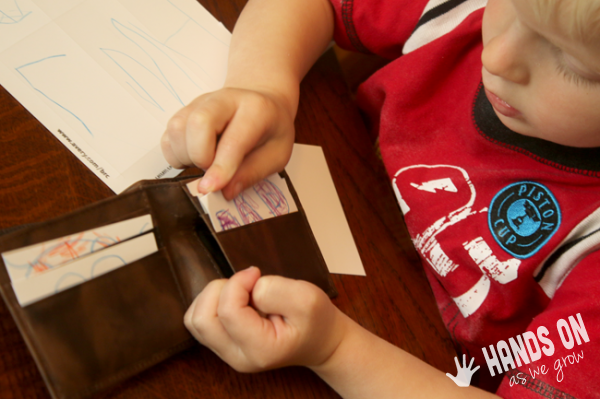 He took his time filling up every card slot of the wallet and filled up the cash slot as well.
9 more Father's Day gifts from kids to fill up with their own creative touch:
JCPenney is packed with awesome Father's Day gift ideas. And if you need some ideas to add the creative touch from the kids, here are 8 Father's Day activities for kids to make. Attach a clue on the remote of a Sport Quad Vehicle to find a hidden treasure the kids made.
Have the kids record their own personal message to Dad with this Karaoke Machine.
Create a kid-drawn sleeve to cover a new video game Dad's been wanting.
Fill the pockets of a golf shoe bag with the kids' doodles and drawings.
Help Dad get organized at the office and fill it with their drawings.
Tuck a little kid doodle in the pocket of comfy pajamas for Dad!
Fill a briefcase or laptop case with all sorts of drawings for Dad to keep while he's at the office.
Poke bunches of notes and drawings from the kids onto these flexible grilling skewers!
Get Dad a new dress shirt and the kids can make them their own Wacky Tie drawing!
Let's have some fun with Dad!