Father's DayAll AgesResources18 Comments
Father's Day is coming up fast and we're all set. Well almost. I gotta grab a couple things yet myself, but the kids have made their gift for Dad. Have yours?
Maybe you need some quick inspiration for Father's Day activities?
Here are 8 things the kids can make for dad.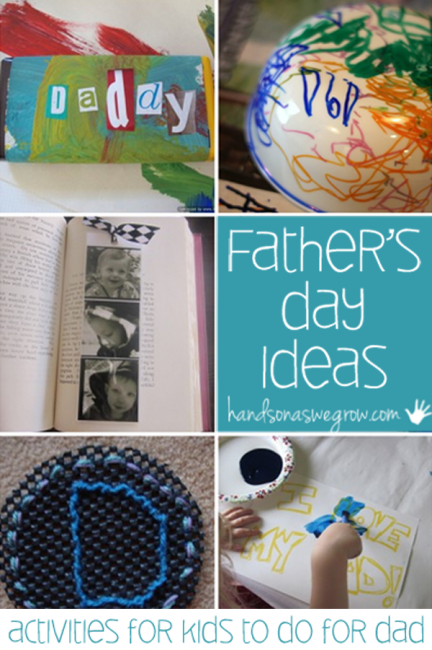 8 Easy Father's Day Activities for Kids
Give dad a candy bar wrapped in the kids' artwork. Love that! (from Domestic Goddesque)
My boys made these colorful bowls with Sharpies! Let them decorate them for Dad any way they like!
Make a Father's Day card using artwork and some cutout letters. So adorable. (from The Fairy and the Frog)
Take snapshots of the kids and made some photo bookmarks for Dad. Perfect for a reader! (from Come Together Kids)
Do some cute finger painting with crayon resist "I Love My Dad!" (from 3 Boys and a Dog)
Give Dad a report card. Nice Job and Well Done stickers are sure to make Dad happy! (from 3 Boys and a Dog)
The Dad in our house is a drummer so we made Dad some tin can drums and decorated them!
For a fisherman, catch a handprint fish for dad! "I'm hooked on daddy!" (from Glued to my Crafts)
Plus 10 gifts to buy Dads, with an added creative touch to make it a great Father's Day gift from the kids!"