Crafts
Father's Day
Fine MotorToddlersKindergartnersCutting5 Comments
These are super easy candy bar wrappers that are a great Father's Day craft for kids to make if their dad is a chocolate lover like ours is!
Both grandpas and dad here absolutely love dark chocolate, so that's usually their Father's Day gift.
This year, we spiced it up a bit with a little (and easy) wrapper that says "I love you" and "Dad".
George and Henry both did these pretty easily themselves, with just a tad bit of cleaning up (so that the words were legible) from me.
MORE ACTIVITES YOU MIGHT LIKE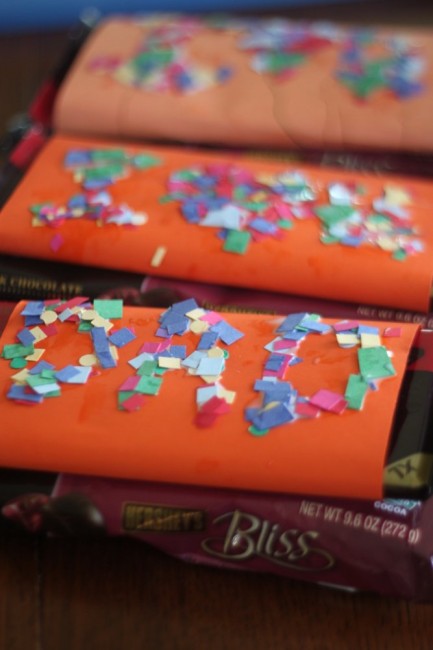 The boys had to make their confetti to sprinkle first. Its just made from scrap pieces of paper I have and cut up into little pieces. We did some with the hole punch and a bunch by cutting lots of 'rows' and then cutting across it to make small pieces.
George even got into this. I was always hesitant to give Henry a scissors before he was three, but George has been cutting since he was 2. I highly recommend giving your child a scissors! I know so many moms are hesitant to do this because of the 'danger' of cutting themselves. Just watch them closely, but I bet they'll be better at it than you think. Just give it a try to see if they're ready!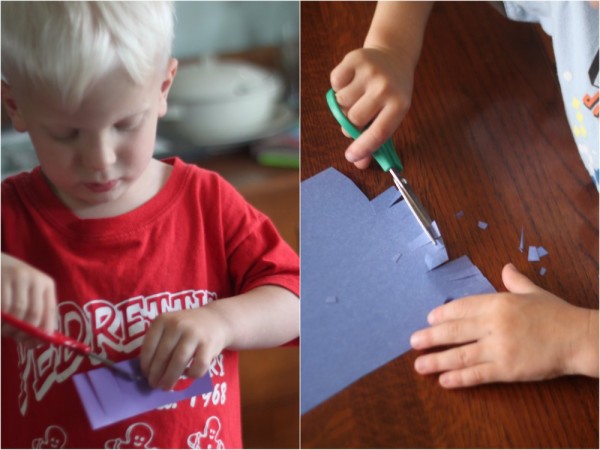 I cut pieces of paper (the boys chose orange) to fit our candy bars. Pretty simple, just a single piece of paper that wraps around the candy bar (but not like you're wrapping a present, just a sleeve).
And I wrote the boys' messages on the top part of the wrapper.
I love you (with a heart and U) and DAD.
The boys traced what I wrote with school glue. I was impressed with George! I could not believe he could do this.
I was hesitant to hand over the bottle because I wanted to make sure they turned out. But he did surprisingly well following the lines! I helped him fill in the heart since he started with a huge glob and didn't know what to do then.
I had them sprinkling the confetti on with each letter, but I think it would have worked just as well, if not better, to do all the gluing first and then sprinkle.
I wasn't sure how long it would take to sprinkle it on. But it was fast since they didn't have to be accurate about it. They literally just sprinkled the confetti on and then we shook the paper for it to fall off.
I then did touch up.
Usually a no-no for me. I don't like to fix up the kids' art projects.
But I really want to be able to at least read what this said for Father's Day. So I just removed some of the 'stray' confetti pieces to make it legible.
Once they dried, I wrapped them around their candy bars (secured with a piece of tape).
Along with another package of dark chocolate, I think we're set for Father's Day this year! Dad will be able to put his chocolates in those Father's Day bowl we made him last year! Perfect!
Dad and Grandpas will surely love them, right?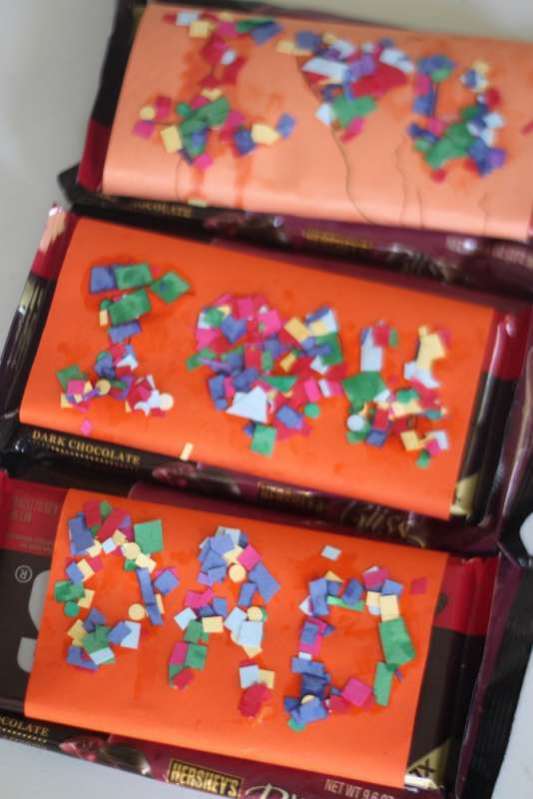 A different version of candy wrappers were an idea I featured for Father's Day last year from Domestique Goddesque.
8 Father's Day Crafts for kids to make Dad this year