Activities
Learning
Math & 123s
Sensoryglue
Sensory
Shapes2 Comments
Investigate shapes with the power of touch! Your toddler will love this cool touch and feel shapes board. 
Learning shapes is an essential skill for all kids. But just matching shapes or pointing out shapes can get old after a bit.
Easy DIY Touch and Feel Shapes Board for Toddlers
This touch and feel shapes board is one that your toddlers will come back to again and again. It helps toddlers to both recognize shapes and build skills to make their own shapes later on.
Your simple DIY shape board empowers your kids through the power of touch and sensory-based learning!
We love these 11 Amazing Books About Shapes that bring excitement to learning!
To make your own cool sensory shapes board, you'll need:
Hot glue gun & glue
Cardboard or thick paper like poster board
Scissors
Optional: crayons and school glue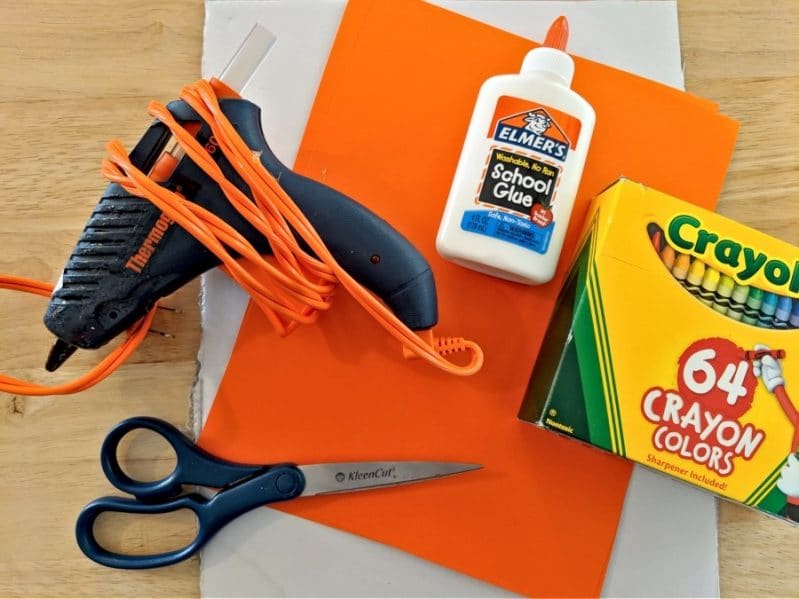 Build Your Own Sensory Shapes Board
Making the touch and feel board will take less than ten minutes. Once every is secured down, you can begin using it will your child.
Once your glue gun is hot, grab your cardboard, cardstock, poster board, or even a piece of wood will work. You can use a large piece or a smaller piece – totally your decision!
I decided to glue – with regular white glue – some colored cardstock to a piece of cardboard to make it more sturdy. You can opt to skip this step though.
As your glue is heating up, decide which shapes you would like to include on the sensory shape board. If you're a perfectionist, you could opt to draw out the shapes first.
I went with the main simple shapes (triangle, square, circle, etc…), but you can add in more complex shapes like hexagons and octagons if you'd like.
Keep the learning going with 10 more shape activities your kids will love!
When your glue gun is hot and ready, use the glue to draw the outlines of your shapes on your board. Start at the top and work your way toward the bottom.
The shapes can be all the same size or a variety of sizes. You could just include one of each or a few of the same shapes.
Once your shapes are made, I recommend waiting a few minutes for the glue to cool and harden before giving it to your child.
Try These Touch and Feel Shapes Board Activities
There are so many cool ways to use your touch and feel board. We had so much fun playing with our sensory shapes!
Here are just a few uses for the board, but there are many other possibilities.
Present it to your child and simply let them explore as you give a name to each shape and they repeat the name.
Guide their finger over each shape to practice the formation and to discuss the number of sides. They could even close their eyes for better focus on the feel of the shape.
As your child is feeling the shapes, point out the same shapes around the room for increased shape recognition.
Challenge your child to find matching shapes in your home to turn it into a scavenger hunt.
Color in or trace the shapes together to reinforce shape formation.
Fill each shape with items (i.e. beans) to add in some counting and the beginning idea of volume.
Lay a paper over the shapes and do crayon rubbings of the shapes to create cool art.
Challenge your child to build their own mini shapes board with regular white glue and toothpicks.
However you decide to use your sensory touch and feel shapes board, it's sure to be a great teaching and learning tool to use with your child.
What are your favorite creative ways to learn about shapes with your child? We'd love to take a peek at your cool ideas!