Hanukkah
LearningKindergartnersPreschoolersToddlersGame
Sensory
Upcycle1 Comment
Do you celebrate Hanukkah or are you looking to learn more about Hanukkah? This easy-to-prep, touch-and-feel Hanukkah game for kids will be a great addition to your holiday activities.
It's a fun way to learn about some of the items that represent Hanukkah and creates an opportunity for your kiddos to learn through the sensory experience of touch.
Preparing your Hanukkah Game for Kids:
This is one of the easiest games to prep and execute.
The first thing you need is an empty baby wipes container or tissue box.
I decided to wrap the container in Hanukkah paper, but it is definitely not necessary.
Then just grab some note cards, a pen, and various items to put inside the container.
I chose Hanukkah items that I had around the house that would fit inside the container:
You could even make some Hanukkah crafts for your box!
After you have chosen your items, write the name of each item on a note card.
Let the Game Begin!
Start by laying out your note cards.
If your child is well-versed in their Hanukkah items, I recommend having them face down, so that they don't know which items they are feeling for.
However, if your kiddo is new to Hanukkah, I suggest laying the cards face up to help explain each item while they are feeling for them.
Try another touch & feel activity using feet!
Then discretely place only the first item into the container (you might want to have your kiddo close their eyes).
Place the container in-front of your child, have them reach inside, and feel the item.
Ask some probing questions to enhance the discussion and overall experience:
What does the item feel like?
Is the item soft or hard, cold or warm?
Does it have any pointy edges?
Is the item a certain shape?
Then, either after they have guessed the item or you feel they are ready for a new item; have them pull the item out and discuss it.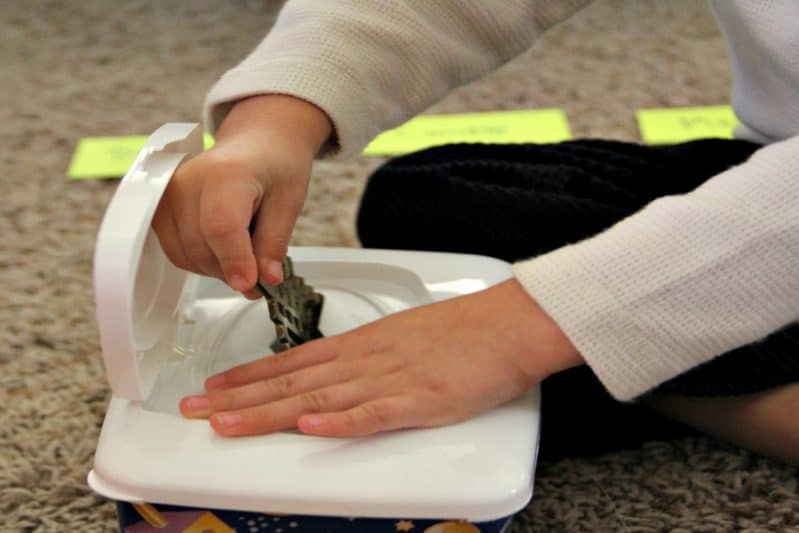 As your kiddo takes out each item, have them lay it next to that specific note card.
For a more experienced kiddo, you could wait until you've gone through each item and then flip the cards over and have them match all of the items at one time.
Work on more word recognition with this sight word matching game!
Continue with each item by placing it into the container, have your kiddo touch-and-feel the item, guess, and then remove and place by the proper card.
More Ideas to Expand your Hanukkah Game for Kids
After your kiddo has completed the game, place all of the items together, remove the cards, and have them name each item.
Have your child choose his or her favorite item to showcase (possibly display it somewhere special) during the eight days of Hanukkah.
Let your child trace the items on a piece of paper, for fine-motor practice.
Or, try tracing the items to create an outline puzzle where they match each item into its shape.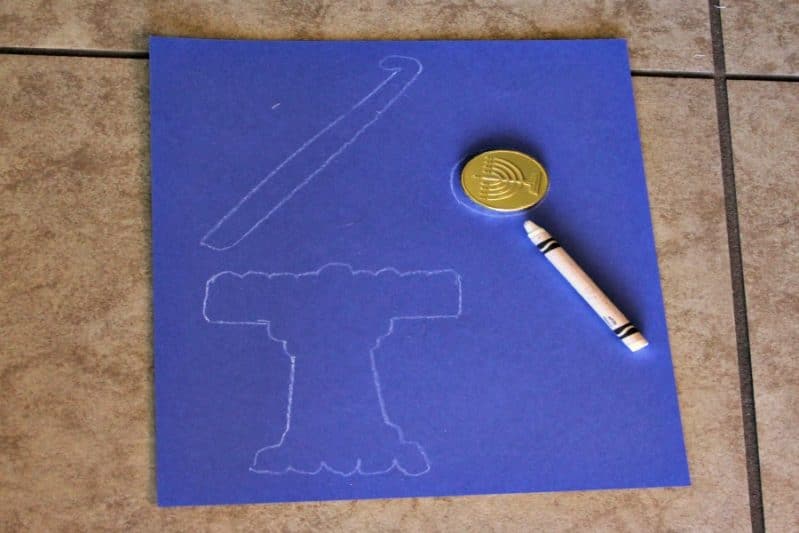 Now your kiddo has a deeper understanding of Hanukkah and some of the items that make this holiday so special.
Happy Hanukkah!!
If you're interested, here are some similar activities for the Christmas holiday:
DIY Christmas Touch and Feel Box from B-Inspired Mama
Christmas Sensory & Science Experiment from Edventures with Kids
What items will you use for your Hanukkah touch-and-feel guessing game?