Math & 123s
Move & LearnToddlersPreschoolersMatching
Puzzles
Scavenger Hunts
Shapes7 Comments
Work on matching with a fun, quick scavenger hunt! Your child can match shapes to their outlines.
We're working on shapes! So I made a quick game for George to match shapes with their outlines.
While George was gone with Grandpa to run an errand, I quickly searched around the house to find a few objects to trace.
I was originally inspired by the file folder shape matching activity on Growing Play.
Quick & Easy DIY Preschooler Scavenger Hunt to Match Shapes
I used a large piece of butcher paper. If you don't have butcher paper, any paper will do.
The objects I traced were ones that would be easily identifiable. I purposely didn't include generic shapes like a ball (or anything else circular) so that there would be a definite answer.
Toys I picked to trace included a curved train track, a letter "Z" magnet, and a toy hammer. I kept them all pretty recognizable by the outline alone.
A couple I thought would be tough, such as the bath boat that didn't really look like a boat at all when I traced it.
George caught me tracing the objects just as I was finishing! It was time to start!
I didn't leave the objects in one area or even all together. I put them back to where I found them so that George would have to search around the house to find the objects that would match the shapes.
Our activity focused mostly on the search for the matching object. George is almost a preschooler, so I didn't want it too easy for him!
But you could definitely have all the objects right there to make it more of a puzzle match objects to the silhouettes.
George looked at the shapes outlines I drew and could name most of them! The fun was in searching for each object, then matching it to the outline the right way.
It was fun to see him mess up too.
He knew one of the shape outlines was a block, but grabbed the wrong type of block. He had picked up a bristle block instead of Melissa & Doug's wooden blocks (affiliate link).
As he set it on the outline, he was trying to get it to fit right and it just wouldn't work. I just asked, "Hmm…. does that look right?"
Nope. And off he was to find the other kind of block.
Check out even more fun ways to learn shapes with these 10 fun shape activities for toddlers!
After George finished, he wanted to do the game again, but with new shapes! He had a lot of fun!
I'll definitely pull this game out when I have a few minutes to sneak to the side and trace some new objects!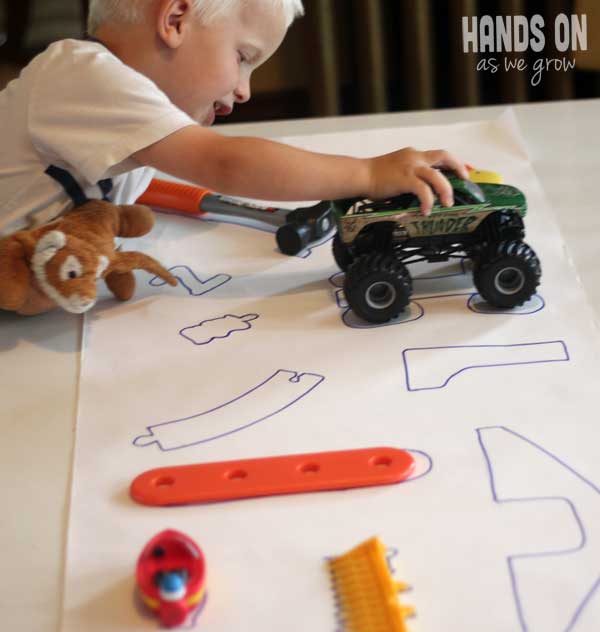 See a few other move and learn activities from my co-hosts:
What are your favorite shape activities? We'd love to add a few more ideas to our community!