SensoryToddlersBusy Play45 Comments
Sometimes toddlers need to just move! And sometimes toddlers need to just be busy. Make this crazy awesome toddler busy board, shared by a fellow Huddler, Leann. It's going to entertain your toddler for days to come.
Our little Supernova can be quite the challenge when it comes to picking toys for her. At 19 months, she rarely wants to play with traditional toys, so I frequently scour the wonderful world of Pinterest to find ideas to entertain her.
A quick search will provide you with plenty of ideas for toddler busy boards.
You can make it as big or small, colorful or not! It's really up to your creativity.
Some people use things they have around their house to create a board like this. But seeing as I'm not the handyman sort, I had to buy almost everything new.
What's included in this toddler busy board: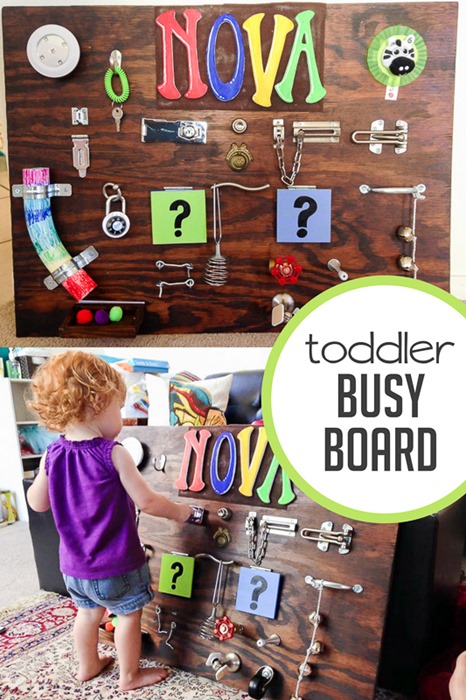 (This post contains affiliate links that help support hands on : as we grow, thank you!)
A sturdy back board for the busy board.
I knew that I wanted something a little fancier to be able to throw into our living room and have it look really good.
Because of this I bought a thicker, ¾ inch plywood board from Home Depot.
The guys in the lumber section thought it would have been possible to create this with a much thinner board. But I didn't want screws poking out the back, so ¾ inch worked for us.
I also bought varnish and a waterproof finish. This allowed me to choose the background color of the board. Having a finish on it means that if anything gets spilled on the board during play, it's super easy to wipe off without worry about damaging the wood.
You could probably do something similar with any commercial paints if you didn't want the wood finish, but I liked the natural look in the back.
There's more to the name.
The name section is one of my favorites. I found the wooden letter's to Nova's name at a local craft store.
I painted the letters in basic colors to help with color identification, and then attached commercial grade Velcro to the back (you'll find I used a lot of Velcro for this project!).
I had a few pieces of felt lying around from other projects. I cut a brown piece and super glued it to the wood.
I felt like this would give her a better chance to learn to stick the letters on without having to be perfect.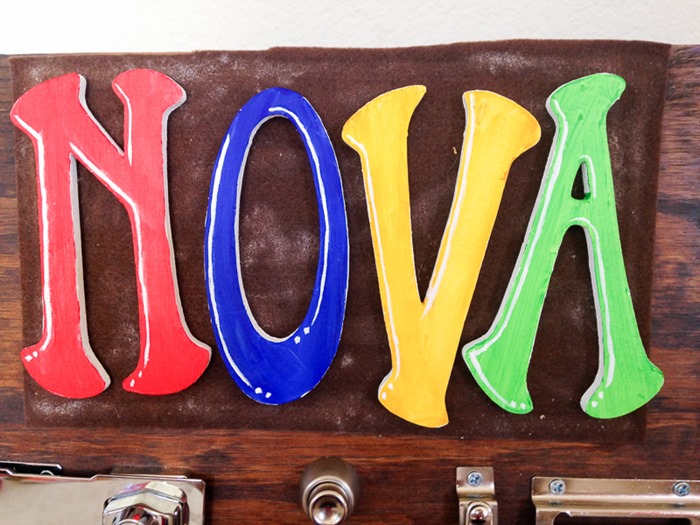 The busy board fun is in the details!
The pop light and zebra squeaky toy were both things we had lying around the house.
Originally I had wanted to put an actual light switch on the board, but I'm no electrician, so the pop light worked in a pinch and still teaches the cause and effect I was looking for.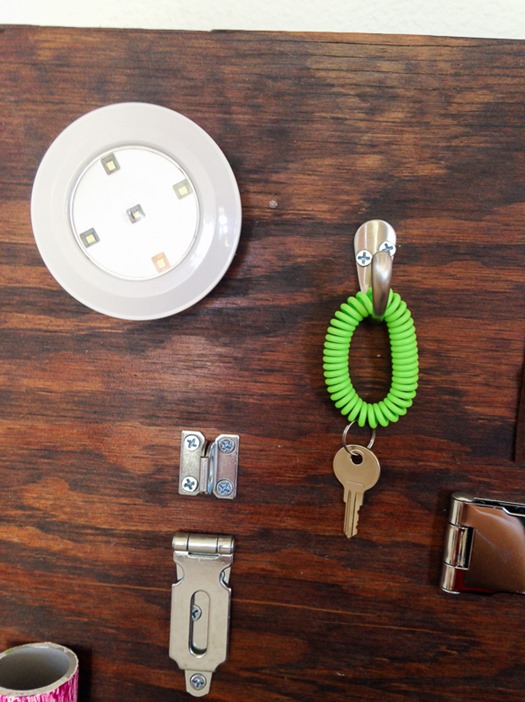 Also try these activities that keep kids busy!
The zebra was a squeaky toy from infant days that still seemed like a fun (but not so annoying) noise making option for the board.
Both were attached with Velcro so they'd be easy to remove if need be.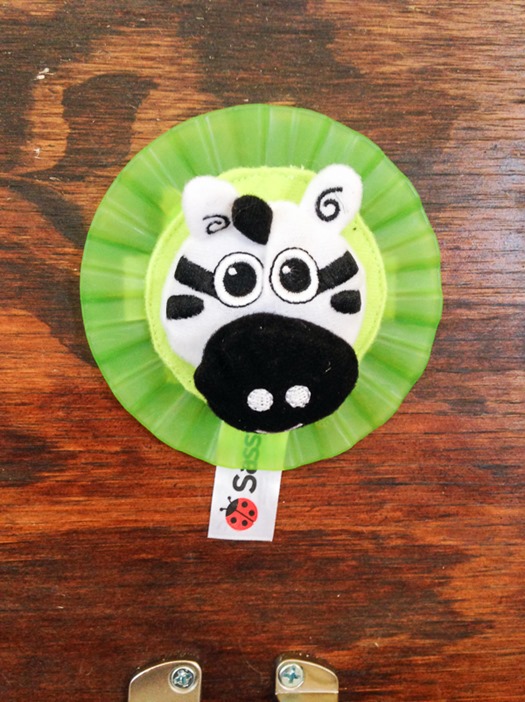 The ball drop is a simple PVC plumbing pipe that I painted white. I then colored it like a rainbow with Sharpies, again for that color identification.
We use little pompom balls for the drop, but realistically you could use anything that would fit through the tube.
I was concerned about the basket at the bottom being ripped off continuously, so I attached it with industrial Velcro so that it's easy to pull off and put back on.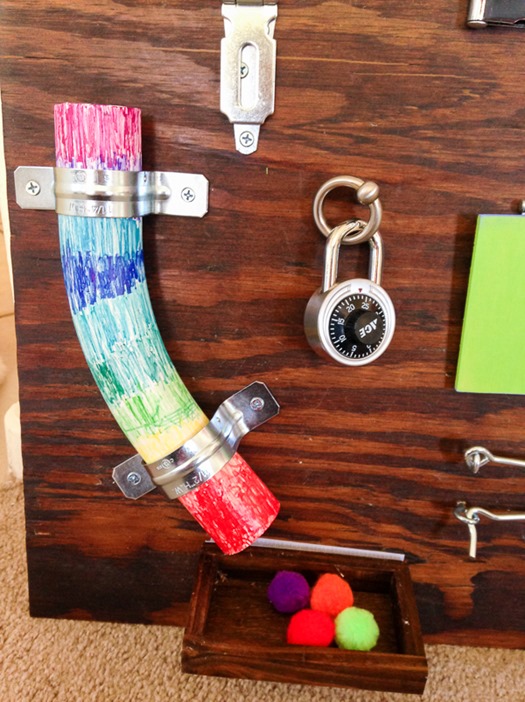 The question mark squares in the center are thinner pieces of plywood I had left over from another project that I painted and attached to hinges so she can open and close them. Eventually I'll put stuff under them for her to feel and see.
The section at the bottom with the wheels is another favorite section!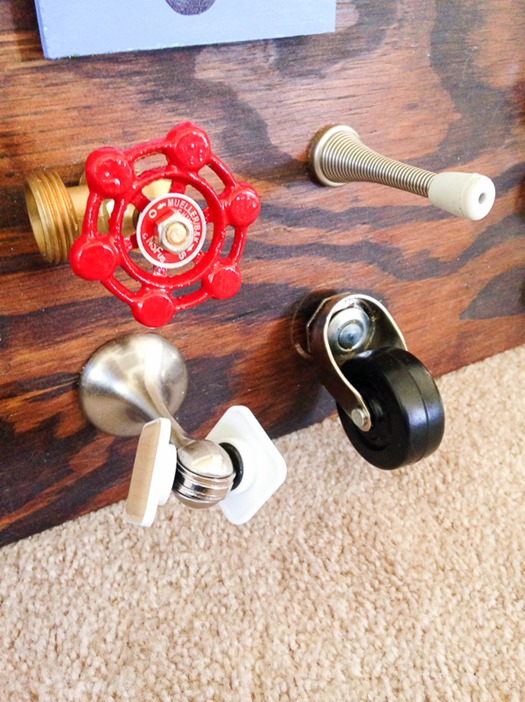 I found a magnetic doorstop! Little miss loves her magnets so I thought it would be a fun inclusion.
The other half of the doorstop pushes in like a button, so I included that in the top center of the board.
She also loves spinning the black wheel and twanging the other doorstop in that bottom section.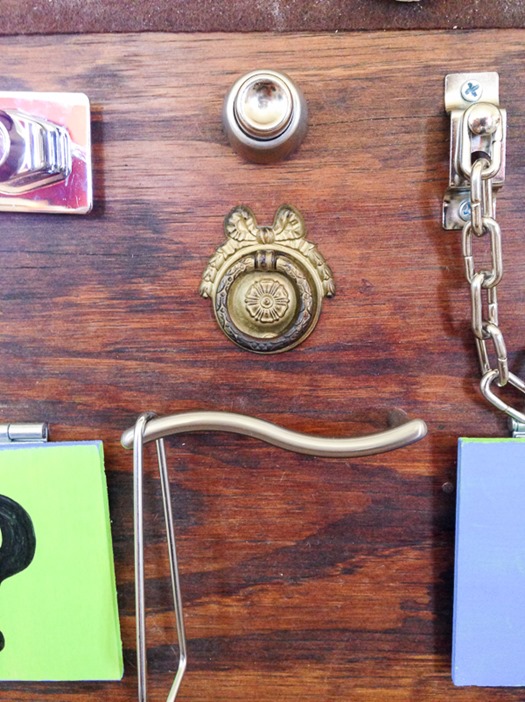 The whisk in the center of the board is a multi-use portion. She can slide it along the door handle or pull the spring part of the whisk apart and watch it mold back into shape.
The other door handle with the bells on it is similar, except I wanted something else to make more noise. I took some decorative rope I had used for Christmas last year and tied the bells on to that so she could shake the rope and get the full jingle effect.
It's quite entertaining when she gets a good beat!
Lastly, I picked a bunch of different kinds of security locks to throw all over. These are great for open and close concepts, learning to twist things, put keys in holes, etc.
She seems to spend a lot of time just tinkering with these especially.
And that's the basics of our busy board! I hope this gives you some great ideas for your own.
Share your own ideas for a busy board in the comments.
Item list for our toddler busy board:
Old Toys
Whisk
Drawer handles
Bells and Rope
PVC Pipe