Crafts
SummerPreschoolersBeat the Heat
Outdoor
Resources
Water Activities6 Comments
Let's celebrate summer with some fun activities to get wet, play outside and get crafty for preschoolers! We pulled together an awesome list of fun and simple summer activities for kids that you can do right at home.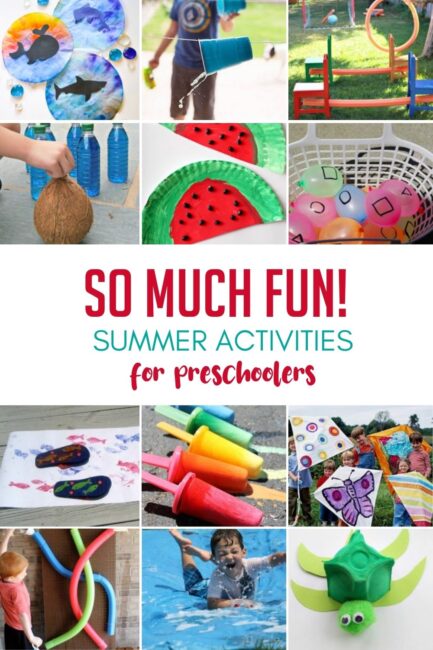 Memorial Day is passed here in the United States, and that usually marks the beginning of summer.
Make this Summer Much More Fun! (and easier too) with CAMP MOM. Grab it here.
Here are several summer water activities for preschoolers, outdoor play activities for preschoolers to do this summer, as well as summer crafts for preschoolers.
Summer Water Activities for Preschoolers
Let's take these water activities outside and get wet this summer! Water is one thing that all kids love to splash around, play and get creative with. The possibilities are endless, give these a try!
Outdoor Summer Activities for Preschoolers
Water is not the end of outdoor fun this summer! There's plenty to do in the backyard. So grab your sidewalk chalk, or go on a hunt and find some nature! Your preschoolers are going to have a blast with these summer activities.
Get Crafty with Preschoolers this Summer
For some reason, summer just begs to be creative and crafty! Make this summer one you won't forget by creating these adorable summer crafts during activity time with your preschoolers!
What are some of your favorite things to do with your kids in the summer?
Share some of your summer activity ideas for preschoolers with us in the comments.