Fine Motor
HanukkahGrade SchoolKindergartnersPreschoolersstickers2 Comments
Now that Thanksgiving is over and December has started, I am thinking about the winter holidays. This sticker tracing Hanukkah activity is a super simple fine motor activity to get in the holiday spirit.
For even more winter holiday fun, try these easy Christmas crafts!
I chose to make this Hanukkah activity, but it could very easily be adapted for any holiday or theme by using different shapes and stickers.
First, I found some Hanukkah images online and printed them out. I chose a simple Star of David for Emma (5) and a slightly more involved dreidel for Izzie (7).
I found these colorful star stickers (affiliate link) and only used blue, silver and gold – traditional Hanukkah colors.
Before the girls got started, we talked about patterns and they each chose a pattern for their stickers. Emma did a two-color pattern to keep hers a little simpler, and Izzie did a three color pattern.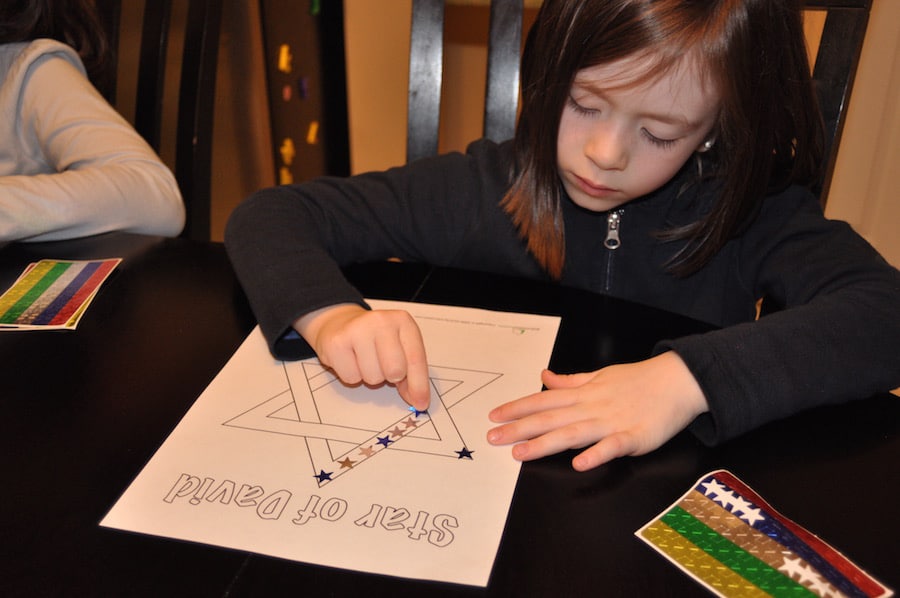 When they finished outlining their pictures with the stickers, they wanted to do some coloring.
While they were coloring, I had Izzie practice spelling the colors she was using. Emma read me the letters on her picture and then sounded out the words.
For such a simple Hanukkah activity, there are a variety of learning opportunities!
If your children aren't familiar with Hanukkah, you could include a Hanukkah story so that the pictures actually make sense to them.
Some of our favorites are: My First Chanukah by Tomie dePaola, Biscuit's Hanukkah and Elmo's Little Dreidel (affiliate links).
What Hanukkah activity do your kids love to do?