Literacy & ABCs
SponsoredGrade SchoolResources
Spelling
A friend recently told me that she doesn't know ways to practice spelling words at home with her kids. I didn't have any tips for her right off hand except to make it fun. So it got me thinking about different ways we've practiced spelling words, or done any kind of homework for that matter.
For the most part, my kids don't have homework. Their homework each week has been to practice sight words or spelling words and read. That's pretty much it! They've never brought worksheets home that they have to do (yay!).
But… I cannot tell you how stumped I've been when my kids bring home papers that they've done at school. There's math problems that I don't understand the concept behind, splitting numbers, stacking pyramids, counters, number bonds, I have no idea what's going on!
So yes, I feel stumped, but I also feel helpless. I feel like I can't help my kids learn correctly because I don't know how they're learning these days.
(Remember? I'm not a teacher. I'm a mom.)
When your kids bring home worksheets or homework, do you understand how they're learning it at school?
I really don't want to undo anything they're learning at school, or confuse the heck out of them!
I've talked about common core in the past, and using Be A Learning Hero to find out what your child needs to know each year in school. These standards are set in place to help students be better prepared down the road.
Now there's a website aiding us in knowing how our kids are learning, and also our sponsor, The Homework Help Desk.
I can see The Homework Help Desk being used two ways:
Let kids use The Homework Help Desk as an aide when they have questions with their homework. They can ask in a chat box and get immediate help. See Teach Mama's example of her daughter using the chat box to help with her math problems.
Use The Homework Help Desk as the parent, learning about the terms and methods that they are being taught in school (remember when I mentioned Number Bonds? This explains it easy as pie!)
Since my kids are still younger (second grade and under) and really don't have a lot for homework yet (yay!), I'll be utilizing it through the school year as a parent, learning how they're learning, so I can help them at home without confusing them.
So now when my kids bring home worksheets, or homework, from school and I want to practice what they're learning at home to help them succeed, I can look it up on The Homework Help Desk go through videos if I want, or even try it with practice problems to make sure we understand.
I also can use The Homework Help Desk by asking a question in the one-on-one chat box with expert teachers, to help aide me in understanding or giving me ideas to help my kids learn. I quickly asked them how to help my second grader learn his spelling words and they gave me several online sites to practice spelling that's geared for his age! Genius!
Henry has always been a fast learner, so learning his spelling words has never really been an issue for us. But we still practice them throughout the week. Every Monday he gets a list of words to learn and on Friday he has a spelling test. And lately, the list of words is around a concept (like short a, or Long a CVCe), and then he gets two bonus words on the test to see if he grasps the concept.
Most weeks, I take it pretty easy in practice and this is what we do…
5 obvious ways to practice spelling words:
Make a number code. Number the words on the spelling list and then write a list of mixed up to find and write the word. You can save a copy of this doc that I use for each spelling list.
Write spelling words but leave out letters and put a blank instead for him to figure out what letter it should be (based off his list).
Scramble the words for him to put in the right order.
Ask to spell random words off the spelling list (and others that are similar in concept) throughout the day.
Use worksheets sometimes. I have found several places online that you can change out the spelling list week after week for their worksheets. There are my faves: make your own printable word shapes worksheets, word scrambler and word search maker.
Now… there have been times when we need to work on it more and that's when we try to make it more fun! That's where hands on learning and activities comes into play!
16 crazy fun ways to practice spelling words:
Draw a treasure map, or use your house plans, to hide letters of spelling words to find using the map. See how we did it with sight words.
Play hangman to practice spelling words! If you don't know how to play, check out A Diligent Heart
Squirt some shaving cream on a tray and just write the spelling words to practice!
Hide letters of the spelling words in plastic eggs around the house. Find each letter to put together the spelling words!
Put together your ABC Mat on the floor and use bean bags to toss onto each of the letters to practice spelling words.
Use letter beads to make a bracelet, spelling their words as they make it!
Just use your computer! Open a word doc and have them type the spelling words over and over again! See how we did it to learn to spell their names.
Write a spelling word on a craft stick and then each letter on a clothespin to make the word! Check out this clip and spell from How Wee Learn!
Trace and repeat! Write the spelling word on paper, trace it with a highlighter and then trace it with glue and yarn! Repetition is great! See how we did this triple tracing with names.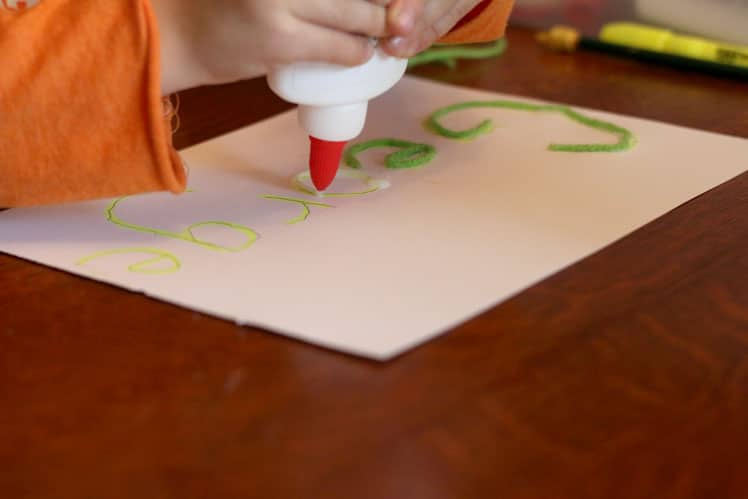 Write the letters of the spelling words on nuts and have them tighten them onto bolts to spell the words correctly! This one's from No Time for Flash Cards. (shown in collage above)
Bend Q-Tips into 3 shapes (find out how here) to make any letter of the alphabet! Spell words!
You can make sensory spelling word cards with some glue and salt. A Mom with a Lesson Plan then as three ways you can help your kids practice spelling with them!
Write their spelling words with cooked spaghetti! Another one from A Mom with a Lesson Plan! (shown in collage above)
Make a paper chain with letters to spell words! (Add Velcro to make it reusable too!)
Write your spelling words on a sensory bag with a Q-tip! From Scribble Doodle and Draw (shown in collage above)
Scribble and spell! See how many times you can write your spelling words in a section of a scribble! (I found this one at Relief Teaching Ideas, but I'm unsure of the origin, please correct me if you know better.)
Even more places to find fun ways to practice spelling words:
If you're ever stuck helping your kids with something they're learning at school, browse our learning activities, scour Pinterest, and if you're stuck on what it even means check out The Homework Help Desk for answers. Whether its spelling words, math problems or grammar and whatever interrogatives are…
By the way, I found out what interrogatives are at The Homework Help Desk:
Interrogatives are question words – like who, what, where, when, why, how. These sentences end in question marks.
And The Homework Help Desk is also available as a Spanish version, Univision!
This is a sponsored conversation written by me on behalf of Get Schooled. The opinions and text are all mine.