Literacy & ABCsPreschoolersName
Tracing
Writing Activities
Yarn8 Comments
This is a name tracing activity that has preschoolers tracing their name three times for a fun way to learn their name.
We just had parent/teacher conferences for both the older boys. I am very happy to report that both are doing very well in preschool and first grade. I have no complaints!
One thing that George is surprising me with is the ability to write his name. He has most of the letters there (he sometimes forgets the 'r') but they're not always in the right order.
I'm just shocked by his ability to write the letters! This isn't something we've worked on at home, and his teacher said they really haven't worked on it at school either. This is just something that he's picked up.
Since he's been enjoying it, I thought I'd try a name tracing activity at home. This one is triple the fun by tracing his name three times!
I wrote his name on a piece of paper using a highlighter.
George then traced the letters of his name using a pencil. I kindly asked him to tell me the letters as he wrote them, just for reinforcement. I love how he tells me its a Big G and then little letters for the rest.
After tracing his name with a pencil, we moved on to glue.
Tracing with the glue and yarn kind of happened together since the glue would dry if we waited too long. Plus, George kept rubbing his arm in it. if he did more than one letter.
I highly recommend an off-brand of school glue for kids. They're just easier to squeeze!
After the letter is traced with glue, yarn can then trace it once again! For the third time!
George found it difficult to get the placement of the yarn right. We found that it was easier if I held it up in the air above the paper and he then put it in the right spot, tracing his name.
It was just hard if the yarn was laying in one direction, but the letter went another.
With each letter, George would cut off the excess yarn. This saved me from having to pre-measure yarn pieces and keeping them straight.
He did awesome. George loved tracing his name with pencil. And absolutely loved tracing his name with glue.
The yarn though… not so much. He kept getting his fingers sticky and the yarn kept sticking to him.
I recommend keeping a wet rag nearby to wipe off sticky fingers any time working with glue!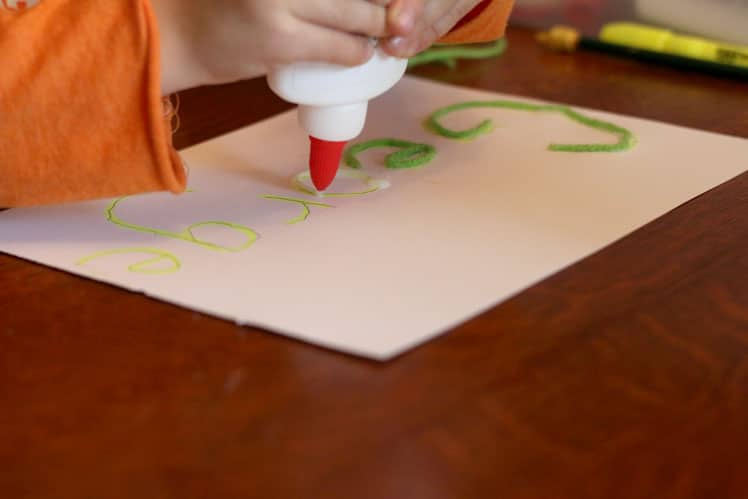 Three times the name tracing fun, right?
Write name in highlighter
Trace name with pencil
Trace name with glue
Trace name with yarn
Once he finished, he wanted to keep going!
I set George up to trace on his own! On a blank piece of paper, he got to draw in highlighter whatever he wanted and then trace it with pencil.
He then traced it with glue too. But decided not to do the yarn…
In addition to name tracing, we've also done number tracing really big on the floor!