Easter
Gross Motor
Literacy & ABCsPreschoolersLetters
Scavenger Hunts4 Comments
I set up a fun scavenger hunt with plastic eggs, with a twist of making words by matching up the found letters.
Set up for the Egg Scavenger Hunt:
I wrote a few spring related words on a piece of paper. Using foam letters (affiliate link) that I had on hand (you could simply write the letters on a piece of paper and cut them apart too), I matched them up to the words. I then again, rewrote the words color coded to the foam letters, so this could also be a color matching activity that would be better suited for George since he's just now grasping his letters.
I then sorted the foam letters by color into my plastic Easter eggs. I would have loved to had enough plastic eggs that I could have put just one letter in each egg, but I only have a few eggs. So I grouped the letters together by color and put them all in one egg (unless I had two or three eggs of that color, then I split them up).
Find more ideas for non-traditional Easter egg hunts here!
The hardest part of this activity was hiding the eggs! The boys wouldn't leave me alone to do it! They were so excited to hunt for them, that they didn't hardly give me a chance to hide them! I finally shut the doors to the living room only and hid them just in the one room quickly.
Then the boys went on a hunt to find their eggs.
As they found them, they opened them up to find an egg full of letters!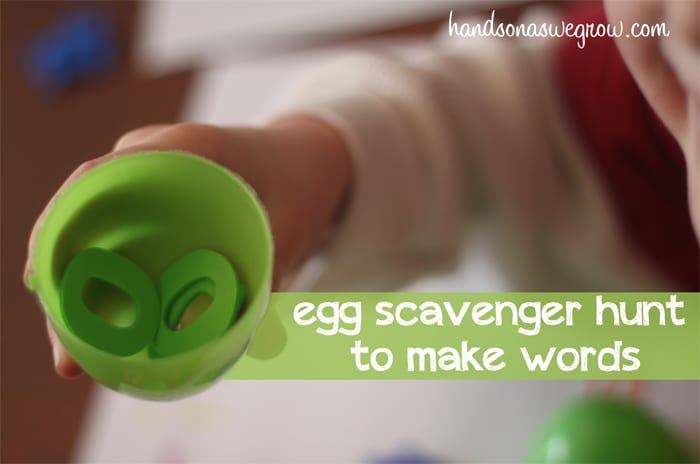 Letter matching activity with the found eggs:
Once all the eggs were found, they sat down to make their spring words.
George actually surprised me by matching up a lot of the letters. He first figured out the color of the letter. I think it would have been easier if I had wrote the words in uppercase letters (since that's what the foam letters are), but I wanted Henry to be able to match them up that way too.
Once Henry spelled a word, we sounded it out to see what it said. That was a tricky part for me. To choose words that we could sound out together. The word 'Easter' doesn't sound out very well, but I included it anyway.
Words like 'cross' and 'spring' did well. We also spelled out 'egg', 'flower' and the boys' names as well.
A little scavenger hunt with a learning twist at the end that can be adapted to absolutely anything that your kids are working on at the moment!