Art Projects
CraftsResources1 Comment
Scrapbooking is not my thing. Filing papers is not my thing. And printing out hard copies of photos… is not my thing. I am trying super hard to create photo books of the boys each year, but I am years behind. Thankfully, Beryl has a fantastic FREE photo printing challenge starting in a few days (and I'm an affiliate of, all links below are affiliate links) that will help make this happen. Will you join me?
When was the last time you printed photos?
As a professional photographer, you'd think I print photos all the time. But around the time my daughter was turning 4, I realized there were thousands upon thousands of photos I had snapped and almost none of them were in print.
I was GREAT at taking photos, but not so great at getting them OFF the camera, computer, or phone.
The problem? I was overwhelmed with where to begin.
Printing photos is important.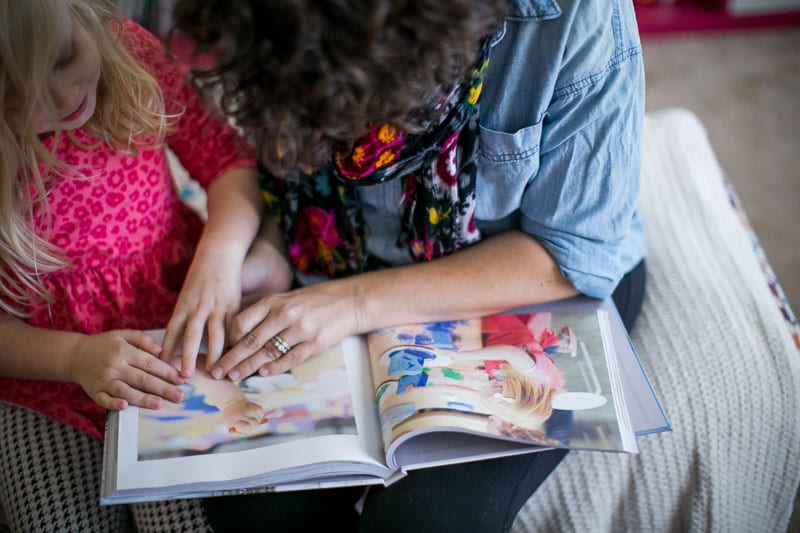 Photos tell our family's story.
They're a tangible way of remembering life events, making meaningful connections with our kids, and finding gratitude for the people and places that surround us.
But when you have a backlog of images staring you in the face, starting your next project can feel overwhelming.
My advice?
Just start. Involve your kids in the process. Pick something easy, meaningful, fun, and simple to get you going.
Because once you hold the finished product of a project in your hands, once you see the smile on your kids face as they look at photos of your family, once you connect over a project you created together — you'll have the momentum to work on the backlog of photos, one project at a time.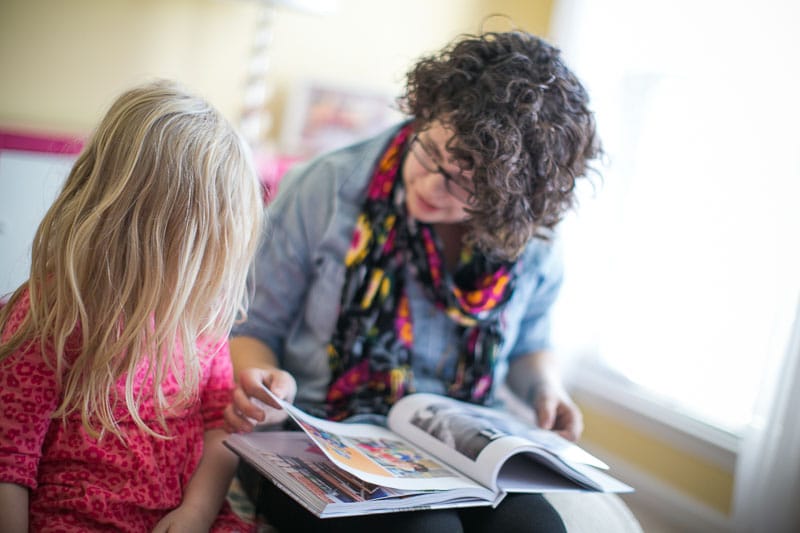 Today I've got 24 photo project ideas you can do WITH your kids.
Pick the one that sounds the most fun, and then come join me for a 3 Day Photo Printing Challenge HERE and let's finish your next project together!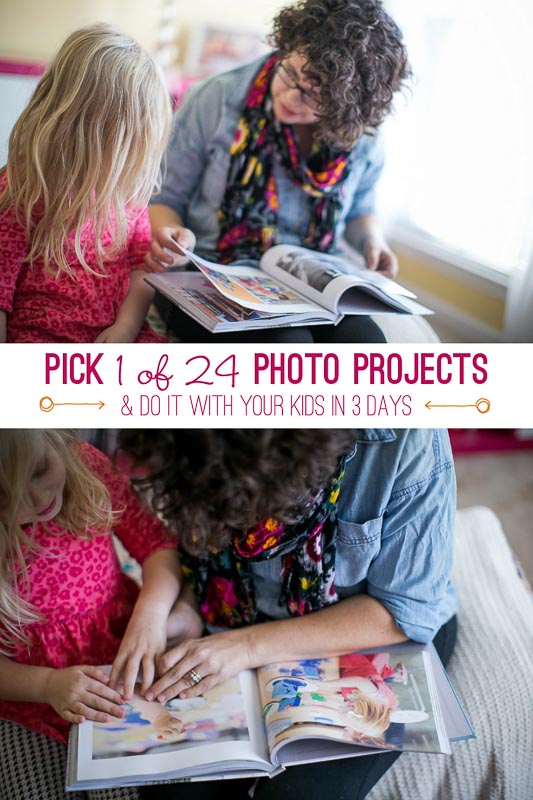 Make a themed photo book:
ABC Book
Colors Book
Pets Book
A trip to the…..(zoo, farm, playground, ice cream)
Favorite Foods Book
My Family Book
Or try any of these fun photo projects:
Start a photo art journal (glue a photo on a page and decorate over or around the image)
Use an editing program to transform photos into art (I love PicMonkey for this)
Read a photography themed book together
Create a photo time capsule
Photograph your child's art, print and frame it! (then throw the paper copy away!)
Print photos on cardstock and then cut into puzzle pieces for a fun activity.
Let your children snap photos of one subject. Print, hang, and invite friends or family over for a 'gallery' showing.
Print your photos on marshmallows for a yummy photo treat!
Create photo statuettes HERE of your family in funny poses – find a fun place in your home to put them on display
Make your own pretend 'photo booth' and take a series of silly selfies. (bonus points if you make or find props!). Bonus points if you print the photo strips.
Take a stuffed animal friend or toy on an adventure that can be photographed and transformed into a photo book
Make photo holiday ornaments
Go old school – choose a few favorite photos and create an 80's style viewfinder
Buy a disposable camera, take all the exposures, and then send it away for developing
Make an unexpected photo card for someone you love. Send it in the mail.
Take photos of objects that start with your child's name, print them out and glue them to a letter to hang in your child's room (see more here).
What other unique, creative, or fun activities have you done with your kids and photos?
Tell us about it in the comments and then go sign up for the 3 Day Embrace Challenge HERE.