Art Projects
Fine Motor
The Activity RoomMember of the Month
PaintingLeave a Comment
Add a little more creative cool to your standard kid's crafts with linocuts! You'll love this simple fine art for kids activity from our Member of the Month, Stacy!
Art is such a major part of kid's activities. But what about fine art?
Our Member of the Month, Stacy, loves to mix her passion for art into the activities for her three children. She's a former art museum educator!
"I have a lot of experience planning specifically art related activities for kids," Stacy explains. "Because I have a lot of experience doing that it can be as much of a disadvantage as not having any experience doing it."
But even super creative Stacy needs a little help mixing things up when it comes to hands-on activities.
"I would find that opportunities and ideas that I had were almost endless," she shares. "I found that I would spend so much time planning and thinking that then I would get burned out before we did any of the activities."
Stacy found that she would go down a rabbit hole trying to figure out exactly what she wanted to do. All her incredible ideas lead to hours of hunting, searching and creative thinking – but no actual activities.
"I just spent so much of my time trying to figure out what I wanted to do, and not as much time doing the activities with my kids," Stacy explains. "It's helped me to focus in and narrow down the activities I want to do with my kids."
Having The Activity Room® at her fingertips makes it super simple to find and do cool crafts and activities at the drop of a hat!
"In the past, I have spent hours searching online and pinning activities on Pinterest, but often used all of my time planning and not as much doing," explains Stacy. "My time is now spent more wisely: with my children making memories, rather than on the Internet."
Stacy is no stranger to creating hands-on kid-friendly activities. So far, she's loving the simple joys of The Activity Room® plans.
"Whether you are new to planning hands-on activities with your children or a seasoned expert, The Activity Room's monthly plans have something for you," she says.
Each activity uses super simple terms that are easy to understand -and do!
"I have been impressed that each week there are several simple activities that take only a few minutes to put together and complete, and others that take a little longer."
Best of all, the activities work for kids of different ages. Plus, they get caregivers and parents involved in the hands-on learning fun, too.
"Activities are designed to engage children and caregivers with a variety of interests and learning styles," Stacy comments. "It truly is easy to incorporate hands-on, memory-making activities with your children!"
Let's Meet Stacy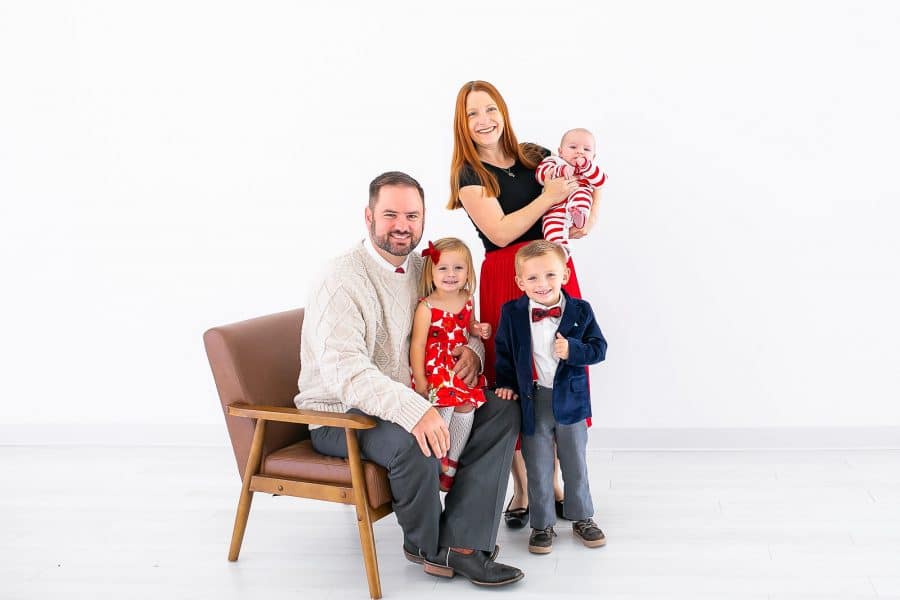 How many kids do you have and how old are they?
Three kids, ages 5, 3, and 6 months
How long have you been in The Activity Room®?
Less than one year, since May 2018
What is your favorite activity you've done in The Activity Room®?
Recently, it has been "Make a Melted Snowman."
What's your favorite thing to do with your kids when you get a few moments?
Our family loves to be outside! You can find us playing sports, racing go karts, swimming, or going on nature adventures.
If the weather is poor, we like to challenge each other to dance offs.
What's your best tip for doing activities with your kids?
Focus on process, not perfection. Too many times I get caught up in trying to help my children accomplish activities exactly how they are written.
I am learning to let go and allow their interests and creativity to drive how they participate.
If you were to tell a friend about The Activity Room®, what would you say to them?
There are so many wonderful activities online that you can find to do at home with your children.
With The Activity Room®, activities are curated for me and sent directly to my email inbox.
Now, even with three children who are not yet in school, I have the time to do one (or more) activities most days.
Share your favorite quote
"Compassion is the radicalism of our time." —The Dalai Lama
Easy DIY Linocuts Make Fine Art for Kids
As a former art museum educator, one of the things I like to do with children of all ages is to expose them to artmaking materials and processes used by the famous artists they read about in books or see works by at museums.
With a few modifications, your children can make masterpieces too!
One of my favorite kid-friendly fine art hacks is linocuts. You'll love this cool carved stamping technique!
Using kid-friendly materials, your kids can create and stamp their own unique designs!
To make your own fine art linocuts, you'll need:
Styrofoam plates
Scissors (for adults or older children)
Stylus tools, such as toothpicks, Popsicle sticks, and/or sticks from outside
Wooden spoon
Small paint roller
Washable paint
Paper
Linocuts Make Fine Art for Kids Super Simple
If your children are younger, prep by cutting the sides off of several Styrofoam plates to create large, flat pieces. I cut ours into rectangles, but you can cut any large shape.
The shape you cut will be the outside border of the print. Older children can cut their own shapes.
Provide children with a variety of stylus tools, such as toothpicks and Popsicle sticks. You can even send them outside to bring in small sticks to use.
Using the tools, have them create designs by pressing into the Styrofoam. In printmaking terms, this surface is called a matrix.
Encourage them to make their marks deep, but not poke through the plate.
For younger children who may struggle with mark making, you can trace around their hands or go over their marks to create deeper indentions. Older children may want to write letters or words, but they will need to do so backward!

Pour a single color of paint onto a plate or other surface, and have children coat a small paint roller. Have them roll the paint over the surface of their design, being careful not to press so hard as to get a lot of paint in the indentations.
Don't worry! If paint gets in the indentations, simply wash their matrix and try again.
Once their matrix is covered with paint, place it upside down on a piece of paper. Have them hold their matrix steady with one hand (or with the hand of an adult), while they gently rub the back of the Styrofoam plate with the edge of a wooden spoon.

Gently lift the matrix straight up to reveal their print!
Keep in mind that relief prints like these print in reverse. Adults or older children can create prints with letter or words.
If they forget to write backward, have them read their finished linocuts prints by holding them up to a mirror!
Other ways to play with your linocuts
Experiment with paint. Instead of applying only one color, have them roll one section of their matrix with one color and then use another color on another section.
Experiment with paper. Choose colored paper instead of white or paper with different textures and thicknesses like newsprint.
Explore prints on display at your local art museum.
How do you bring more fine art into your child's life? Share your favorite ideas with us!