Fine Motor
The Activity RoomPreschoolersMember of the MonthLeave a Comment
Cute little critters make fine motor skills practice super easy! DIY your own bag clip monsters that are perfect for preschoolers.
What do you do when you have a newborn to care for and a busy two-year-old who loves hands-on activities? If you're Melissa Timmins, our Member of the Month, you join The Activity Room!
Before her younger daughter was born, Melissa was able to spend hours researching and curating hands-on activities and crafts for her big girl. After adding to her family, not so much.
Luckily, The Activity Room was just being launched and Melissa jumped at the chance to join the test group. She's one of our original Room Members!
And she's been loving the hands-on activities in The Activity Room ever since.
"Before The Activity Room, I was not getting enough sleep because doing activities with my kids was important to me," Melissa shared. "I spent hours researching, finding activities that were in my child's range of proximal development, that I felt I could find the supplies for, and that I felt I had time to prep."
Melissa was stressed out and overwhelmed! Then she joined The Activity Room and all that changed.
"With the activity room I no longer lose sleep researching," she explained "Instead I spend that time simply prepping a little because all that work is done for me. I can spend some time with my hubby and get some sleep so I can be the best mom I can be!"
Since joining The Activity Room, Melissa has noticed that's it's easier for her to seize little moments with her daughters.
"Once you are in The Activity Room a little while you begin to see more opportunities to grab moments, to throw in an activity, to improve an activity they are already doing, or interact with your kids in a new meaningful way," said Melissa.
It's even easy for her to make the same activity with her four-year-old and her two-year-old.
"I never knew how easy it could be to do activities with my kids," Melissa commented.
Over the last two years, Melissa has learned how to let her children guide the activities.
"My 4-year-old was playing with snow in her outdoor house with all the toy kitchen stuff and I just thought 'why not add food coloring!' That was Activity Room growth."
Now instead of giving into requests for TV time, Melissa is confident in throwing together a simple sensory activity for her girls!
"The Activity Room has opened my eyes to being more connected in very simple ways," Melissa shared. "It has given me the power to be a little messy, it has given me the tools to be a hands-on mom."
Let's Meet Melissa
How many kids do you have and how old are they?
2 girls, ages 2 and 4
How long have you been in The Activity Room?
2 years in June 2018
What is your favorite activity you've done in The Activity Room?
Mud target practice and ice excavation are favorites!
Discover more fun hands-on activities for preschoolers!
What's your favorite thing to do with your kids when you get a few moments?
Read to them!
What's your best tip for doing activities with your kids?
Gather a lot of supplies ahead of time. When the moment strikes you will be ready!
If you were to tell a friend about The Activity Room, what would you say to them?
The Activity Room is my support, my guide, my extra motivation! It takes away many of the excuses one might have and replaces it with the power to do something.
Share your favorite quote
The difference between ordinary and extraordinary is a little extra. ~ Unknown
Activity to share: DIY Bag Clip Monsters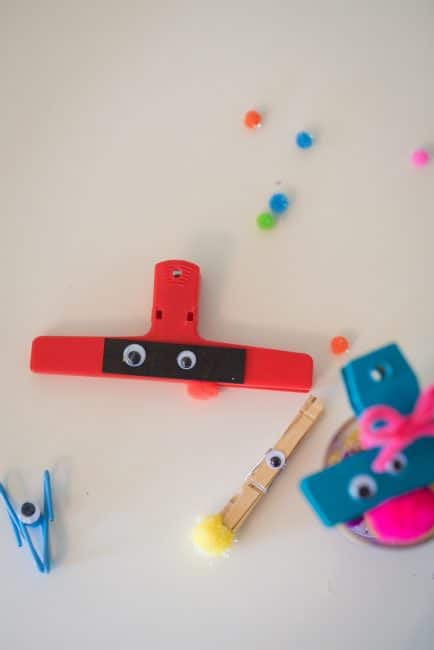 All kids love monsters! Make super easy DIY bag clip monsters for fine motor practice with your preschooler.
Take those big clips that you get from balloons, or bag clips, add some googly eyes and a sticker nose.
Then have the kids pick up pom poms, cut up pieces of pipe cleaners, and other small objects. Your child can pretend the monsters are eating them.
After the monster "eats" the item, have them drop it into a small cup.
Add books to the DIY bag clip monsters activity for extra fun! You could try:
I've only read Monster Manners, but the other ones sound good, too.
How could joining The Activity Room make being a hands-on mom easier for you?