Fine Motor
The Activity RoomPreschoolersMember of the Month10 Comments
Work on fine motor skills with an easy craft stick bridge building activity that invites creative play, too! Your preschoolers will love this super simple construction project.
Being an Activity Room member can totally inspire busy moms and dads to get more hands-on with their children! That's exactly what Emily, our Member of the Month, discovered when she joined.
Emily loves that having hands-on fun with her children is now so super easy!
With a three-year-old and an infant, time is at a premium. The done-for-you plans are perfect for busy parents, just like Emily.
"There's very little planning, which saves me a lot of time!" Emily explained.
She loves to put her own unique spins on Activity Room plans. Emily has also been known to use one of the ready-made activity plans to create a whole new activity, too!
"I love to piggyback off from The Activity Room activities and come up with new activity ideas," Emily shared.
One of Emily's newest Activity Room-inspired activities is a craft stick bridge building activity for preschoolers.
She loves the creative play, and fine motor skills practice, that this super simple activity sparks!
Let's Meet Emily
How many kids do you have and how old are they?
3 years old and 7 months old
How long have you been in The Activity Room?
3 months
What is your favorite activity you've done in The Activity Room?
My son loved the card number match
What's your favorite thing to do with your kids when you get a few moments?
Go outside and explore
What's your best tip for doing activities with your kids?
Have an idea of what you would like to do, but allow your kids to take the lead. Be flexible. Let them be creative!
If you were to tell a friend about The Activity Room, what would you say to them?
The Activity Room provides me with weekly activities that are easy to put together with simple materials. There's very little planning, which saves me a lot of time!
Share your favorite quote
"Play is the highest form of research." -Albert Einstein
Craft Stick Bridge Building Activity
Creating bridges for animals! We used animal figurines, craft sticks, and cups!
Use craft sticks from the craft store. We have colored ones, but plain wooden craft sticks work, too.
Show your preschooler how to balance the craft sticks between two cups to create a bridge.
You could even add extra challenges:
How many craft sticks can you fit side-by-side between two cups?
Can you push the cups farther apart and still build a solid bridge?
How long (with multiple connections/segments) can you build a bridge?
How many animals can you fit on one small bridge at a time?
Working through these problems together will add an extra dose of critical thinking and problem-solving to your playtime!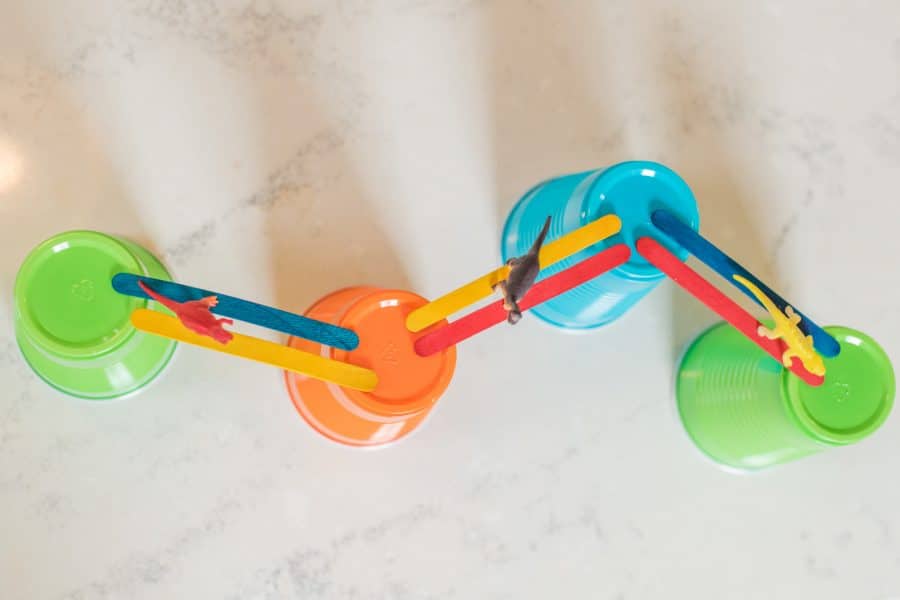 How do The Activity Room plans inspire your play at home?