Activities
Art Projects
Fine MotorToddlersPreschoolersBlocks
Indoor Activities2 Comments
Build your own Very Hungry Caterpillar out of tangrams with a fun Eric Carle art challenge from Julie! Then, snuggle up and read your very favorite Eric Carle books together.
My son and I love creating all kinds of art projects for kids. We recently switched it up a bit and tried out this fun tangram block Eric Carle art challenge!
Try Our Eric Carle Art Challenge with Your Kids
It's perfect for toddlers and preschoolers and a great introduction to abstract art, fine motor skills, and early math thinking. You'll also love this Eric Carle caterpillar art idea!
To take the Eric Carle art challenge, you'll need:
tangram blocks
white paper
pencil, crayons, or markers
Brown Bear, Brown Bear, What do you See? by Eric Carle (Or any of Carle's books would work well!)
This art project for kids is so simple to set up. Just collect a bucket of colorful tangram blocks, display your favorite Eric Carle book, and lay a sheet of white paper or a drawing pad on the table.
We chose our board book version of Brown Bear, Brown Bear, What do you See?
Use Your Favorite Picture for Inspiration!
Its pages are well loved and well-chewed. After surviving two babies, I thought we would try a new art spin on one of our favorite illustrations.
Love cool art ideas? You'll also enjoy this easy zentangle drawing inspired art activity for kids!
First, my son used the blocks to imitate the shape of the green frog.
It's a complicated shape, but I knew he was up to it! I was thrilled with how excited he was about the Eric Carle art challenge.
He enjoyed matching up the geometric shapes and figuring out which shape to use to best represent the animal shape.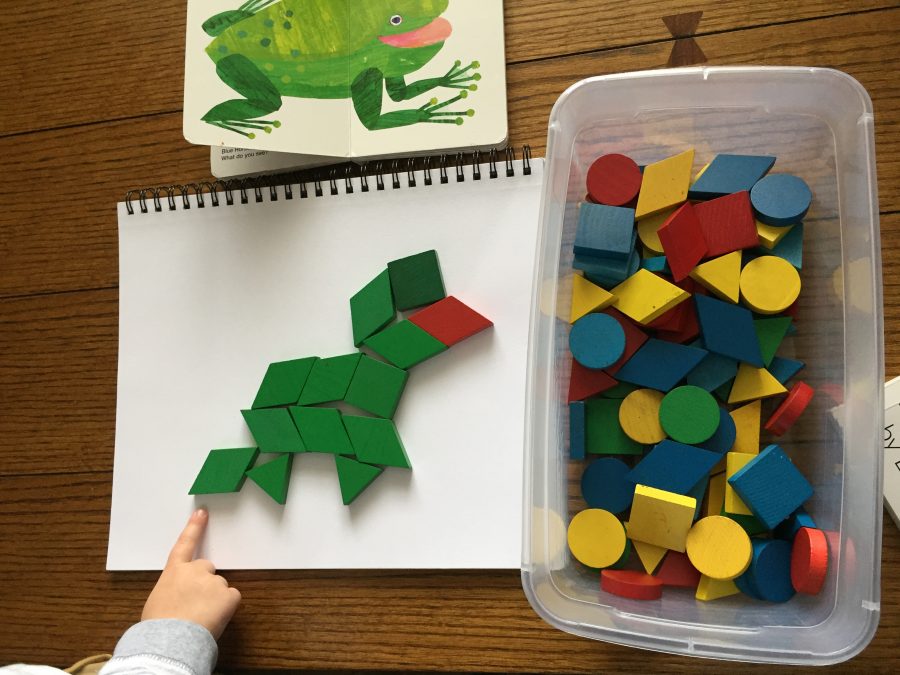 Try New Ways of Drawing Together
Next, we experimented with drawing the animal shape first before adding the blocks. I love this idea because it encourages spatial reasoning.
When I teach little kids to draw, I help them look for shapes in the object. This helps them see and draw the details that make an artwork come to life.
For example: "What shape is the duck's belly? What shape do you see in his webbed feet?"
Your kids would also love this drawing on the table art prompt.
After he drew the shape of the animal, he filled it in with more tangram blocks. Of course little sister had to help, too! I love how this artwork came together!
Related Activity: Learning Shapes with a Ball for Toddlers
Our Eric Carle art challenge, with tangram blocks, encourages fine motor skills, spatial reasoning, and early math thinking. It also develops goal setting and creative thinking.
I love it when a hands-on activity mixes art, early learning, and motor skills. And I love using our favorite children's books as inspiration!
Quick Tip: Snap a quick photo of the finished art project to save this memory for your scrapbook!
Are you going to do your own Eric Carle art challenge? Share your cool tangram art with us!