CraftsPreschoolersLetter Sounds
Letters1 Comment
"Buh, buh, buh…bear"
"Buh, buh, buh…bug"
"Buh, buh, buh…brick"
"Buh, buh, buh…balloons"
It's Monday after Pre­K pickup and I listen to my daughter Brielle in the backseat of the car, after her 3 hours there, reciting some of what she's learned.
It's 'B' week at school.
Her backseat solo car chat is just too darn cute, and I love that her desire to read is flourishing naturally and beautifully.
As a former elementary school teacher turned photographer, the home-­school connection as my daughter grows is an important link I'm trying to explore as she begins to develop a love of school and learning.
Which is where a camera comes into play.Photography, for me, is a perfect outlet for finding purpose and passion as a mom, as I document our days together, but it can also be an engaging way to connect the entire family in playful learning too.
During 'B' week, we extended the learning one step further by completing a playful photography project at home, making a fun photo letter montage to hang in her room.
If you're looking for a simple, fun, engaging, and educational activity to do with your kids, here's the step­-by-­step process so you can give it a try.
1) Pick a letter
We picked B, not only because it tied into our daughter's school lesson, but also because it was the first letter of her first name.
2) Make a list of all the words you can think of that begin with that letter.
This will make the picture portion of your project (the next step) much easier, as you'll already have a shot list of objects and things to hunt for with a camera.
3) Go on a photo scavenger hunt
Find and photograph as many of the items that you listed. Feel free to also pull in old photographs of objects, people, or places, if you have them on hand.
4) Collect your collage supplies
Go to the craft store and get yourself a large cardboard/wood monogram letter, Mod Podge, one color of acrylic paint, and foam brushes.
5) Print and attach
Print meaningful photos off using your home printer, cut to size, and mod podge them to the front of the letter (Mod Podge should be brushed both on the back and front of the photos).
Allow the photos to dry.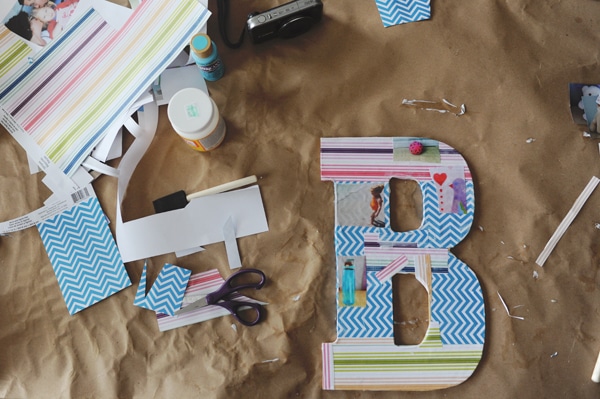 6) Finish and hang
Paint acrylic paint on the back of the letter and allow the paint to dry.
Mod Podge the entire letter a second time to seal.
Hang the letter somewhere in your home, or give as a gift!
Want to create even more opportunities for playful connection with your family using photography as a guide?
I'd like to invite you to a completely FREE 2­-week mini class, where we'll print and preserve even more of your photos while exploring family connection behind the lens together too.
My goal is for you to get the perfect gift for yourself, or someone you love, off your device and into your life before the holiday season officially begins next month.
Come join me for: Embrace your phone: a start to finish system for printing and preserving the endless photos in your pocket.  I'll guide you, starting October 20th — but first, you'll need to register for the free class experience right HERE
Beryl Ayn Young believes that there is magic hidden inside your camera, and she's here to help you love your photos and your life. She is a professional photographer by chance and a teacher to the core.
Pop over to her site and register for a completely free two-week class, Embrace Your Phone: A Start To Finish System For Printing and Preserving The Endless Photos In Your Pocket beginning October 20th, 2014.